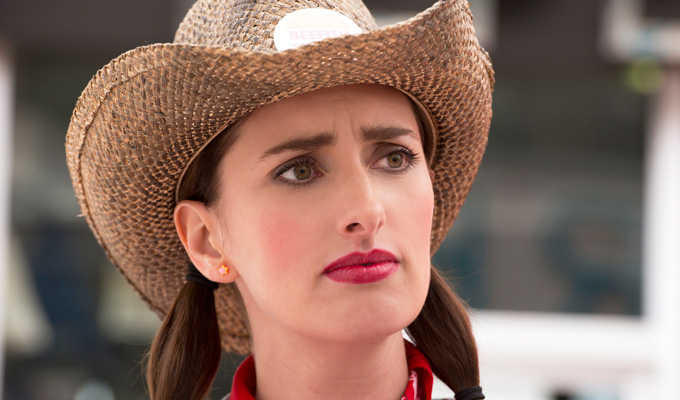 Drifters float back to E4
Drifters is to return for a fourth series, creator Jessica Knappett has revealed.
The writer-performer is currently writing  the new E4 series, in which she stars with Lydia Rose Bewley and Lauren O'Rourke.
And she also  praised the broadcaster for not interfering with the crudity of the scripts
'Luckily, they do just leave us alone' she told comedian Dan Clark on his Fubar radio show, joking that 'I can't work out whether it's 'cos they trust us or they don't care about the show.'
She also argued that since launching in October 2013, the Leeds-based sitcom about three broke friends, has now found its audience.
'Its incredibly crude… it's definitely a strong cup [of coffee].
'It's gross-out but it's women doing it and I think that's not always for everyone … I feel like what we've found now is that we've kind of sorted the wheat from the chaff with the people who are still watching it.
'By now, series three, we've still got very good ratings and it's down to the people who actually like it. So we're not really getting abused too much, people are just kind of leaving us alone'.
Indeed, because of the humiliation routinely heaped upon her character, Meg, she revealed that: 'I tend to get kind of hugged and asked if I'm alright. People feel quite protective over my character I think.'
As the show's writer and producer, 'you're being sick into a bin or eating a Chinese takeaway off a naked man and you're thinking why … did I do this [to myself]?'
Knappett wrote the first series of Drifters primarily by herself. But the writing and script editing team has also encompassed Clark and O'Rourke, Sam Bain, Andrew Collins, Phoebe Waller-Bridge, Lloyd Woolf, Joe Tucker and Ben Knappett.
Bob Mortimer and Arabella Weir have had recurring roles as Meg's parents, with Brett Goldstein as her neighbour and romantic interest and Nick Mohammed as her insufferable boss.
Drifters launched in October 2013, attracting an average audience of just over 500,000. The following series, also each of six episodes, launched in October 2014 and October 2015.
The Guardian described the third series, which again averaged 500,000 viewers, as 'essential viewing for equally maladroit millennials.'
- by Jay Richardson
Published: 30 Mar 2016
What do you think?