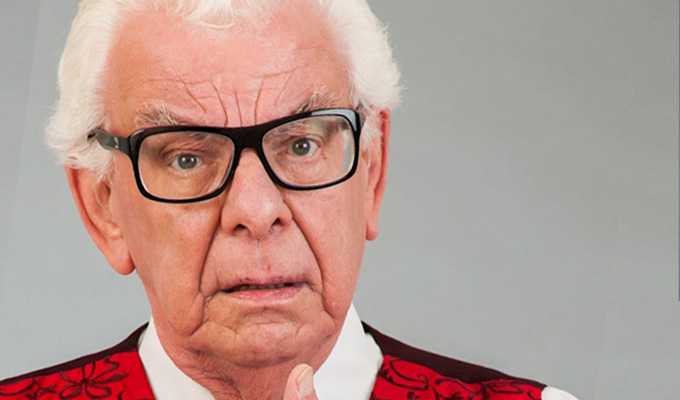 Barry Cryer named a 'legend of comedy'
Barry Cryer has been presented with a 'legend of comedy' award by the Leicester comedy festival.
He follows in the footsteps of Rik Mayall, Ken Dodd and Sir Norman Wisdom in collecting the accolade, which is voted on by the public.
Cryer, who attended the ceremony in the city to accept his award tonight, said: 'Thank you for this, I'm so thrilled. I love Leicester. Ronnie [Golden] and I used to play the clubs here.
'I'm 81 on Wednesday, I don't know how long I've got left - I don't even buy green bananas any more! But seriously, it's such a joy to be here to receive the Legend of Comedy award.'
Dave's Leicester Comedy Festival director, Geoff Rowe said: 'Barry Cryer was recognised for his outstanding contribution to British comedy spanning five decades. A truly deserved win by a living legend.'
Other winners of gongs were John Gordillo, who won the best show award for Progress In Work. Away from stand-up, Gordillo recently directed and produced Freewheeling with Ross Noble for Dave TV, and directed Dylan Moran's 2015 live show Off The Hook.
The award for best debut show went to Dude Looks Like A Lady, the sketch team comprising Jessica Ashworth, Juliet Catton, Rebecca Baron, Leanne Davis and Amanda Stauffer.
Other winners were brewery Everards, a festival sponsor, which won the best contribution award. The company also ran a 'joke of the festival' award won by Gary Delaney's: 'Dave drowned. So at the funeral we got him a wreath in the shape of a lifebelt. Well, it's what he would have wanted.'
Other awards went to The Little Theatre (Best Venue, Over 200 capacity), The Criterion (Best Venue, Under 200 capacity); Bob's Blundabus (Best New Venue, any capacity); The Cookie Comedy Club (Best Promoter); Paul Foot's Game of Dangers (Best Poster), students from De Montfort University (Lifetime Contribution), Jokes on Us Free Festival (The Liberty Award, decided by tweets) and the Loving Laughing Project in which schoolchildren from 28 European nations told jokes online (The Make Me Happy Community Project Award).
Published: 21 Mar 2016
What do you think?