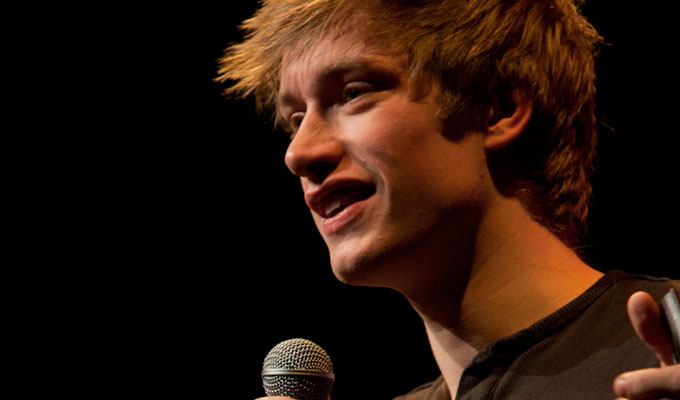 Daniel Sloss leads Scottish Comedy Award nominations
Daniel Sloss leads the nominations for this year's Scottish Comedy Awards, being shortlisted for four gongs.
The 25-year-old is up for best TV comic, best solo tour, as best writer with his collaborator Kai Humphries, and for the internet series MUFF.
Sloss recently returned from the States after making his fifth appearance on Conan O'Brien's late night talk show.
Right behind Sloss is Des Clarke, up for three awards, for best radio comedian and two in the best radio show category – where he is taking on Radio 2's Ken Bruce.
It's the first time Bruce has been nominated. Judges say it's 'a nod to the fact that every week day over five million people listen to his punchline ridden banter with Lynn Bowles and those terribly funny reader emails'.
Others nominated include circuit stalwarts Janey Godley, Gary Little and Mark Nelson for best headliner.
There's a strong presence for Scot Squad, BBC Scotland's semi-improvised hit comedy show featuring a slew of stand-ups, with Grado, Darren Connell and Chris Forbes all up for best actor.
Other nominees include Kevin Bridges, Frankie Boyle and Bob Servant actor Brian Cox.
Organiser Alan Anderson said: "it's been an odd year for Scottish Comedy and I think these nominations represent that.
'Kevin Bridges sells out massive venues by standing behind a microphone and telling jokes, yet it's been years since anyone in Scottish TV made a show of other comics doing just that. There is an obvious desire for it as hundreds of thousands of Scots flock to the Edinburgh Fringe to watch stand up comedians from all over the world.
'It's been difficult for a number of Scottish clubs, we lost our largest comedy club Jongleurs and there doesn't seem to be anywhere ready to replace it. However there is growing number of fantastic small comedy clubs in pubs and social clubs across the country.'
The full list of nominees is:
Best Headliner: Gary Little, Janey Godley, Mark Nelson, Raymond Mearns
Best Newcomer: Christopher MacArthur Boyd, Daisy Earl, Rosco Mclelland, Stuart McPherson
Best Compere: Gus Lymburn, Joe Heenan, Ray Bradshaw, Scott Gibson
Best Sketch, Improv, Variety: Colin Cloud, Enterteasement, Jellybean Martinez, Stu & Gary
Best Actor/Actress: Brian Cox, Chris Forbes, Darren Connell, Grado
Best TV / Radio Comedian: Daniel Sloss, Des Clarke, Iain Stirling, Keir McAllister
Best Solo tour / festival show: Daniel Sloss, Gary Little, Kevin Bridges, Larry Dean, Richard Gadd, Scott Gibson, So That's What We Voted For?
Best TV Show: Insane Fight Club (BBC Scotland), Radges (BBC 3), Scot Squad (BBC Scotland), STV Nightshift (STV)
Best Radio Show: Breaking The News (BBC Radio Scotland), Capital Breakfast with Des and Jenny, (Capital FM), Des Clarke Exposed (BBC Radio Scotland), Off The Ball (BBC Radio Scotland), Ken Bruce (BBC Radio 2)
Best Online: Darren Connell's Twitter, Frankie Boyle's Election Autopsy, Joe Heenan's Twitter, M.U.F.F., Rab Florence's Supernatural Square Go
Best Writer: Keir McAllister, Ross 'Teddy' Craig, Sloss & Humphries, Steven Dick
Best Event: Christmas Lectures, CHUNKS, ICW Fear & Loathing VIII, Rhona McKenzie Wheelchair Fundraiser, Summit Funny
Best Club over 100 capacity: Admiral, Glasgow Blue Lamp, Aberdeen The Stand, Edinburgh The Stand, Glasgow
Best Club under 100 capacity: 48 Below, Edinburgh Beehive, Edinburgh Dram, Glasgow Drouthy Cobbler, Elgin Ship Inn, Irvine
Winners are decided by an online vote, which opens on Monday. Only those actively working within Scottish Comedy either as performers, producers, writers, promoters, venue staff, or within TV and radio broadcasting will be eligible to vote.
The awards ceremony will be handed out on April 25 at the Blythswood Hotel, Glasgow.
Published: 28 Feb 2016
What do you think?