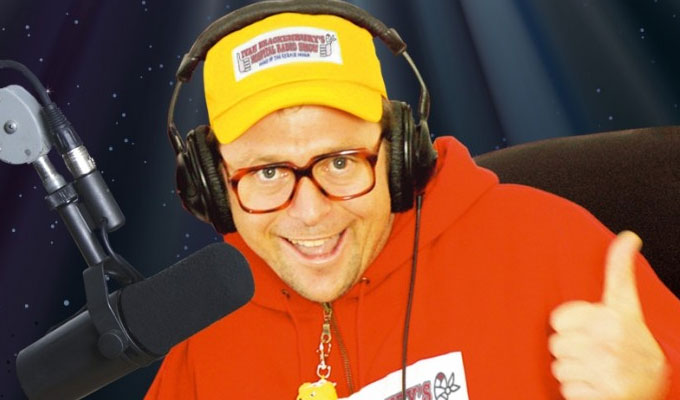 Hospital DJ Ivan Brackenbury makes it to TV
Inept hospital DJ Ivan Brackenbury is to star in his own BBC One pilot.
Hospital People will air as part of the new Comedy Playhouse season, which also includes the Craig Cash sitcom Broken Biscuits and the TV adaptation of Jack Docherty's Radio 4 series Start/Stop – both of which have previously been reported on Chortle.
Brackenbury creator Tom Binns plays multiple characters in the pilot, including ambitious hospital manager Susan Mitchell, overenthusiastic priest Father Kenny and serial hypochondriac patient Terry Boyle.
His psychic character Ian D Montfort, also familiar from the live circuit, is reimagined as a spiritualist porter.
Executive producer Ash Atalla, of production company Roughcut, said: 'The words "hospital" and "funny" are rarely seen together but for 30 minutes at least we hope to change that. Roughcut are delighted to be working under the spotlight of BBC One, the biggest comedy stage of them all.'
Hospital People also stars Harki Bhambra, Liz Kingsman, Mandeep Dhillon, Aidey Pugh and Maggie McCarthy. And Binns co-wrote the half-hour script with Matt Morgan.
Cast and further details of the other two Comedy Playhouse pilots have also been confirmed today.
Broken Biscuits – co-written by Cash and Phil Mealey –  will feature Alun Armstrong, Alison Steadman, Timothy West, Stephanie Cole, Warren Brown and Gemma Whelan.
It follows five disparate groups of people, including Milton and Pearl and Brenda and Roger, who take great pride in running their B&B; teenager Raz who dreams of independence from his mum and her partner; 'Sid the Suitcase' and, Martin who is looking for love whilst caring for his disabled brother Tom.
Executive producer Kristian Smith, said: 'Broken Biscuits is a beautifully observed piece from Craig Cash and Phil Mealey; the stellar cast bring to life these wonderfully amusing characters in a clever interweaving narrative.'
Broken Biscuits is also directed by Cash and produced by Gill Isles for Jellylegs Productions.
Meanwhile, joining Scot Squad star Docherty in Stop/Start – a studio sitcom is about three marriages in various states of disrepair - are Kerry Godliman, Nigel Havers, Laura Aikman, John Thomson and Sarah Hadland.
Havers replaces Charlie Higson as sixty-something David from the radio series. 'Charlie just wasn't old enough in the end,' Docherty told Chortle last year. 'We had to get someone who's a generation older than me and John Thomson.'
Godliman and Thomson reprise their roles from the Radio 4 series, with Doherty saying: 'I really love Kerry, her attitude and the way she plays things. She just makes me laugh. And Thomson's great, he's got that everyman appeal.'
Executive producer Steven Canny said: 'Stop/Start is a big, bold, funny show with an outstanding cast and it develops a genuinely unique relationship with the audience both in the studio and at home. These are superbly honest scripts with a ton of great jokes.
'Jack Docherty is, officially, a very funny man and the audience will instantly recognise the emotional highs and lows he's writing about.'
Stop/Start is a BBC in-house comedy production, written by Docherty, directed by Ben Kellett and produced by Rosemary McGowan.
Before being revived last year, the Comedy Playhouse strand ran from 1961 to 1975 and spawned Steptoe & Son, Are You Being Served? and Last of the Summer Wine.
Shane Allen, the BBC's controller of comedy commissioning, said: 'The rich legacy of the Comedy Playhouse strand is indicative of the BBC's commitment to back fresh and original ideas in a mainstream space.
'Ultimately the audience decide on what they want to see more of and these three very distinctive shows have great talents at the heart of them. Go easy, they're like a new next door neighbour, you can learn to love them in time.'
Last year's Comedy Playhouses were Over to Bill, in which Hugh Dennis played loser weatherman Bill Onion; Miller's Mountain, the sitcom about Scottish mountain rescue volunteers which was picked up for a series and renamed Mountain Goats; and Monks, in which a wastrel played by Seann Walsh joined a monastery.
Published: 26 Jan 2016
What do you think?