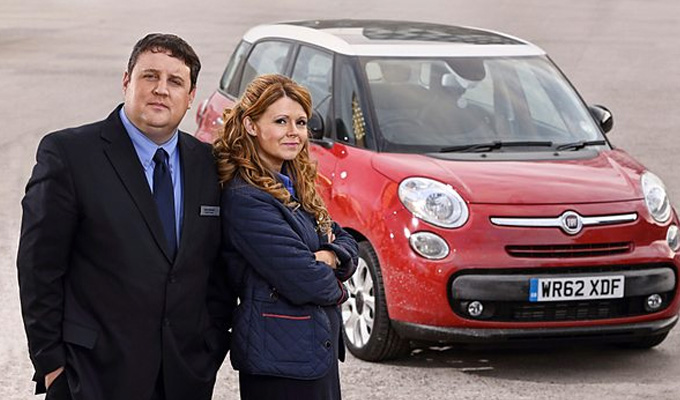 Car Share takes best comedy at National TV Awards
Peter Kay's Car Share has been named best comedy at the National Television Awards.
But the star was branded a 'limelight grabber' by Billy Connolly, after coming back on stage when the Glaswegian was picking up his Special Recognition Award.
Kay had acknowledged the Big Yin as a comedy hero as he collected his accolade, which is voted on by viewers.
'Thanks very much for this,' he told the audience. 'Thanks BBC including that Latvian fella who works in the cafe.
'I'd like to dedicate this award to Billy Connolly, my comedy hero.' 
Later Dustin Hoffman presented Connolly wit his award, following a pre-recorded film in which the likes of Dame Judi Dench, Sir Elton John and David Tennant honoured the 73-year-old comic.
Connolly said: 'Thank you very much. This is the best laxative I've ever known in my life! It's been a grand old rock and roll all the way.'
He added: 'And I'd like to thank British comedians, the standard which is rising all the time. Thank you from the bottom of my heart.'
Connolly then told Kay he should have given him the best comedy award, rather than just dedicating it to him.
'You should have given me that thing,' he said. 'Cheapo. You dedicated it to me then took it away. Bastard!'
Kay then came back on stage to hand over the award, when Connolly joked, 'Limelight grabber'.
Speaking before the ceremony, fellow Glaswegian Armando Iannucci hailed the decision to honour Connolly's long career.
He said: 'It's unbelievable and yet no surprise that we're celebrating 50 years of Billy Connolly. Because he doesn't compromise, because he doesn't fit a label, he has no shelf life, he's not part of a phase.'
Also at the event, The Big Bang Theory was named Best International show.
Published: 20 Jan 2016
What do you think?