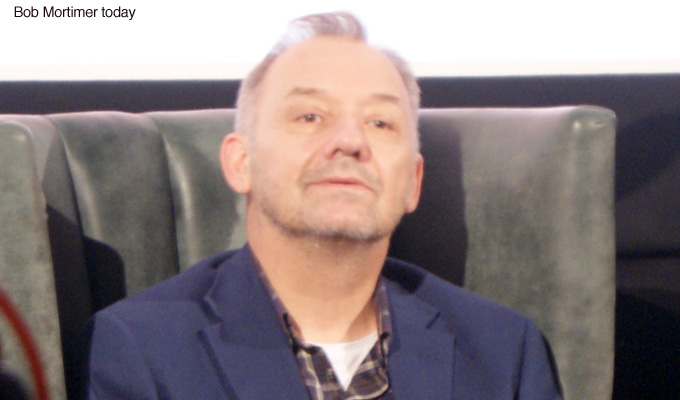 Bob Mortimer reveals his secret wedding
Bob Mortimer secretly married his long-term partner just half an hour before undergoing triple bypass surgery.
He today revealed that he wed Lisa Matthews in October with just their two sons, Harry, 17, and Tom, 16, in attendance.
At a press conference to launch the new Reeves and Mortimer live dates, the 56-year-old also spoke of how his health scare came 'out of the blue' after having a check-up for what he thought was a chest infection ahead of the tour.
'My doctor told me I should have my heart checked out just in case – and five days later I was under the knife,' he said, revealing that the tests showed his arteries were 95 per cent clogged.
'I found out on the Thursday, and made a will on Friday,' he said. 'But I found out I couldn't get married to Lisa because you have to give 28 days notice.'
However, he said the London registrar made special arrangements because of the severity of his condition. 'So we got married at 9.30am on Monday, and I went into the theatre at ten.'
Mortimer and Matthews have been an item for 24 years, and although often referred to as man and wife in the press, they had never married before.
The comic said that he now felt 'fine', almost three months after the operation. He said that he and Reeves were doing a run-through of their tour show on Saturday: 'And if I don't drop, it should be fine.'
'There's nothing wrong with my heart; it was my arteries,' he said. 'I'm fitter than I was before the operation.
'I've just received all my test result and they said if I was a builder or a scaffolder, I would be ticked off to return to work. And we don't do any heavy lifting in the show. They said I should be absolutely fine. Whether I'm funny, that's a different thing.'
Mortimer said he as a 16-inch scar on his leg from where surgeons 'harvested' a vein, and now wears a heart monitor. He also said: 'I take these tablets that make your heart stop beating too fast, but they make you dim-witted as well.'
He is also on a diet heavy in soya and oats because his doctor told him: 'They are the only things that can grab cholesterol and throw it out of your arse.'
The comic added that he was happy 'I'm getting my diet advice from the top man at St Thomas's Hospital, not Women's Realm... I've got my cholesterol down from 8.5 to 2.7. I'm basically a chaffinch.'
Reeves joked that when he learned of his friend's illness: 'I immediately started scanning the papers to see if there was anyone else I could do this with.'
Reeves and Mortimer's Poignant Moments Tour, marking the 25th anniversary of their comic partnership, is their first live tour since 1994. It kicks off in Leeds on January 30; Click here for the schedule.
Published: 13 Jan 2016
What do you think?