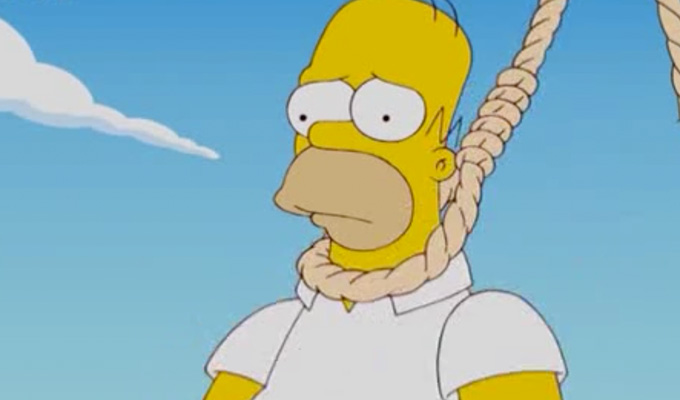 Bad noose for The Simpsons
It's a familiar scene in the Simpsons: a frustrated Homer with his hands around Bart's neck, muttering: 'Why you little…'
But now TV watchdogs have ruled that an episode dedicated to the strangulations are unsuitable for a family audience.
Ofcom received a complaint from an epode that aired on Channel 4 in October which showed Homer Simpson was shown hanging by a noose from a tree. The viewer felt the episode – Love Is A Many Strangled Thing – was unsuitable for its 6pm timeslot.
Its plot involved Marge signing her husband up for fatherhood classes where he revealed that he regularly strangled Bart to discipline him. There the therapist enlisted basketball star Kareem Abdul-Jabbar to strangle Homer repeatedly in a minute-long sequence to help him understand 'what it feels like to be young, small and terrified'.
A later scene involved a trust exercise in which Homer was shown standing on the branch of a tree with a noose around his neck. The therapist persuaded Homer to jump, assuring him that: 'Bart will cut you down.' As Homer jumped, kicking and struggling against the tightened noose, Bart turned away to write a text message on his phone.
After the Ofcom probe was launched, Channel 4 apologised for any offence caused and said it had received two complaints directly.
The broadcaster said that the 'non-realistic and slapstick animated violence' of Homer strangling Bart were 'long-established' and 'very familiar to audiences' – but conceded this episode went too far for 6pm.
It had previously made cuts to this episode to reduce the hanging scene – but due to 'human error' the unedited version went out; and executives agreed that the 'the cumulative effect of the mock strangulation together with the hanging scene were deemed to be too strong for the scheduled' time. Channel 4 has now vowed not repeat this episode before the 9pm watershed.
Ofcom today censured the broadcaster, saying that although 'scenes in which Homer strangles Bart are normally both brief and incidental to an episode's storyline… this episode focused on strangulation and contained a prolonged sequence showing a repeated physical attack on Homer who did not resist, and who clearly appeared to suffer as the assault was taking place.
'We considered that a sequence in which a well-known character was first encouraged to hang himself and was then shown doing so was uncomfortable and unexpected.
'We acknowledged that the comedic tone helped to limit the potential unsuitability of the material for child viewers. However, we considered that this was insufficient to counteract the overall effect.'
The Simpsons has never shied away from darker scenes, and there is even a Tumblr blog dedicated to suicide attempts in the show, featuring many scenes in which a noose has featured.
Published: 21 Dec 2015
What do you think?