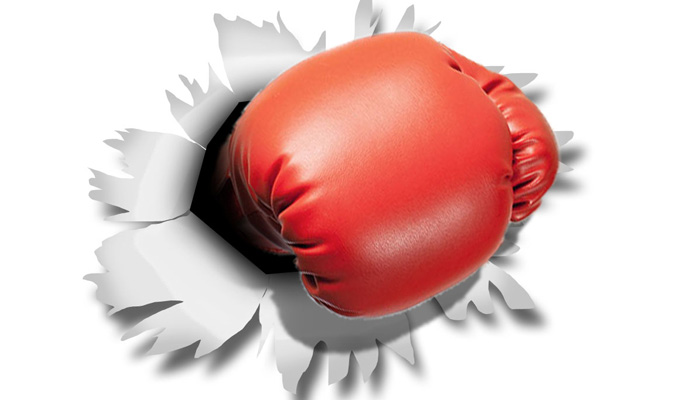 From punchlines to punches
Twenty comedians, including Carl Donnelly, Phil Nichol and Patrick Monahan, are to step into the ring for a boxing extravaganza.
The stand-ups will duke it out in three two-minute rounds at the Blyth Sports Centre in Northumberland, including a female match-up with Luisa Omielan squaring up against Penella Mellor.
Other comics involved are Gavin Webster, Adam Rowe, Barry Castagnola, Elliot Steel, Bobby Mair, David Hadingham, Mark Nelson, James Dowdeswell, Matt Reed, Chris Martin, Jarred Christmas, Barry Dodds, John Hastings, Tom Houghton and Milo McCabe.
But promoter and fellow comic Kai Humphries was remaining tight-lipped about who would be fighting who, saying: 'The match-ups have been made already but will be released gradually to generate a bit of hype.'
He said he was collecting 'trash talk' videos from each of the fighters to play up the animosity ahead of the the February 7 event – and was trying to sign up another comic as ring announcer, and possibly two commentators, too.
'It's crazy that this daft idea is about to get real,' Humphries said.
Each boxer will wear 16oz gloves, the more padded type, and each fight will be properly officiated with a qualified referee and judging panel.
And the comics have been hard at work preparing for the challenge. 'Training is down to the individual,' Humphries said, 'but it appears they are all pursuing it, if not specific boxing training then certainly general fitness. It's a nice feeling knowing that acts who usually eat and drink and party like there's no tomorrow have started living healthy lives because of this event.'
The night follows the success of The Wrestling at the Edinburgh Fringe, in which comics grappled alongside pro fighters. It started in 2013 and returned this year.
And last month, Punch Drunk ran a professional kickboxing event with comic Andrew Maxwell as guest ring announcer. Maxwell has previously commentated on The Wrestling, along with Brendon Burns.
Tickets for the Comics vs Comic Boxing, organised by Humprhies's Punch-Drink Comedy with Millennium Martial Arts are on sale now, priced £20.
Published: 20 Dec 2015
What do you think?