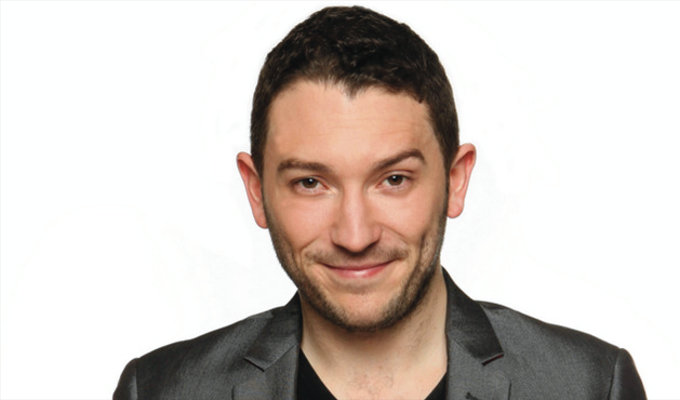 Jon Richardson joins Talksport
Jon Richardson is joining radio station TalkSport to co-host a football show with fellow comic Matt Forde.
The pair take over the Saturday lunchtime how The Warm Up starting this weekend, replacing Johnny Vaughan who has joined newly rebranded blokes' radio station Radio X.
Forde already hosts a late-night phone-on, Matt Forde's Sports Party, on the station, which has been running for five years.
The Warm Up, which runs from 11am to 1pm, covers the build-up to TalkSport's live Premier League coverage, and promises 'a comedic take on the big sports stories of the week'.
Forde, also a political comic, appeared on Jon Richardson Grows Up on Channel 4 last year, helping his friend explore the adult realities of mortgages, marriage and parenthood.
Richardson, a Leeds United supporter who previously hosted his own show on BBC 6 Music, said: 'I'm not a natural optimist, but even I feel like anything is possible on a Saturday morning before the reality of 16:45 sets in and with it the autopsies and the blame.'
Forde, a Nottingham Forest fan, added: 'I've worked a lot with Jon and he's an incredibly talented guy and I know that the TalkSport audience will love him. Football is hugely exciting to our listeners and this is a great slot as people will be listening while they get ready to listen or go to the match. I'm really looking forward to it.'
TalkSport is available on 1089 and 1053AM as well as on digital radio and online.
• Jon Richardson is performing at a benefit for youth homelessness charity Centrepoint in London's West End next month. He'll be jointed by Seann Walsh, Aisling Bea, Bec Hill, Elis James and Nick Helm for Laughing Point at the Palace Theatre on October 12. Richard Utting, the charity's head of events, said: 'It's exciting to have so many fantastic comedians come together to support us.' Tickets.
Published: 23 Sep 2015
What do you think?