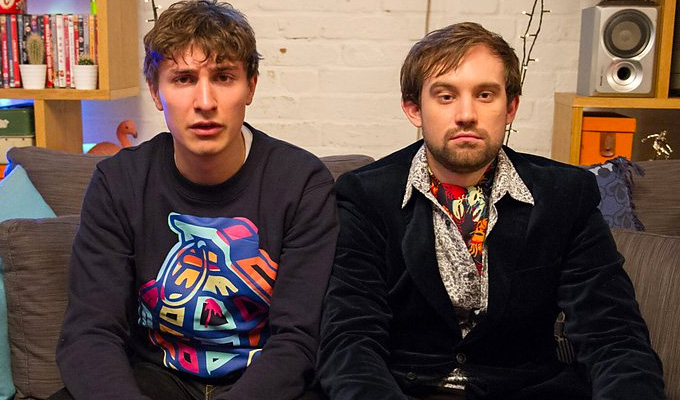 BBC Three orders Flat TV
BBC Three has ordered a series of Tom Rosenthal and Naz Osmanoglu's Flat TV.
The series is based on their real lives as flatmates, and relates their petty domestic squabbles through their favourite television programmes, including news bulletins, talent and reality shows.
Fantasy sequence include them rearranging the furniture in their own version of Big Brother (Big Flat) and locking themselves out for I'm Not A Celebrity Get Me Back In The Flat.
The show, which they write as well as star in, began life in 2012 as Flat News With Tom & Naz, a series of two minute online shorts for the BBC, before becoming a Comedy Feed pilot on the iPlayer last year.
The new series will comprise four 22-minute episodes.
Alan Partridge: Alpha Papa director Declan Lowney is to helm the in-house BBC production, which is produced by James Farrell, with Stephen McCrum executive producing.
The pilot also featured Mike Dowling as the pair's responsible flatmate Mike, Elena Argiros and Eliza Hope Bennett as their neighbours and love interest, with Javone Prince as a delivery man.
Rosenthal is returning for a fourth series of Friday Night Dinner and starts filming a third series of Plebs this autumn, while Osmanoglu is also developing a pilot for E4 with his sketch group WitTank.
Myfanwy Moore, controller of BBC comedy production, said: 'We're delighted to be working with Tom and Naz - sadly dysfunctional human BEINGS that play out their sorry lives through the lens of popular culture, naturally with hilarious consequences.'
Shane Allen, controller of BBC comedy commissioning, said: 'The inventive flights of fancy device at the heart of this reminds me of the extra layer of comedy that Peep Show brought. By being able to tell a story and lampoon all genres of television it's a clever and original narrative and sketch show hybrid.'
Here is a clip from the pilot:
-by Jay Richardson
Published: 15 May 2015
Recent News
What do you think?