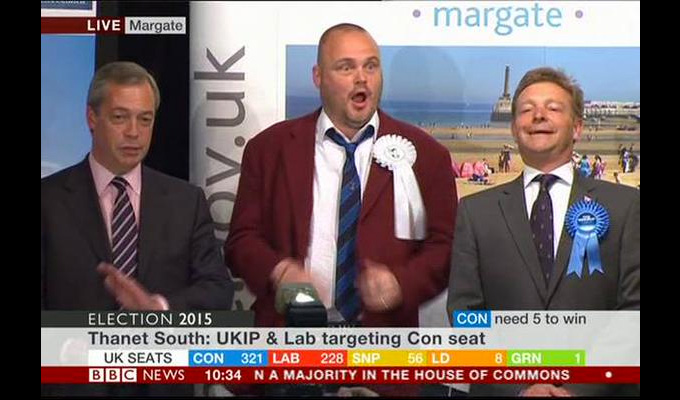 Voters tell Al Murray: You're barred
Al Murray has won just 318 votes as he stood against Nigel Farage in Kent today.
The Ukip leader failed to get elected in the constituency of Thanet South – but Murray's contribution did not make the difference; as Farage lost to Conservative Craig Mackinlay by 2,822 votes.
Farage has announced he is to stand down from his position within the party after failing win the seat – although he would still be a Euro MP and says he would consider leadership again in the future.
When he arrived to hear the results of the poll, Murray said: 'If I lose I'll resign as well,' and joked: 'I've got the hand of history on my shoulder.'
Murray comically over-reacted, then shook Mackinlay's hand when the result was announced. He later tweeted: 'We are the 318!'
The constituency was one of the slowest to declare. It had been expected to declare at around 6am, but in the event it was 10.35am.
They did not start counting papers until 6.30am – a delay blamed on the slow arrival of postal vote ballot boxes. Twitter user Matt Owen joked: 'The South Thanet count is taking longer than @almurray's tour.'
Turnout in the constituency was 69 per cent, up from 65 per cent in 2010, and the result in full is:
Craig Mackinlay (Conservative): 18,838
Nigel Farage (Ukip): 16,026
Will Scobie (Labour): 11,740
Ian Driver (Green): 1,076
Russ Timpson (Lib Dem): 932
Al Murray (Free United Kingdom Party): 318
Ruth Bailey (Manston Airport Independent Party): 191
Nigel Askew (We Are The Reality Party): 126
Grahame Birchall (Party for a United Thanet): 63
Dean McCastree (Independent): 61
Zebadiah Abu-Obadiah (Al-Zebabist Nation of OOOG): 30

Murray had fought on a 13-point manifesto including pledges to 'have a war with Germany if they are up for it' and 'revalue the pound at £1.10 – so it will now be worth 10p more'.
His presence in the seat enlivened the campaign, including a bid to literally parachute into the constituency that was thwarted because he was too heavy. His exploits on the stump were recorded in an full-length documentary that aired on the Dave TV channel after polls closed last night.
Although Farage initially welcomed Murray's involvement, saying 'the more the merrier' he later added: 'I think the joke is wearing a bit thin. If he does stand, I doubt he'll get more votes than the Monster Raving Loonies.' The party had also complained that Murray standing for FKUP could confuse voters who had planned to vote Ukip in the polling booth.
When Murray announced his candidacy, the Times's political editor Tim Shipman predicted that Murray 'could actually prevent Farage winning' – a call that now seems very wide of the mark.
Speaking on the BBCM polling expert Peter Kellner said Farage's failure to win Thanet South will be 'the icing on the cake' for David Cameron, given how much Ukip has troubled the Conservative Party.
• Right-leaning stand-up Andrew Lawrence looks set to win £1,300 on the election result, after placing a £200 bet at 13-2 that the Conservatives would achieve an overall majority. He tweeted an image of his online betting slip with the comment: 'You're right comedy industry, I'm an idiot, I'm mentally ill, I don't know anything about politics.'
Published: 8 May 2015
What do you think?