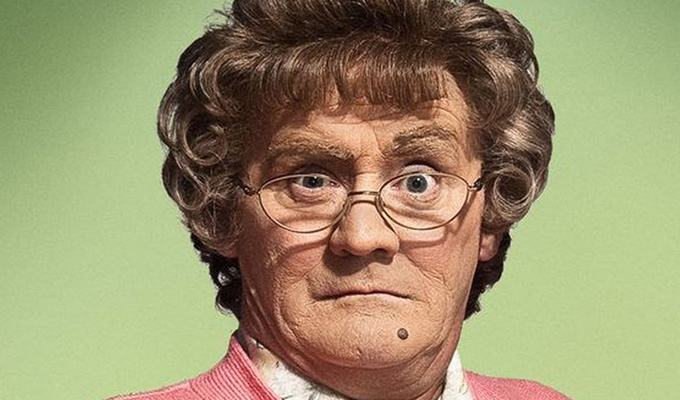 Mrs Brown speaks out on gay marriage
Brendan O'Carroll has lent his support to gay marriage by releasing a sincere video calling for equality, in the guise of Mrs Brown.
Ireland is holding a referendum on May 22 that to allow same-sex marriage.
O'Carroll's intervention has been welcomed by equality campaigners, given the size – and perceived conservatism – of his fan base.
In the YouTube video released yesterday and already seen by two million people, Mrs Brown said: 'We all have to grow up a little bit' and urged the Irish to vote for the change in its constitution.
He said, in character: 'Any two people who feel in love enough should be allowed to get married. What's the fecking fuss?'
And he recalled that in his youth marriages between Catholics and Protestants and black people and white people were frowned upon – but the world had grown up.
After making the heartfelt plea, he ends the two-minute clip, below, by saying:'They asked me to make it funny. These two queers…' Mrs Brown's gay on-screen son Rory, played by Rory Cowan, interrupts, admonishing: 'Mummy!'
Graham Norton was among those showing support for O'Carroll's move, tweeting: 'Mrs. Brown - she speaks sense.'
Published: 29 Apr 2015
What do you think?