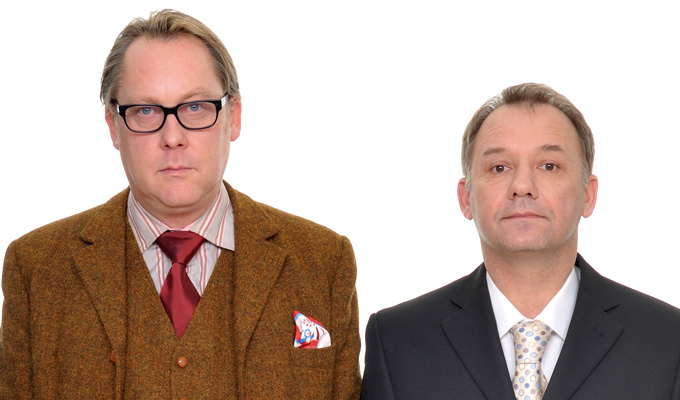 Reeves and Mortimer confirm tour
Vic Reeves and Bob Mortimer have confirmed the dates of their autumn tour.
Their Poignant Moments show will feature some of their best-loved characters and sketches from their 25-year career.
A total of 14 dates have been announced for November and December, with Mortimer tweeting this link for priority tickets to his 430,000 followers today.
The tour kicks off in Glasgow on November 11 and ends in Brighton on December 4. Full schedule.
In other tweets he suggests that the show will feature Shakamoto, Morrisey The Consumer Monkey, and added: 'I will do everything on my power to get Jim [Moir, Vic's real name] to do Kinky John Fowler, Chris Palmer and Tom Fun'
In a statement, Reeves said: 'Destiny has led us to this point in time. Now, finally the diversion of Reeves & Mortimer can be revealed in full extent through a cornucopia of preposterous doggerel etc.'
And Mortimer added: "Playing in front of a living audience is where it all began for us. Some people feel most alive when they are e.g. on fire or in Turkey, but for us the stage is where we thrive.
' I will ensure that Vic arrives at all dates smartly dressed and unarmed. I promise not to mention football, JLS or apricots during the performances. Should you choose to attend, be warned, I will be not be wearing a toupé.'
Published: 2 Mar 2015
Recent News
What do you think?