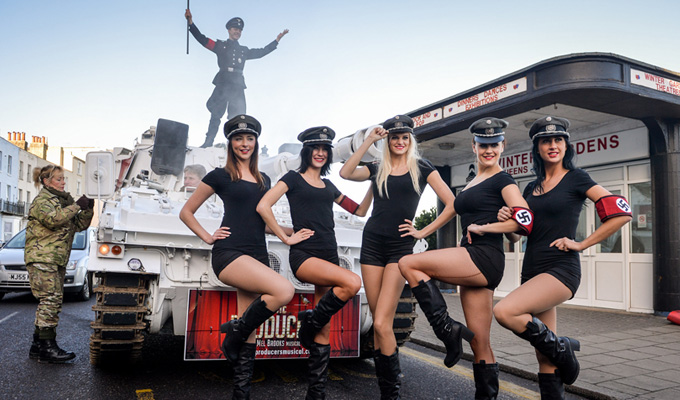 Sexy Nazis gatecrash Ukip conference
• Sally Phillips recalls her time on Eddie Izzard's sitcom Cows, which featured humans playing the bovines. 'That could have been brilliant – but as it happens it was absolutely appalling'.
• It's probably not the message Nigel Farage was going for. But as Ukip's conference got under way in Margate this morning, he was upstaged by dancing Nazis and a 16 tonne World War Two tank. It was a publicity stunt for the new touring production of Mel Brooks' musical The Producers, which opens next week and stars Jason Manford, Phill Jupitus and Ross Noble. The pranksters blasted Springtime For Hitler from the German tank's turret as dancers performed a choreographed goose-stepping routine in front of the Winter Gardens.
• Stand-up Nigel Lovell has made The Sun today – after claiming a Yodel delivery driver took a crap in his East London garden when he failed to sign for a package — then wiped his arse on an 'I'm sorry you weren't in…' card. Yodel has removed the self-employed driver from its books, sent staff to clean the garden and apologised.
• 'Hey, Hey, Hey, I'm far from finished,' that's what Bill Cosby has said in a statement for fans still attending his gigs despite the slew of sexual assault allegations swirling around him, yet to be tested in court.
• Poppy Delevingne is to make her TV acting debut in Comedy Central's new sitcom I Live With Models. The 28-year-old model and socialite appears as herself in the first episode, which airs on March 9 at 9.30pm.

• He's an unlikely athlete, by Joe Wilkinson took part in the Brighton Half Marathon on Sunday in aid of children's charity Amaze. At the finishing line – after completing the course in 2hrs 17mins and coming in 5,396th – he said: 'I'm going to go to the pub I think. I'm going to drink until I can't feel my legs again.'
• Want to see Tom Rosenthal drink his own piss? Here he is on tonight's edition of Bear Grylls: Mission Survive on ITV - and doing rather well, too. 'It's genuinely quite nice,' he said. 'It's like tea'.

• Gary Delaney says he was once heckled by a man who keep shouting 'gay Jew' at him. '[It] was quite tricky,' the pun-loving comic said. 'As I wanted to point out his inaccuracy while pointing out that technically neither of those things is actually an insult.'
• As Parks and Rec comes to an emotional end, American comedy blog Splitsider unearthed this peculiar TV pilot from early in her career. RVTV never saw the light of day… but the internet never forgets:

• Tweets of the week
Darren Walsh ( @DarrenWalshPuns): My computer asked me to choose a password, so I typed in 'luggage', but it said it was case sensitive
Ian Power (@IHPower): Did Gary Oldman used to be Gary Numan?
JC (@JCautmoatic): A SELFIE STICK is an ideal way of taking a long fucking look at yourself.
Published: 27 Feb 2015
What do you think?