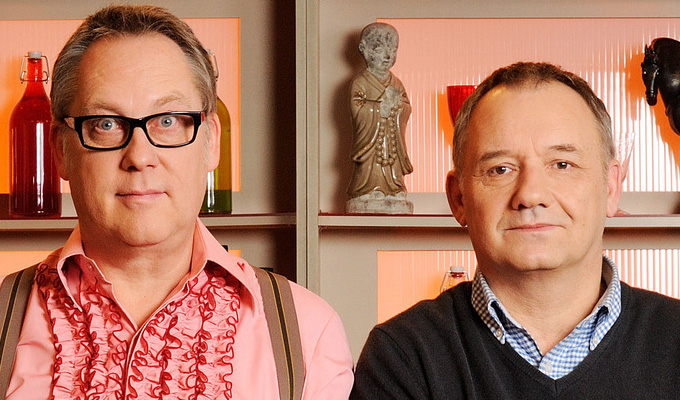 Vic & Bob: We'll do a tour this year
Vic Reeves and Bob Mortimer are planning a tour this year.
However the duo admit they are not sure what format a live show would take, as most of their ideas prove too expensive.
During an interview with today's Time Out Mortimer said to his colleague, real name Jim Moir, 'We'll probably do a tour this year, won't we, Jim? I think we'll dip our feet in the water, and see if people are still interested.
'If we wanted to do a show where we've got desks and Greg Mitchell Labradors and Judge Nutmeg Chariots and all that stuff, it's expensive.
'So we're wondering whether people might like to just see us two – we dunno! It'd be nice to do House of Fools in the West End. That'd be fun.'
Then Reeves chimed in: 'Oh, I'd like to do that.'
In the interview, they also say that Shooting Stars 'changed panel shows a bit forever,' spotting influences in everything from 8 Out Of 10 Cats to QI – and say that Ant and Dec directly copied a scene from House Of Fools.
The pair, who are celebrating 25 years in the business, are back on BBC Two with the second series of House Of Fools on Monday.
Read the interview in full here
Published: 10 Feb 2015
Recent News
What do you think?