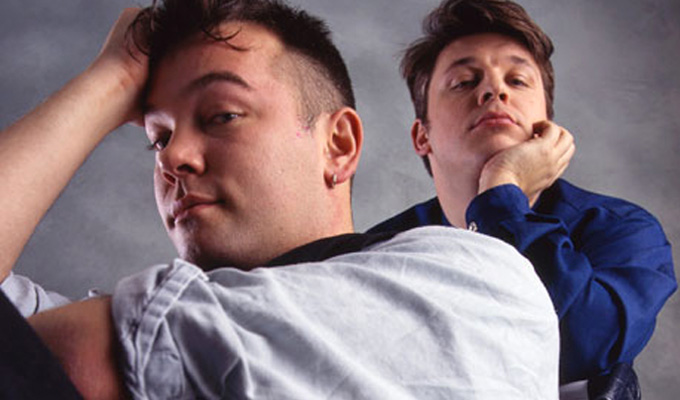 Lee & Herring show 'will never be released'
The DVD of cult favourite This Morning With Richard Not Judy will probably never be released, star Richard Herring has announced.
He had been working on securing the rights to the 1990s BBC Two show he made with Stewart Lee. But last night he tweeted to his 153,000 followers that the planned release was off: 'The reasons are too complex/depressing to relate.
'I am as upset about it as you. But it's over. Let's look to the future and bury the past.
'I'm afraid there is no solution to this problem, folks, It's not happening and I doubt it ever will, Nothing you or I can do about it.'
Herring declined to go into any further detail.
Two series of This Morning With Richard Not Judy, or TMWRNJ, were broadcast in 1998 and 1999 on BBC Two, a follow-up to the pair's debut show Fist Of Fun.
Also featuring Kevin Eldon, Paul Putner, Trevor Lock and Emma Kennedy, the show aired on Sunday mornings, attracting complaints that some of the material, particularly with a religious slant, was not suitable for the timeslot.
Herring previously secured the rights to both series of Fist Of Fun for around £50,000, releasing all the episodes and surviving outtakes via independent comedy label Go Faster Stripe, as the BBC did not want to release the show.
He recently staged instalments of his Leicester Square Theatre Podcast with Punter, Lock and Lee to help raise some of the money needed to past the 'massive fee that the BBC have requested' for TMWRNJ:
Published: 5 Feb 2015
What do you think?