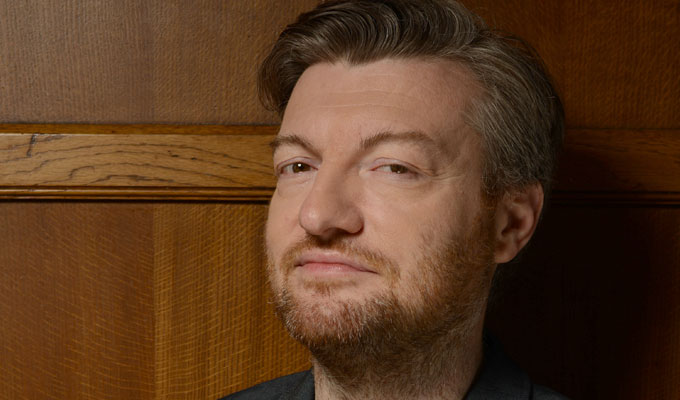 Don't forget to Wipe...
The comedy week ahead…
Tonight
TV: Vic & Bob's House Of Fools returns for a second series, with an episode set on  Christmas Eve. Matt Berry, Morgana Robinson, Daniel Simonsen and Dan Skinner all return - with Reece Sheersmith making a guest appearance as Santa. BBC Two, 10pm
Monday December 29
LIVE IN EDINBURGH: The Spiegeltent in St Andrew Square hosts a three-night run of The Pub Landlord's Festive Saloon, as the bar-room philosopher introduces a range of music, variety and comedy guests.
LIVE IN DUBLIN: The poetic, passionate and brilliant Tommy Tiernan presents his latest show, Out Of The Whirlwind, at Vicar Street tonight - as well as a lot of other dates dotted through January and into February.
Tuesday December 30
TV: Charlie Brooker returns for his round-up of the year,  Wipe 2014. The BBC publicity says it was 'a relentlessly grim year where the cheeriest stories were people throwing ice over themselves, couples consciously uncoupling and an installation of poppies marking the untimely death of millions of young men'. BBC Two, 10pm
Wednesday December 31
RADIO The sitcom about Stephen K Amos's teenage years growing up in 1980s South London returns to Radio 4 for a second series, written not by the stand-up himself but by Gimme Gimme Gimme creator  Jonathan Harvey. Radio 4, 6.30pm
LIVE IN NOTTINGHAM: Everything's expensive tonight, so the Just The Tonic line-up looks especially good value for £21, especially as it features a rare(-ish) hosting stint by Johnny Vegas. The line-up's strong too, featuring both the blundering bad taste of hospital DJ Ivan Brackenbury, and more cheeky naughtiness from top circuit stand-up Carey Marx.
Thursday January 1
TV: Miranda comes to an end with the second instalment of her two-part swansong. BBC One, 8pm
LIVE IN LONDON: Cabaret queens Fascinating Aida begin a nine-night run of their elegant tunes (if only sporadically as daring as they think). Still it's a very classy execution. Review
Friday January 2
LIVE IN LONDON: The autumn run of Bridget Christie's latest show An Ungrateful Woman was such a hit for the Soho Theatre that it's returning for another couple of weeks, now to January  10 and then the 19th to 24th. Review.
LIVE IN BRIGHTON: As the festive season reaches its last hoorah, there's a good bill this weekend at the Komedia, including both Adam Bloom and Jarred Christmas, whose infectious enthusiasm is sure to fire up even the most partied-out punter.
Published: 28 Dec 2014
Recent News
What do you think?