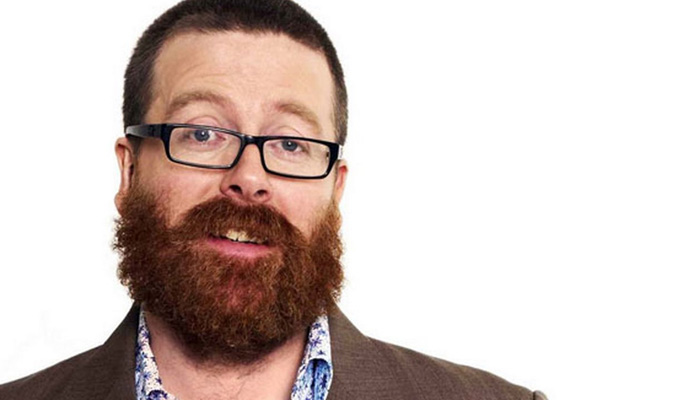 Frankie Boyle and the junkie detective
Frankie Boyle is writing his first novel, a crime thriller about a Valium addict trying to solve a murder.
He said: 'I'd like to finish this novel. I'd like to go "I've written a novel" because I think, now that I'm into it, I can do it. I can see how you can do it and make it funnier'.
He revealed the news in a discussion with fellow comic Bruce Morton as part of Previously… Scotland's History Festival. Not that his would be the first drug-addicted detective: Sherlock Holmes was a user of morphine and cocaine.
Boyle also offered an insight into how he writes his books, explaining that 'I can't really remember much about my autobiography because I was on ecstasy. I holed up in a hotel room for like a month on ecstasy and just wrote it'.
In a wide-ranging discussion, the Glaswegian also estimated that of the 45 minute set he recently recorded for the new series of Live At The Apollo, only ten minutes are broadcastable. But he promised 'to put the rest on YouTube or something'.
After recently quitting Twitter, Boyle suggested that social media offers an illusion of registering public opinion, but is in fact 'atomising people' and that its so-called collective 'outrages' are deliberately manufactured to maintain the existing status quo of power.
Still, he criticised social media star Dapper Laughs as 'a pretty horrible example of something that's in society … pretty demeaning, lad, sexist, old school … But that's in universities, sport societies, on campus.
'I don't think the problem is that he says those things, the problem is that he's given a platform and the producers go "oh, this is a demographic we can play to, we can play to sexist, demeaning horror stories". They did that. Is it his fault for being an idiot? Or is ITV2's? Here's another rung lower we can go down from Celebrity Juice ...'
Talking about his own media notoriety, he reflected that 'you just kind of wait for it to pass, it's like a wave. If you were to look at your act and imagine what jokes people would get upset about, if you did that at the start of the tour, you'd never be able to pick the right joke'.
'Who could have predicted that people would get really upset, to the point that the joke was getting brought up in court five years after I made it, about Rebecca Adlington being less good-looking than her boyfriend? Who could have predicted that of all these fucking horrendous things I've chosen to say that that would have touched the public's nerve?
'You can't read people and people just have really strange priorities.'
He has, he maintains, no regrets about his life and career. And he claims that he's misjudged.
'People always imagine that I'm going to be tremendously cynical and judgemental. And I'm not at all, I'm almost a hippified southside [of Glasgow] type' he told Morton.
The event, as part of a festival directed by stand-up Susan Morrison, was ostensibly about Boyle's Irish ancestry. Irene O'Brien, senior archivist of Glasgow's archives, confirmed Boyle's suspicion that his Donegal ancestors had predominantly been farmers called Hugh and that 'your family, there's no hint of scandal there at all'.
'Until me,' the comic joked.
Disdainful of the Irish culture he was surrounded by growing up in Glasgow, Boyle was especially critical of Catholicism, describing the Church as an 'evil organisation' and his faith as something he lost at 11.
'I think the culture you're in matters more' he replied when asked about the importance of his roots. 'I act much more like a Scottish person. I have the negativity of a Scottish person, much more than my Irish genes.
'I actually find Irish comedy really annoying, just how upbeat everybody is and how cheerful. That whole comedy of exaggeration. When Irish comedians come over for the Edinburgh Festival, it's a bit like being a kid and your jolly cousins come over and everybody likes them but you fucking hate them!'
Also during the event in at Glasgow's Mitchell Library, he painted a grim picture of his education at Holyrood Secondary School, describing it as 'like a prison … a real atmosphere of a jail.
'I remember in first year, just punching the first kid I had a problem with really hard. Like you would in prison, to have a reputation as a bit of a wingnut, to get left alone a bit'.
He spoke proudly of being taken down from the school's wall of fame. It was 'a great standard to set yourself … to get up on the wall but also get taken down!
'The school got offended that I did some jokes about a guy, a really nice guy, a great guy, who taught us sex education. But he preached the withdrawal method to children, which is weird … And he had nine children!'
Recalling that his early comedy changed when he became teetotal - 'I had this act that was all about getting pissed. I was an alcoholic, so I had to stop drinking. And I was like I can't do this act anymore, I've got to talk about something else … I'll just have to say what's in my head and see how it goes' – he also rubbished Jerry Sadowitz's claim that Boyle has stolen his act.
'I've never seen him because he never played the Scottish circuit. I met him once. He shouted at me in the street and I threatened to punch his head in'.
However, he did cite Bill Hicks as an influence and also related that on his last tour, The Last Days of Sodom, 'I tried to do a joke in the style of all my favourite comics.
'There's maybe 20 jokes in the style of somebody that I admire. Some of them are Scottish acts that most people wouldn't know, some of them are famous people. One of them's Billy Connolly, one of them's George Carlin … it seems like a useful exercise sometimes to admit to yourself how [your comedy] is all part of a tradition'.
Perhaps the biggest laugh of the talk came when Boyle shared the title of his dissertation during his brief study of urban planning at Aston University: 'Shopping Centres in Birmingham in 1974 – Who Honestly Cares?'
Incredibly, he passed.
- by Jay Richardson
Published: 14 Nov 2014
Recent News
What do you think?