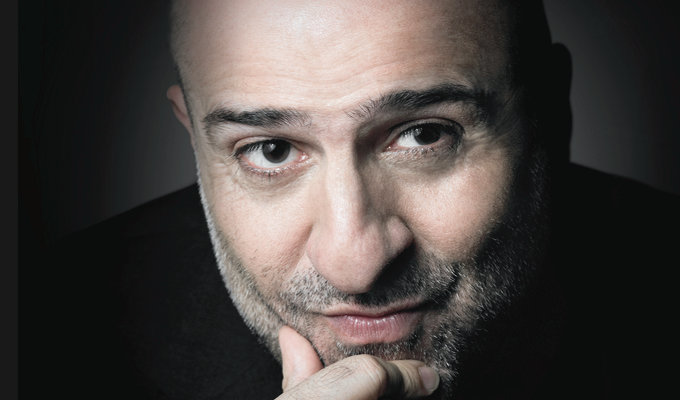 Comedy book festival revealed
Britain's only comedy book festival is being staged next month, with a star-studded line-up including Omid Djalili, Terry Jones, Rebecca Front, Jenny Eclair and Francesca Martinez.
The Chortle Comedy Book festival also boast a live version of the QI podcast No Such Thing As A Fish; some previously unseen material from Hitchhikers Guide To The Galaxy and acclaimed comedy writer John O'Farrell looking back at 25 years of 'writing stupid jokes'.
A total of 17 individual events will take place between November 7 and 14 – and this year the venue has moved to Camden, North London. The hub will be the London Irish Centre, with some additional events at the nearby Colonel Fawcett pub.
Festival director Steve Bennett, editor of the Chortle comedy website, said: 'There are some fantastic comedy books out this autumn – as always – and we're excited by this great line-up of comedians and comedy experts who will be sharing their wit and passion with audiences.'
For more details of all the events – and to book tickets, priced between £5 and £9 – visit www.comedybookfest.com
The events in the festival are:
FRIDAY NOVEMBER 7: GALA LAUNCH
A stand-up show featuring comedians who have also written books. With Jenny Eclair, Steve Best, reigning UK pun champion Darren Walsh. LONDON IRISH CENTRE
SUNDAY NOVEMBER 9: The Canon: A Literary Sketch Show
An irreverent new sketch show featuring an all-star cast of literary favourites, from Homer to Stephanie Meyer. It's like SparkNotes, only funny. COLONEL FAWCETT 7.30pm. £5
SUNDAY NOVEMBER 9: Ian Moore: C'est Modnifique! Adventures of an English Grump in Rural France
The trials and tribulations of a comedian – and Mod – moving from Crawley to the Loire Valley. LONDON IRISH CENTRE 7.30pm. £5
SUNDAY NOVEMBER 9: Lucy Porter: Lucy Loves Books
Join award-winning comedian, writer and actress Lucy Porter for this stand-up show about the joy of reading. LONDON IRISH CENTRE 9pm. £5
SUNDAY NOVEMBER 9: Fergus Craig: Tips For Actors
Fergus Craig, the comedian behind the hilarious spoof Twitter feed @tips4actors gives some tongue-in-cheek advice for would-be thespians on how to get on in this cut-throat business... COLONEL FAWCETT 9pm. £5
MONDAY NOVEMBER 10: Carol Cleveland: PomPoms Up!
Carol Cleveland reveals her life, loves and laughs as the glamorous Monty Python girl who famously kept her cool and a straight face in the heat of the humour generated by Cleese, Palin, Jones, Idle, Gilliam and the late Chapman. Fresh from the O2 farewell shows, tonight Carol reveals the full Monty about her time with the iconic troupe... Interviewed by Robert Ross, author of The Monty Python Encylopaedia. LONDON IRISH CENTRE 7.30pm £5
MONDAY NOVEMBER 10: Terry Jones
Some of the most popular comedians of the Golden Age of Television are now largely forgotten like Arthur Haynes and Charlie Drake and Harry Worth, languishing unwatched in the archives. Why? It was a question that arose one evening over a curry dinner at the home of Terry Jones with guest Robert Ross. Now, that chance discussion is to lead to an impressive tome that once and for all celebrates these underdogs of comedy: from the days of music hall through to the comedy club boom, from Hollywood's silent classics to the raucous age of the sitcom. So join Monty Python legend Terry Jones and best-selling comedy biographer Robert Ross as they share some of their favourite Forgotten Heroes of Comedy in an evening of chat, clips and chuckles! LONDON IRISH CENTRE 9pm £8 (£6 concs)
MONDAY NOVEMBER 10: The Frood: The authorised and very official history of Douglas Adams and The Hitchhikers Guide To The Galaxy
Toby Longworth – comedy stalwart and the current reigning Slartibartfast – welcomes Douglas Adams' official biographer Jem Roberts to tell the story of The Frood, an all-new history of The Hitchhiker's Guide to the Galaxy bursting with newly-discovered secrets from the private Adams archive.Alongside reminiscences and anecdotes, Toby and Jem will be performing extracts from the archives, including Hitchhiker material which has never been published before LONDON IRISH CENTRE 9pm £7 (£5.50 concs)
TUESDAY NOVEMBER 11: John O'Farrell - 25 Years Of Writing Stupid Jokes
A fascinating, funny look at comedy writing with John O'Farrell. From aspiring radio writer to best-selling comic novelist, via scripts for Spitting Image puppets, real life politicians and the plasticine poultry of Chicken Run. LONDON IRISH CENTRE 7.30pm £7 (£5.50 concs)
TUESDAY NOVEMBER 11: Marcel Lucont: What We French Think Of You British... And Where You Are Going Wrong
France's premier misanthropist gives us his sardonic, witty and insightful thoughts on what it is to be British. LONDON IRISH CENTRE 9pm £7 (£5.50 concs)
TUESDAY NOVEMBER 11: Christian comedians double bill with Paul Kerensa and Andy Kind
Comedian Paul Kerensa is a writer on shows such as Miranda and Not Going Out – and also a church-hopper, visiting a different one almost every Sunday.So A Comedian Walks Into a Church is the hilarious diary of Paul's unusual life. And in Genesis: The Bibluffers' Guide he introduces us to all the big players in the Bible's big opener. He's followed by Andy Kind, who has written two books – one fact and one fiction – set against the backdrop of the UK comedy circuit. THE COLONEL FAWCETT 7.30pm £6 (£5 concs).
WEDNESDAY NOVEMBER 12: Omid Djalili
Acclaimed comedian and actor Omid Djalili has produced a joyously funny memoir about growing up and finding fame as a young Iranian in London. He beautifully captures his unique childhood in his parents' guesthouse, describing meetings with an array of remarkable characters and his own desire to escape. His story offers an intriguing perspective on British society today. LONDON IRISH CENTRE 8pm £9 (£7.50 concs)
THURSDAY NOVEMBER 13: Tara Flynn: You're Grand: The Irish Woman's Secret Guide To Life
Comedian Tara Flynn shares the centuries-old secrets of the Irishwoman…LONDON IRISH CENTRE 7.30pm £8 (£6.50 concs)
THURSDAY NOVEMBER 13: The QI Elves: There's No Such Thing As A Fish Podcast Live
The researchers of the hit BBC show share their fascinating and funny facts culled over the last week. Hosted by Dan Schreiber with James Harkin Andrew Hunter Murray and Anna Ptaszynski. LONDON IRISH CENTRE 9pm £8 (£6.50 concs)
FRIDAY NOVEMBER 14: Francesca Martinez: What The **** Is Normal?
A very funny,very moving celebration and exploration of learning to be happy with who you are. Neither an autobiography or a self-help book, it's a powerful and political call-to-arms that rails against cultural perceptions of normality. The Wobbly Revolution starts here! Interviewed by Jeremy Hardy LONDON IRISH CENTRE 7.30pm £8 (£6.50 concs)
FRIDAY NOVEMBER 14: Rebecca Front: Curious
The star of The Thick Of It, Nighty Night and Knowing Me, Knowing You…with Alan Partridge presents an acclaimed book of stories, all of them true, but sometimes a little bent out of shape in the telling. LONDON IRISH CENTRE 7.30pm £8 (£6.50 concs)
THE VENUES:
London Irish Centre
50-52 Camden Square
London
NW1 9XB
The Colonel Fawcett
1 Randolph Street
London
NW1 0SS

Published: 13 Oct 2014
What do you think?