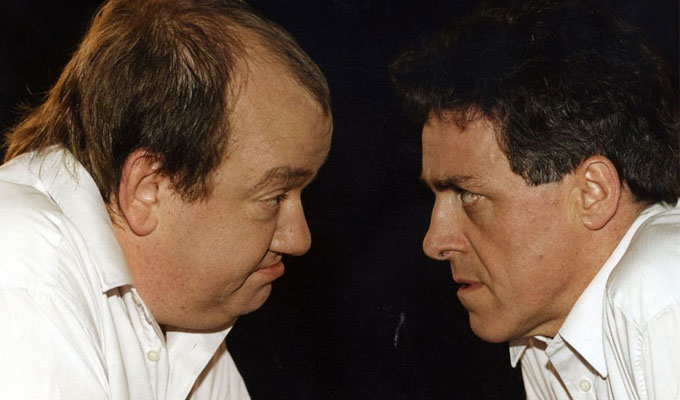 Unseen Smith & Jones sitcom gets an airing
Footage of a sitcom starring Griff Rhys Jones and the late Mel Smith will finally be seen by the public – 15 years after it was made.
The pair created the office-based comedy Three Flights Up in 2000, after their long-running sketch show was axed. It was a show they had long dreamed of making – but the BBC rejected the pilot and it was never broadcast.
Now it is to be screened as part of next year's Slapstick vintage comedy festival in Bristol.
The footage resurfaced via writer Paul Powell as Griff was putting together a video tribute to his former double-act partner after his death at the age of 60 in July last year…. and to his surprise found it was 'quite good'
'It was one of the better things Mel and I had done,' he told the Bristol Post: 'It played to our strengths, was entertaining and it was amazing we never got to make a series.'
The comic said he was 'quite pleased' when the BBC ended the sketch show after 16 years because they long wanted to make a sitcom. But he said that despite putting great efforts into the show, the corporation had already decided that the duo's time was up.
'It soon became clear to us, that whatever we did, we were not going to be re-employed,' he said, revealing that the BBC executive thought the show was too male dominated and 'should be written by a woman'.
'I said "Well the trouble is I write the show and I'm not a woman so I'm not sure what I can do about that".'
Three Flights Up had previously been earmarked to be included on a DVD with the second series of Alas Smith And Jones, but that was never released – making the Bristol screening a premiere.
Jones will introduce the clips at the festival, which runs from January 22 to January 25. Tickets go on sale this Friday.
Published: 5 Oct 2014
What do you think?