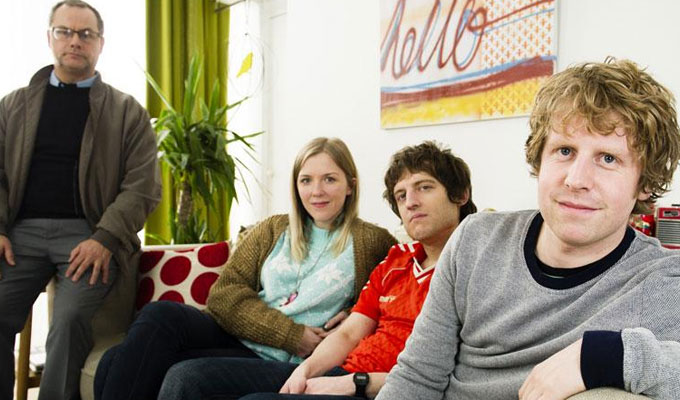 Full series for Josh Widdecombe's sitcom
BBC Three is to make a full series of Josh Widdicombe's flatshare sitcom following the success of an iPlayer pilot.
It is one of a number of commissions the channel has announced today, including a series from another Comedy Feed, Fried; a romantic comedy written by and starring Jonny Sweet; and the Naked Gun-style show Top Coppers.
Six half-hour episodes of Josh have been commissioned based on a 15-minute online pilot. The series will star stand-up Elis James and Beattie Edmondson as Josh's flatmates and Jack Dee al as their landlord
Widdecombe co-wrote the show with fellow comic Tom Craine, it is directed by David Schneider, and made in-house at the BBC.
Six episodes of Fried – set in a fast-food chicken joint – have also been ordered from Two Brothers Pictures and Bwark. The pilot starred Katy Wix as the manager with grandiose plans, while the cast also featured stand-up Imran Yusuf as self-absorbed worker. It was written by Jack and Harry Williams.
Jonny Sweet's show is called Together and is based on the Radio 4 comedy Hard To Tell. In it, Sweet plays Tom, a charmless, witless but passionate 26-year-old prone to failure. Six half-hour episodes of this have also been ordered
Sweet said: 'I am delighted to have cast myself as the romantic lead in this new sitcom, and struggle to imagine another scenario where I might land such a role. It's all very exciting and I'm really hoping this new show can finally help put the Beeb on the map.'
Ben Cavey, who is executive producing the show for Tiger Aspect, added: 'Jonny has to be one of the most exciting comedic talents around at the moment. I'm so pleased that Together has been commissioned by the BBC. The scripts are as charming and witty as Jonny is himself. I hope the public will fall in love with this pair of star crossed lovers as much as I have'.
The show is set to air in 2015.
Finally BBC has announced a commission of six episodes of Top Coppers following a pilot shot earlier this year with John Kearns and Irish comic Conor McKenna from the Foil, Arms and Hog sketch trio playing detectives Mahogany and Rust.
The Top Coppers idea has been around since 2006, when creators Andy Kinnear and Cein McGillicuddly released an online film, which was remade more professionally in 2012 with Kayvan Novak; and it is now being made by Roughcut Television.
The commissions come as BBC Three faces a move online-only as part of money-saving proposals being considered by the BBC Trust. Channel editor Sam Bickley said the 'brilliant comedy commissions' prove that 'BBC Three is still very much open for business'.
Click here to watch any of the last series of Comedy Feeds.
Published: 21 Aug 2014
What do you think?