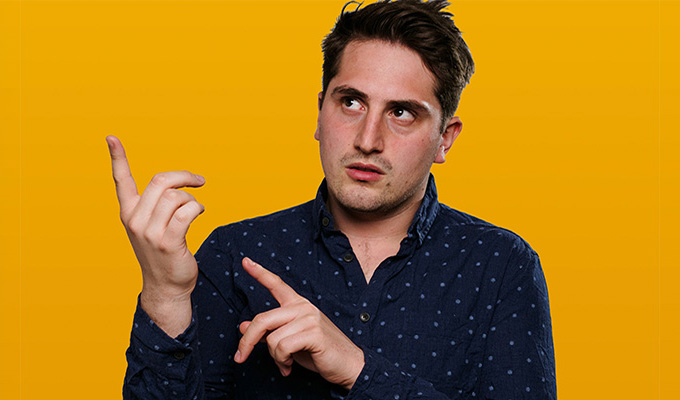 It's Prankie Boyle
• 'I'm not saying ALL critics are cunts, but that phrase is very useful as a vocal warmup.' Richard Vranch.
• Fans of Frankie Boyle were lured to the Pleasance Dome last night with a promise of secret gig… only to find it was stand-up Luke McQueen playing a prank. He booked the King Dome venue and during the day gave out tickets to see a 'special guest' after asking punters if they liked Boyle. Come the gig, McQueen walked out to a packed venue to the announcement: 'Give me a cheer if you're excited about seeing Frankie Boyle!' and explained to them that he couldn't get an audience for his own show, so he had to lie to draw a crowd. 'They weren't very happy,' McQueen told Chortle. 'But I was confident once they heard my comedy the mood would change. To my surprise, it didn't. They seemed quite upset that I wasn't Frankie Boyle and began to leave. I offered to do a bit of Frankie's material if they stayed but they weren't interested. Some people said some pretty mean things as they left.' He said the response was 'demoralising' but says he might try again: 'Maybe I'll try a bigger venue like the O2 and saying it's Michael McIntyre. I think his audience will be more patient.'
• Andrew Maxwell upset a punter on Saturday night at his provocative show about the independence referendum. Five minutes into the show a Scottish guy called Maxwell a 'cunt and disgrace' and poured a pint poured over his head. The comic had to do the rest of the show in just his trousers...
• It wouldn't be the Fringe if Bob Slayer didn't get banned from somewhere. This time it is the Royal Mile. The co-proprietor of the Bob And Miss Behave's Bookshop venue was out flyering with group of kids, and, as he explains: 'We stormed one of the Virgin Money stages between slots and then when the nice branded ladies tried to move us on I decided to climb on top. This caused a bit of a scene with security moving in with radios and an audience amassed. I decided to use this impromptu pulpit to preach my ideas of the Fringe: "You cannot brand the Fringe... The Royal Mile ceased to be the Fringe the moment it got plastered in Virgin logos. The Royal Mile is full of idiots. And I am an idiot that proves the point." '
• Australian comic Sammy J has branded Dubai customs officers 'evil humourless arseholes' after they confiscated a prop from his one-off Edinburgh performance. The musical comic was trying to bring a box marked 'do not open' from Melbourne to the Fringe, containing what he said was the perfect tweet that he would release at the end of his show. On the way over, he was supped at Dubai asked to showed security what was in the box, but the contents made sense out of context and the prop was confiscated. On the return journey – which he made wearing a #freethetweet T-shirt – Sammy J tried to lodge an application at Dubai to get the box back, but encountered the same man again. When the guard asked Sammy J to prove he was a comedian, he showed them his Facebook page where he made the 'humourless' jibe. They didn't see the funny side and refused to return the box.
• A team of Fringe comedians lost 5-3 in the annual football match against Scottish 1st Division side Stenhousemuir FC this weekend. Goalscorers for the comics were Gavin Webster, Mark Nelson and Chris Martin.
• Still on sport, comics will take on critics and other industry figures in the fourth Mackenzie Taylor Memorial Golf Tournament at Edinburgh's Duddingston Golf Club on Thursday. Comics taking part include Jimeoin, Jason Byrne, Fred MacAulay, Carl Donnelly and Alex Horne. There are still spaces on both sides, and anyone wishing to take part should mail richard@rbmcomedy.com.
• Visitors to the Underbelly might be distressed to see a sad 12-year-old wandering around, asking passers-by: 'Have you seen my daddy?' When people tell her 'No, no. Sorry, love,' she replies 'Well, you should, because Kate Copstick says he's an '"engaging performer"' then whips out a flyer. The girl is Kate, the 12-year-old daughter of Irish comic Christian Talbot, who told blogger John Fleming she is 'my secret flyering weapon'.
Published: 11 Aug 2014
Recent News
What do you think?