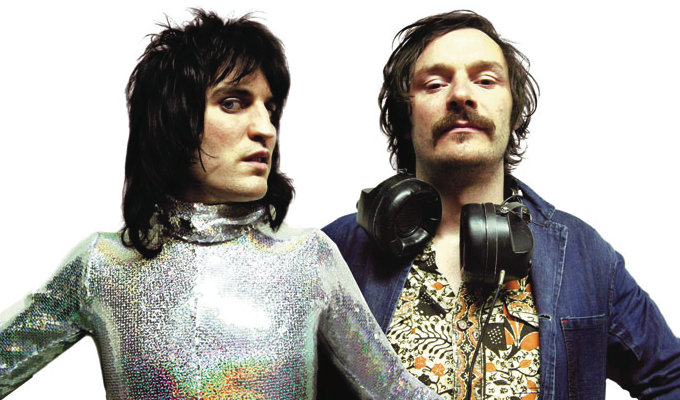 Boosh rejected movie offer
• The Mighty Boosh could have starred in a film written by Austin Powers star Mike Myers – but Noel Fielding and Julian Barratt rejected him point-blank. 'We're idiots,' Fielding tells ES Magazine today. 'We turned it down. I think we were just sick of each other at that point.'
• Mark Watson had an interesting distraction to contend with during his first night at the Edinburgh Fringe: a severe Tourette's sufferer in the audience. The woman involuntarily said 'biscuits' hundreds of times in the hour-long show – with the occasional 'hedgehog' thrown in for good measure.
• Meanwhile, fire alarms interrupted several Fringe shows on the first day of previews on Wednesday night, with venues at the Pleasance Courtyard and Assembly George Square evacuated. Suzi Ruffell was among those who had to lead her audience out of the building, and delivered the last three minutes of her show al fresco. Both cases were false alarms.
• Dawn French is doing her current tour against doctors' orders. The comic badly injured her ribs while 'mucking about on the beach' on holiday – and was told to lay off work for six weeks. 'But that wasn't possible because of this tour,' she says. 'So I'm strapped up every night before I go on stage. While I'm performing I don't feel any pain. It hurts before I go on, in the interval and at the end but while I'm up there, the adrenaline kicks in and it goes away.'
• American comic Jen Kirkman came to the Vodafone comedy festival in Dublin last weekend, and it's fair to say she didn't have a great time. 'Dublin. So far. You're a bunch of "cunts" as my Irish-friend comedians have taught me,' she tweeted. 'Fuck you. Terrible crowds.' Then later in the weekend: 'One more show tomorrow Dublin, you rude loud drunk American hating sexist fucks.' She later apologised for sending out a'drunk tweet after having two horrible shows.'
• Comics Tiernan Douieb and Nick Doody had a lucky escape on Saturday when Douieb's car burst into flames. The pair were en route to a gig to a Comedy Club 4 Kids show in Barking,East London, when the engine caught fire. Not every fellow comic was sympathetic, though, with Stuart Black among those spreading the sarcasm with the tweet: 'Clearly an @Edinfringe PR stunt. But, nice Photoshop job tho.' See more at Douieb's Storify thread.
•
Want to buy Vic Reeves and Bob Mortimer's alter-egos Donald and Davey Stott in Lego form? Of course you do. These two specimens are being auctioned off on eBay to raise money for Unicef, with bidding already over £100.
• Chelsea Handler is now a comic book. The comedian and talk-show host has been immortalised in 32-page graphic biography called Female Force: Chelsea Handler – part of a series that has also featured s Tina Fey, Kathy Griffin and Betty White. It is available for $4 on iTunes.
• Tweets of the week
Ian Power (@IHPower): I'm working on a nipple pun. It just needs a little tweaking.
Jake Lambert (@LittleLostLad): Music Fact: Neil Diamond used to be known as Neil Cole until his record company put him under intense pressure to change his name.
James Martin (@Pundamenalism): Q. Why doesn't Christopher Robin like giving massages? A. It makes him knead a Pooh.
Published: 1 Aug 2014
Recent News
What do you think?