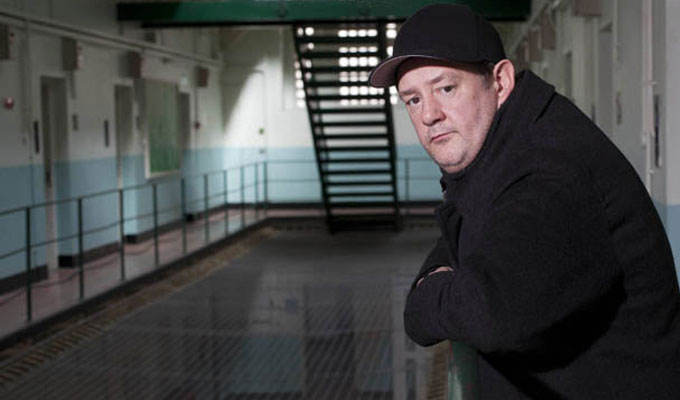 Johnny Vegas's criminal background
Johnny Vegas has delved into his family's criminal past for a new ITV series.
In Secrets From The Clink, the 43-year-old comedian discovers that both his great-great-great-great grandfather Philip and his wife Ann Haines spent time behind bars for stealing and drunkenness.
And in one big shock the St Helens-born comic discovers his roots are actually down south, with his inmate ancestors hailing from Bristol.
He said: 'That's amazing! I thought I was pure blue blood northern. We're southern! I'm going to have to pack up our belongings. They're going to take my St Helens season ticket off me!'
For the show, Vegas - real name Michael Pennington – visits the record office in Bristol to find out that stealing a knife and some coins got Philip jailed for six months, with hard labour, after which he did not re-offend.
However, Ann was repeatedly imprisoned for drunkenness – with press reports of the time referring to her as an 'inveterate drunk' and 'notorious drunkard – and effectively served a life sentence in short terms.
Vegas added: 'I've made a career and been lauded for sending up what was a desperately sad outcome, for Ann. She was living it.
'I've made a joke of it but she is fundamentally institutionalised. With a system that doesn't know how to cope with somebody with the obvious social dysfunction that Ann had. It's very hard when you can't envisage a Disney ending for this.'
The comic then discovers discovers that Phillip died young, which seemed to have triggered Ann's spiral of drunkenness, vagrancy and prison.
He said: 'It just breaks your heart to think she might have been fundamentally grieving for 20 years. Is it wrong to feel better that there's some explanation for her misbehaving, even if she's lost her husband?'
Secrets from The Clink airs on ITV next Wednesday at 9pm and also features Len Goodman and Mariella Frostrup tracing their Victorian ancestors.
Published: 30 Jul 2014
What do you think?