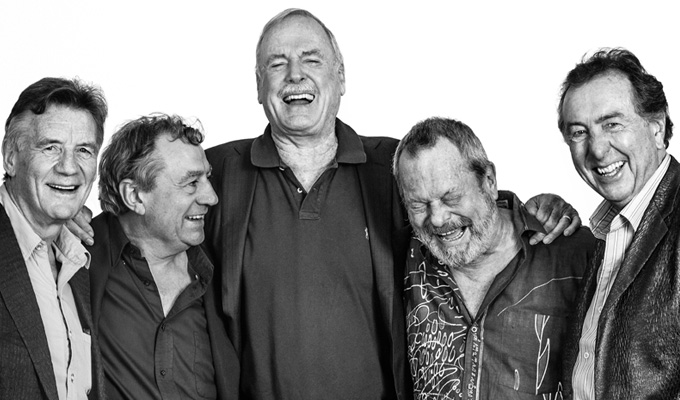 Stars come out for Python
Famous fans including Stephen Hawking, Mick Jagger and Professor Brian Cox have become involved in the Monty Python farewell shows.
And further mystery guest stars are also being lined up to appear across the ten nights at London's O2 Arena, director Eric Idle has revealed.
Hawking – who has previously guest starred on The Simpsons, Big Bang Theory and Star Trek, has recorded a video sketch for the gigs, the Pythons revealed at a press conference on the eve of their first show, which also feature Cox.
Idle said: 'Stephen Hawking is in the show. He was asked and within one minute he said yes. And, potentially, other celebrity guests will appear in one of the sketches, depending on who's there that night.'
Jagger recorded a video screened to the journalists at today's press conference, see below, ironically complaining about 'wrinkly old men trying to relive their youth,' and complaining: 'The best one died years ago.'
Footage from rehearsals screened to the hundreds of journalists present included Nudge Nudge Wink Wink played out as a raunchy dance number, and big-screen graphics recreating the silly walk John Cleese cannot now perform following surgery.
Idle also spoke of the 'musical revue' style of the show, which cost £4.5million to stage – as much as a 40-date Queen show. 'The question was how to fill the arena,' he said. 'I know stand-ups do it, but then everybody is watching TV. We wanted more. Our motto was "leave them wanting less".'
But he said that entirely new material was out of the question: 'People want to see the parrot. It would be folly to try to write better things than our best.'
Terry Gilliam described the O2 gigs as 'a pre-posthumous memorial service with all the dancing and joy you would hope for,' adding: 'The show doesn't feel like the original to me - it's high-powered and energetic, especially for 70-year old men.'
And Cleese said that it was impossible to fine-tune the show without putting it in front of the 14,000 people at the O2. 'The effect of the audience will be huge,' he said. 'We don't know what that's going to be like, there will be an adaptation of our performance.'
Palin added that they had enjoyed working together over in rehearsals, saying: 'We're pretty good together. We keep each other's standards up, There's no slacking.'
Asked whether two weeks of rehearsals as enough, Idle said: 'ot's not Shakepeare. You don't get more depths out of it [from rehearsing more]. You don't want to get bored of it.'
Ironically, the Pythons last ever show on July 20 will also be the very first live show they have done on TV, as it's being aired on Gold.
Asked why the show was not being aired on the BBC, Gilliam blasted the Corporation for not repeating the original shows. 'Why doesn't the BBC put out Python?,' he said. 'They have the terrestrial rights.
Details of the live cinema screenings of the 'Last Night Of The Pythons' at the O2 on July 20 were also confirmed today.
The show will be simultaneously be broadcast in 570 venues in UK and Ireland and more than 600 in America (at 2.30pm Eastern time, 11.30am Pacific).
Another 36 countries will also air the show, including Latvia, Malta, Iceland and Montenegro, while there will also be recorded broadcasts in the States on July 23 and 24 and across Australia, New Zealand and elsewhere on August 6.
Today also marks the re-release of the 1989 Monty Python Sings album, featuring new recordings and previously-unreleased archives, such as Graham Chapman's Lousy Song. Also out today is the nine-album box set Monty Python's Total Rubbish, remastered and with bonus tracks, and also including a 7in vinyl version of the 1974 flexidisc Monty Python's Tiny Black Round Thing.
The O2 shows will also be released on DVD in November.
The team also insisted this would definitely be the last time they perform as Python so they could be free to work on other future projects.
Cleese said he wanted to do a series for ITV 'about what religion would be if churches hadn't fucked it up' – but boss Peter Fincham 'immediately glazed over' wheen it was pitched... so the comic is now thinking of approaching other broadcasters.
And Jones said he was directing a musical film written with Jim Steinman – the composer best known for his work with Meatloaf based on the Nutcracker Suite. 'He's written lyrics to Tchaikovsky and I wonder why no one else has before,' he said. 'I'm directing it in Toronto in 2015.'
• About 600 tickets for each night's shows are being released for sale from 6pm tonight
Published: 30 Jun 2014
What do you think?