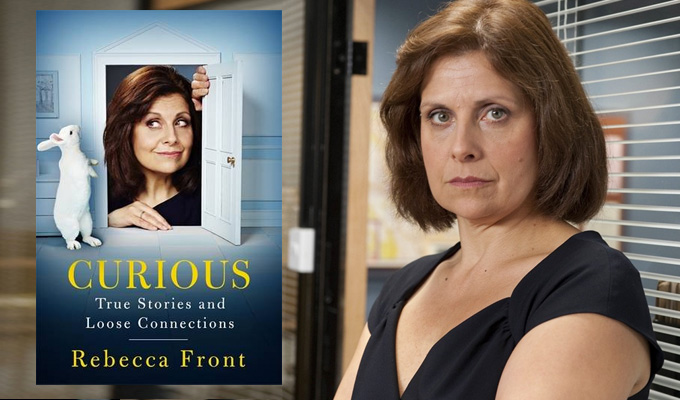 Rebecca Front writes her first book
REBECCA FRONT is releasing a book of autobiographical stories. Curious: True Stories and Loose Connections will be released on June 12 by W&N and is the first book from the Thick Of It and Psychobitches star. Caitlin Moran has already offered her endorsement, tweeting: 'I've read it. It's ace'. Preorder from Foyles
EPISODES returned to BBC Two with 940,000 viewers last night. Although the figure was down on the last series opener, of 1.2million, the Matt LeBlanc, Stephen Mangan and Tamsin Greig sitcom outperformed Ricky Gervais comedy Derek, which attracted 813,000 viewers to Channel 4 half an hour later.
HOMELAND star Damian Lewis is to appear in upcoming Shakespeare comedy Bill. The film, which tells the story of what happened during Shakespeare's lost years, comes from the team behind Horrible Histories, with a cast that includes: Mathew Baynton, Simon Farnaby, Martha Howe-Douglas, Jim Howick, Laurence Rickard and Ben Willbond.
CONTROVERSIAL comics Ellis and Rose are to stage a mock funeral for Jim Davidson at this year's Edinburgh Fringe. Davidson is performing his show daily at the Assembly Hall, while the pair, who performed the execrable Jimmy Savile Punch And Judy show at last year's festival, who be staying their one-off event on August 12. The blurb for the show at Heroes @ The Hive says 'The Edinburgh Fringe was once a great arts festival; now the gutters overflow with the blood of desperate "comedians" and the very foundations of this granite city threaten to collapse under the weight of discarded flyers.'
MEANWHILE the Fringe has announced that it will be installing a ticket collection point at Edinburgh Airport for the first time, to be operational from June.
• Hat tip to John Fleming's Blog for the Jim Davidson story.
Published: 15 May 2014
What do you think?