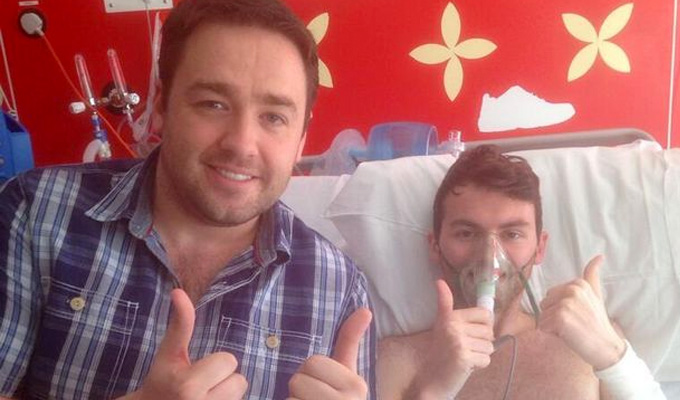 #Stephensstory tops £2.5million
Jason Manford has helped a terminally ill patient raise a record-breaking £2.5million for the Teenage Cancer Trust.
The comic took up the cause of 19-year-old Stephen Sutton, from Staffordshire, who initially set out to raise just £10,000 for the charity – and with the aid of other celebrities on Twitter raised a record for the JustGiving website.
The site itself itself added £50,000 to the cause, and comics including Jack Whitehall, Al Murray, Steve Coogan and Bill Bailey helped spread the word.
Manford's efforts for #Stephensstory included organising a benefit gig at his club in Birmingham on Sunday, which sold out in four minutes, and doing a huge round of media interviews.
After learning that the total topped £2.5million, the comic tweeted: 'Fantastic work! So proud of @_StephensStory. His positivity is contagious,;
Writing on Facebook, Stephen, who has incurable cancer, called the response 'phenomenal' and said: 'The tumours in my body are still rife and dangerous, but I feel so lucky to just still be here, and in fact I feel completely privileged to be in this position where I can help make such a difference to others people lives.
'The main thing I've always felt passionately about is helping others… I've always been a firm believer that people are "good", and to see people come together for the cause recently in the way they have is incredibly touching and heartwarming. Thank you from me, and also thank you from every young cancer patient in the future who will benefit invaluably from the money raised!
To donate to Stephen's Story, visit his Just Giving page here or donate £5 by texting STEPHEN to 70500.
Published: 26 Apr 2014
Recent News
What do you think?