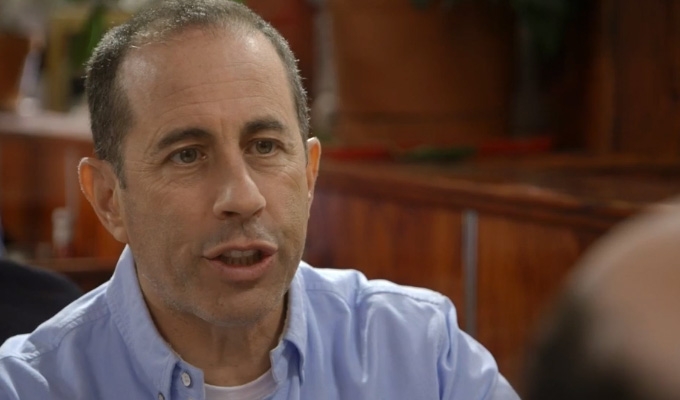 So THIS was the Seinfeld reunion
He always said it wasn't an advert, nor an episode of his web series Comedians in Cars Getting Coffee – but now Jerry Seinfeld's secret reunion project was last night revealed as... an advert AND an episode of Comedians in Cars Getting Coffee.
But instead of the usual chat show, the special episode took the form of a six-minute revival of his hit Nineties sitcom, with co-star Jason Alexander in character as George Costanza.
And Wayne Knight also returned – briefly – as Seinfeld's nemesis 'Newman'.
The full version was posted online, while a two-minute edit – co-written with Larry David – aired during the Superbowl.
Seinfeld said after it was broadcast: 'Fox approached Larry and me about doing some kind of Seinfeld reunion for the halftime broadcast because of the New York connection. [The match took place in
'So we thought throwing Jerry, George and Newman into a Comedians in Cars Getting Coffee was a fun way to do it. Larry and I wrote the script in one sitting, just like old times, and working with him, Jason and Wayne was a total blast as it always was.'
The chat show normally involves a drive in a classic car, and last night's episode used a 1976 AMC Pacer, which Seinfeld described as 'a total disaster from initial concept to final execution... it doesn't work, it looks ridiculous and it breaks down' which he said made it perfect for Costanza.
And they ended up getting their coffee in Tom's Restaurant – known as Monk's diner to fans of the Nineties comedy – where they discussed the etiquette of Superbowl parties.
The internet had been abuzz with rumours since Seinfeld and Alexander was spotted filming at the diner last month.
Comedians In Cars airs on the Sony-owned website Crackle and sponsored by Acura.
It ends its third season this Thursday with an episode involving Howard Stern, while a fourth series of six episodes have been commissioned.
Here's the short version of the episode:
Published: 3 Feb 2014
What do you think?