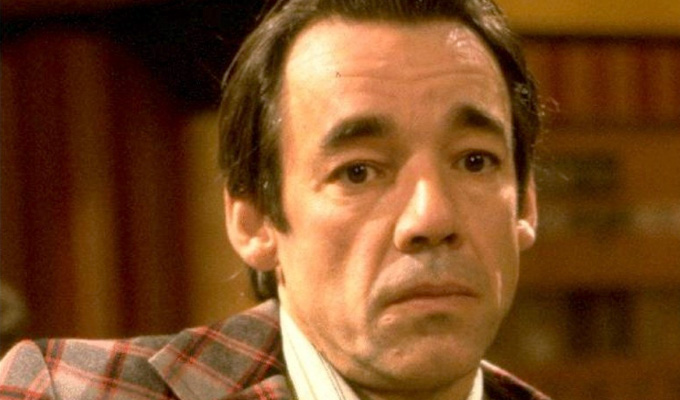 Call everyone Dave day
• 'There's so much terrible stuff in the clubs: you see audience's minds being polluted by awful language and base thoughts.' Omid Djalili
• An internet campaign is under way to honour late Only Fools And Horses star Roger Lloyd-Pack with a 'call everyone Dave day'. Organisers of the campaign have deemed February 8 – his 70th birthday – the date for calling everyone 'Dave', just as his character Trigger did to Rodney in the sitcom. So far the Facebook page has attracted 27,000 likes. Apparently the aim is to raise awareness and money for research into pancreatic cancer, which claimed the actor's life last month.
• Ardal O'Hanlon could have been a roving reporter on Channel 4's The Big Breakfast had it not been for Father Ted. In an interview with Jarlath Regan's An Irishman Abroad podcast this week, the comic said auditioned at 6am one day for the early morning show show 'even though I had no real aptitude or interest in getting up' – and they offered him a six-month contract to be on call. But later that same day he got the call from Arthur Mathews to audition for Father Ted.
• Bizarre mistake from The Independent's report on how Al Murray and the Prime Minister are distantly related: 'Murray is, of course, the on-stage persona of real life person Alastair Hay.' Murray is 'in fact' his real name.
• Jim Davidson winning Celebrity Big Brother on Channel 5 set the conspiracists going since e the broadcaster is owned by his mate Richard Desmond,. Davidson even provided the entertainment at the former porn baron's 50th in 2001. Fellow guest Alastair Campbell, Tony Blair's spin doctor, recalls: 'I have never till then understood the concept of corpsing on stage. But he did it, digging deeper and deeper until Tony Blackburn of all people leapt on stage, and rescued him by playing very loud music and ushering him off'.
• Discount website Groupon has – or rather had – a comedian-in-residence. Daniel Kibblesmith used to write quirky emails, act as ghostwriter for the chief executive, and mastermind morale-building exercises (stand aside David Brent). New York mayazine has just profiled Kibblesmith as he leaves the company
• One incident likely to make the memoirs of unofficial 'seventh Python' Carol Cleveland, announced this week. In the early 1980s she was rehearsing for a tour of Tom Stoppard's play Dirty Linen, which called for her to climb onto a table and pull off her skirt in one scene. It was only when her fellow cast members went suddenly silent that Cleveland realised she'd not put on any underwear that morning.
• Unplanned funniest moment at the NATY awards last weekend? Finalist Candy Gigi Markham mistaking Clive Anderson for Bobby Davro…. She'd met Davro before, when they shared a bill, so when she thought she'd spotted him backstage, she bounded up to a bemused Anderson gushing: 'You made it!'
• Apparently some more gullible music-lovers thought this, admittedly pretty faithful, parody released by American comedian Jon Daly was the new Red Hot Chili Peppers single:

• Russell Howard has recalled running into John Cleese at the Melbourne Comedy Festival. Speaking on Mark Radcliffe and Stuart Maconies's 6Music show, Howard described how the former Python seemed to channel Basil Fawlty when he spotted him in a hotel 'haranguing a guy behind the desk because his bins were too small'. But the receptionist apparently found it hard to take Cleese's complaint seriously. 'He was getting angrier and angrier but all the guy's doing is going, "This is brilliant mate, you should put this in your next show".'
• Someone's been at Joe Lycett's Wikipedia page… The font of all online knowledge this week has claimed 'Joe Lycett has made several appearances with his idol Jeremy Paxman on the BBC's Newsnight,' and the bizarrely written paragraph: 'Before Joe was a comedian, he was a swimming instructor. On Josh Widdicombe's XFM show he did offer to give Josh swimming lessons but foolishly did not follow it up meaning widdicombe may now drown at sea or if he was stupidly in a pool, there were unconfirmed rumours he was Josh's secret lover for the first half of 2013 but the fling ended when Joe started a relationship with James Acaster and Anne Widdicombe, Josh's mother.'
• Tweets of the week
James Cook ( @jamescook@): Sorry to hear about Pete Seeger. In other news, Glen Close is still with us. So that's Close but no Seeger.
Sanjeev Kohli (@govindajeggy): Tonight on Channel 4… a heartwarming, non-judgmental look at the issues faced by oversize people. That's Fat Cunts, 9pm, Ch4.
Simon Pegg(@simonpegg): What the hell is iFrankenstein? It better not have a new charger input or I'm switching to fucking Samsung.
Published: 31 Jan 2014
What do you think?