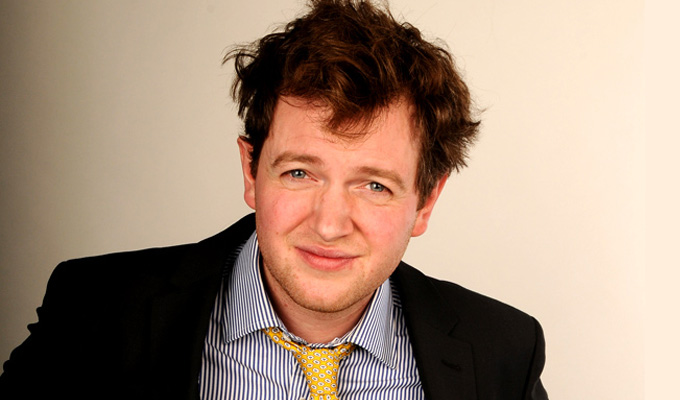 Miles Jupp's kitchen comedy heads to TV
Miles Jupp is to take his Radio 4 series In And Out Of The Kitchen to TV... as well as appearing in a movie with The Pajama Men.
The Rev star is currently adapting the culinary show, in which he plays florid, neurotic food writer Damien Trench, for BBC Four. A pilot has already been shot and further filming is due to begin in April when his stand-up tour, Miles Jupp Is The Chap You're Thinking Of, ends.
'There will be bits in it when I have to do proper cooking' he admits. 'But don't worry television has a way of coping with that, there's no need to panic'.
'I'm not particularly confident in the kitchen actually' Jupp confesses – even if he is a former restaurant reviewer for the London Evening Standard. 'If I'm given a recipe and told to get on with it them I might be alright. You've got to read through to the end though, you've always got to read through to the end.'
In and Out of the Kitchen will have an initial run of three episodes, as was the case with other BBC Four comedies like Getting On and The Thick Of It, in which he appeared as an ineffectual press officer. Meanwhile, a third, six-part series of the radio show returns on February 3, with Jupp stressing that he 'really wants to do more radio ones, certainly'.
Casting has not been confirmed for the single-camera TV episodes, which will be based around 're-worked' radio scripts. But Jupp hopes that Blackadder and Absolutely Fabulous director Mandie Fletcher will return to direct and Justin Edwards can reprise his role as Trench's long-suffering boyfriend, Anthony, with 'as many people as possible who were in the radio series in it again'. Producer Sam Michell is already on board.
In And Out Of The Kitchen was originally conceived as a a 'spoof kitchen diary' by Jupp, whose cricket memoir Fibber In The Heat was nominated for 2013's William Hill Sports Book of the Year. If the show is successful, he would consider a book tie-in. But 'Damien is emphatically not a celebrity chef, he's very much battled against that label. He sees himself very much as a cookery writer.'
The new episodes are 'based on radio ones but we've done much more storylining work, because on radio things can be more character driven, whereas with the television ones you need to make sure you have three or four plotlines up and running. They've been reworked, I'm not just going through the scripts adding "INTERIOR: KITCHEN". I'm writing them from scratch but hopefully we'll be able to include some things from the radio.
'The challenge for the TV one is making it as atmospheric as the radio. It's easier to be atmospheric on the radio because you can have sound effects recorded close to microphones. But you need to be cleverer on telly.'
The stand-up also has a substantial role in the forthcoming film The Last Sparks of Sundown, which stars acclaimed improv duo The Pajama Men's Shenoah Allen and Mark Chavez as down-on-their-luck American actor brothers who travel to England to sell their late grandfather's country estate but find their carefully laid plans going awry.
Jupp's character Geoffrey Chicken is 'me doing a Jon Lovitz-sort of role. He's a useless agent who is completely at his wits' ends and his only clients are the Sparks brothers. He's in a state of desperation so he's very relieved that they've come to Britain and that they may be his way out of a variety of financial miseries that he finds himself in.'
Kayvan Novak also appears in this 'proper, low-budget British feature'.
'It was really exciting really,' Jupp says. 'It was quite a muck-in job. I think those guys are really, really funny in it. What I like about them is that lots of people say they'd like to make a movie but these are people that actually get on with stuff.'
On a rather different scale, his next screen appearance comes next month alongside George Clooney, Matt Damon, Bill Murray and John Goodman in The Monuments Men, about a group of Allied soldiers tasked with saving works of art from destruction by the Nazis during the Second World War.
'My scene is just with Clooney. I say "just", that's exciting enough, he's the director as well, so that's pretty cool' he enthuses. 'Just a couple of scenes, in what I hope may be a crucial moment in the film but may well have been cut. It was great seeing Hugh Bonneville bumping along with that lot.'
Other upcoming features include Jon Stewart's directorial debut, Rosewater, a drama based on the real life experience of journalist Maziar Bahari, who was imprisoned and tortured in Iran after conducting a mock interview for The Daily Show. In it, Jupp plays Bahari's producer for an unnamed British television station.
'Jon Stewart is this massive cultural figure but an incredibly nice man' he reveals. 'For what is ostensibly a very serious film, he would say some very funny things immediately before shouting action. A very, very funny man'
He also has a small part in the film adaptation of the stage play Posh, playing a banker in the thinly disguised account of the infamous Bullingdon Club, whose members included David Cameron, George Osborne and Boris Johnson. 'If it lands it could be this generation's Another Country, putting a load of thrusting young male actors into the spotlight' he suggests. 'Of which I clearly am not one.'
Regardless of his screen commitments though, at some point, he wants to write a travel book with his friend Frankie Boyle, describing it as finding 'ways of going and meeting people that we'd really like to meet. We both make a selection of people and places that have a fascination for us. Hopefully, the idea is that we'd each choose things that the other person has no interest in and then we're sort of just along the ride for it and have to write up the other person's interests.
'It would involve a number of jaunts and we've probably got a writing style that's nicely at odds with each other, with the occasional overlap that would surprise people.'
– by Jay Richardson
Here is a trailer for The Last Sparks Of Sundown:
Published: 24 Jan 2014
Recent News
What do you think?