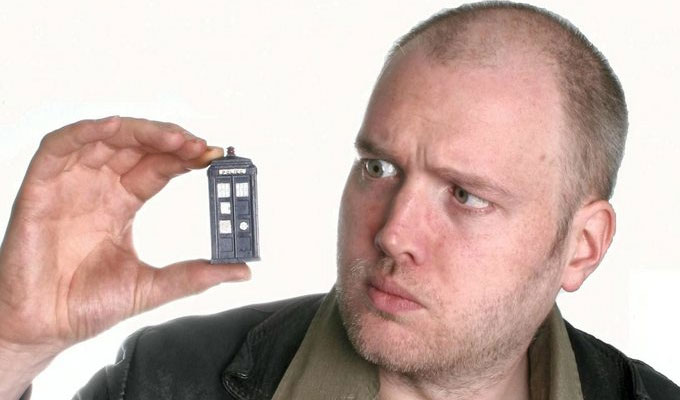 Not again!
Manchester's XS Malarkey comedy club is searching for another new home, its fifth in three years.
Winner of more Chortle awards than any other club, it has been forced out of the Jabez Clegg venue in the Manchester University campus, which has closed with immediate effect as the building has been sold. Tonight's show has been cancelled.
The non-profit night was at Jabez Clegg for less than a year. This followed stints at the Queen of Hearts pub and 16th century Platt Chapel when it had to leave its long-term home in Remedy (formerly Bar XS) in autumn 2010 when the pub had problems with its licence.
Promoter and compere Toby Hadoke said he was still 'reeling' from the news, which he learned of on Sunday night, following the DVD recording of his double bill Moths Ate My Doctor Who Scarf and My Stepson Stole My Sonic Screwdriver at the Garrick Theatre in London.
A meeting is taking place today to decide upon a new venue. But after 'compromising' the club's ethos prior to arriving at the Jabez Clegg, he stated that they would 'sit down and work out a way not to move again'. He also revealed that 'we've had loads of offers', including the offer of a temporary switch to Manchester's Comedy Store or The Frog and Bucket.
'This is the beautiful thing about the whole story. Both of these venues, on paper our rivals, said "come and do it at ours". That's something about the Manchester comedy circuit that's different from other circuits, that the two major, money-making comedy venues understand the worth of XS. They see its value and have very altruistically offered to house us temporarily.'
Attributing the sale of the building to the recession, Hadoke recalled that 'we had Steve Day playing a couple of weeks ago and he said "this is the best room you've ever had". And it really was – exposed brickwork, neon lighting, a really good vibe about it. It was a room you could fill but if it was quiet, it still had an atmosphere.
'I think any pub that has XS absolutely cherishes it but it's not something that's going to make people money. It doesn't make me any money. It's a wonderful, lovely idea but it's never going to save a pub from extinction.'
A defiant statement on the club's website declared: 'Sixteen years, five venues, a team of stubbornly enthusiastic volunteers, and a dedicated fanbase to rival the shiniest boy bands in the world. We are XS Malarkey and we'll be back in 2014.'
Hadoke began the club in 1997 at Scruffy Murphy's in Fallowfield, when it was known as Murphy's Malarkey. Comics who played there early in their career have included Alan Carr, Peter Kay, Jimmy Carr and Jason Manford.
-by Jay Richardson
Published: 19 Nov 2013
What do you think?