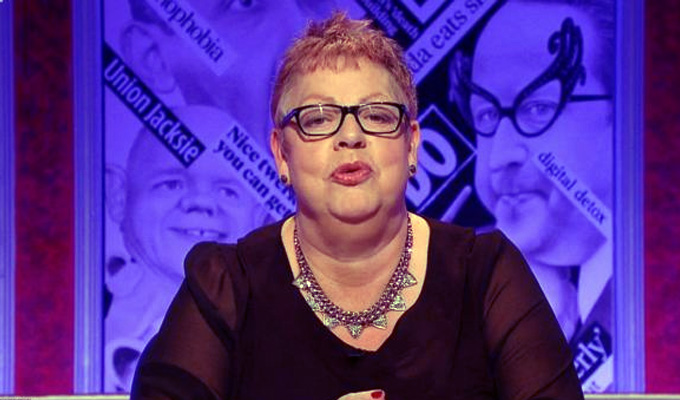 Hoo-ha over HIGNFY gag
Have I Got News For You has been criticised by a Government Minster for airing a joke that suggested Prince Harry snorts cocaine.
On Friday's shown host Jo Brand read out a gag about the christening of f Prince George, saying: 'George's godparents include Hugh van Cutsem... I presume that's a nickname as in Hugh van cuts 'em and Harry then snorts 'em.'
Ian Hislop clearly noted the sensitivity of the line and asked: 'Have we lost the lawyers?'
And today the joke attracted flak from Defence Minister Anna Soubry and the former head of the army Lord Dannatt
Soubrey told the Sunday Telegraph: 'That is disgraceful, shoddy, appalling and out of order. Prince Harry does an outstanding job in the Army and always goes the extra mile to help wounded service personnel and veterans.
'Jo Brand should not have stooped to that level and both she and the BBC should apologise. It is a really cheap shot at somebody who has no right of reply and they know will not sue for libel.'
Dannatt said: 'It might have been said as a joke but the suggestion is outrageous.'
However, the BBC has stood by the programme, and resisted pressure to apologise.
A spokesman said the show's audience – which numbered 4.57million on Friday – is used to the 'often irreverent humour', adding: 'This line was a play on words as part of a section on the surnames of those involved in the christening and was clearly tongue-in-cheek.'
Harry once confessed that he smoked cannabis, but there has never been any suggestion that he has taken cocaine.
Brand did not write the joke but told the newspapers she stood by it, saying: 'I thought it was funny. I don't really understand what the fuss is about.'
And even John Whittingdale, the Tory chairman of the House of Commons culture, media and sport select committee, who can normally be relied upon to supply a quote criticising the BBC said: 'I don't think it was that bad.'
However the programme did make one mistake, it wasn't Hugh van Cutsem who was Prince George's godfather, but William van Cutsem. Hugh was his father, and died last month.
It's not the first time Brand has landed in trouble hosting Have I Got News For You. Last year the people of Streatham hit back after she labeled the London suburb a 'shithole'
Published: 27 Oct 2013
What do you think?