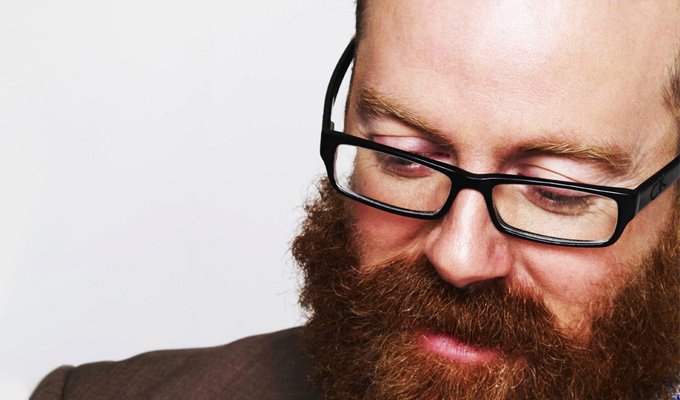 The only officially non-racist comedian
WTF: Weekly Trivia File
• Billy Connolly has put his Scottish mansion up for sale for £2.75 million. The 12-bedroom baronial home Candacraig House, in Aberdeenshire, is set in 14 acres of grounds, and includes a walled garden, its own river and a croquet lawn. Previous guests have included the likes of Robin Williams, Steve Martin and Ewan McGregor.
• Meanwhile, the Big Yin has revealed that he missed out on playing football with Bob Marley in the Seventies because he was too nervous to meet hime. 'He played for A&M Records and they were short of people on a Sunday. [Musicians] Gallagher and Lyle asked if I wanted to play and I said yes but I never showed up. I was embarrassed, shy and embarrassed. Sometimes I got overcome with shyness.'
• On the many occasions Frankie Boyle finds himself embroiled in controversy, there's normally one newspaper that, surprisingly, stands back from the fray: The Sun. Possibly because he writes a regular column for them. Or at least 'wrote' since his last one appeared last week. Will the Murdoch title be so soft on him in future? And if you're looking for the next hoo-ha, it may come from the title of his next book, Scotland's Jesus. The title also carries the flash: 'The Only Officially Non-Racist Comedian' in reference to his libel victory against the Daily Mirror.
• For no reason. A scratch version of the Dad's Army theme:

• All comedians have small knobs, according to critic Kate Copstick (As reported on John Fleming's blog). Chortle also understands that some comedians have no knobs at all..
• Who did Tory MP Zac Goldsmith turn to for advice before the crucial Syria vote last week? Rory Bremner, no less, who received a text from the mega-wealthy politician confessing he had no idea what to do about the crucial division. But it turns out Goldsmith had got the wrong Rory – it had been intended for his Eton contemporary Rory Stewart, foreign policy adviser to David Cameron.
• Here's John Oliver describing his worst ever gig:

• The comedy night at the CERN lab near Geneva last Friday proved to be its most successful webcast since the discovery of the Higgs boson there. The show wasfollowed from 105 countries by nearly 10,000 browsers.
• Stand-up Paul Foot has been championing the cause of the endangered Blobfish, which is one of several creatures that may be the mascot of the Ugly Animal Preservation Society. Watch his plea here
• Tweets of the week
Glenn Moore (@TheNewsAtGlenn): I don't want to use Twitter to make in-jokes. Not after last time
T'Other Simon(@TOther_Simon): "WHAT DO WE WANT?"
"To put Stephen King's books in the order they were released in!"
"WHEN DO WE WANT IT?"
"Twenty fourth."
Phil Gibson(@ PhilGibson ): Just got back from Fight Club. It was really fun! Got there late so missed the rules being read out but I'm sure it was nothing important.
Published: 6 Sep 2013
What do you think?