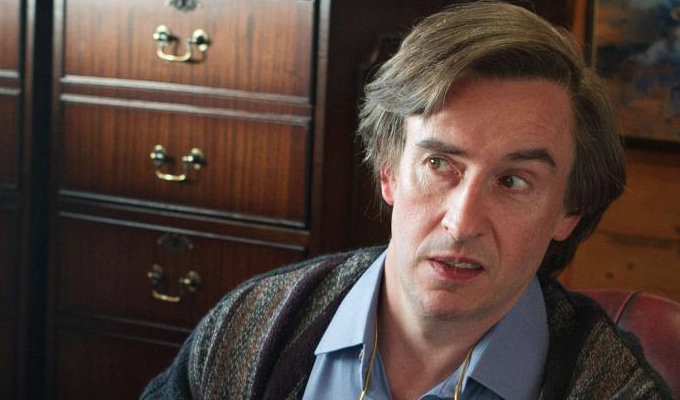 Alan Partridge, pop star?
WTF: Weekly Trivia File
•'I need deadlines, I need terror and I need to be afraid of my audience... Otherwise, I'd be day drinking right now.' Doug Stanhope.
• Who says TV is obsessed with youth? ITV is making another pilot of the planned panel show Battle Of The Ages, which pits two comic generations against each other. The Golden Oldies team will be captained by 61-year-old Dave Spikey – but the Current Crop is led by Jo Brand, who is just five years younger at 56. And she's been in comedy a lot longer than Spikey. The pilot, to be recorded in October, will be hosted by Alexander Armstrong.
• Alan Partridge may be about to assault the music charts with a version of Roachford's Cuddly Toy. The Alpha Papa film opens with him lip-synching to the 1989 hit as he drives to work – and now plans are afoot for Steve Coogan to record a new version, along with original singer Andrew Roachford. When asked about a possible collaboration, Roachford told Spoonfed: 'There are some people discussing something like that at the moment. On a personal level I would love to do it, it would be great fun.'

• A group of comedians face being upstaged by cute pups, as they are being asked to perform stand-up following a dog show. And after the competition, the winning hound will be released at some random point during the comedy, to see if it is more entertaining than the jokes. The idea, called The Experiment, will premier at this year's Melbourne Fringe and is the brainchild of comic Asher Treleaven, the comedian behind The Experiment. He vowed: 'Unless the small dog can do actual tricks it will have no chance.'
• Memorabilia and other personal effects belonging to the late Phyllis Diller are to be auctioned off. The sale at Julien's auctions in Beverly Hills on September 22 will include her stage wigs, jeweled dog collars, a $70,000 Persian rug, several pianos – and eveb an Andy Warhol screenprint, Cow, signed and inscribed 'H.B. P.D. (Happy Birthday Phyllis Diller) Love Andy Warhol' which has an estimate of $5,000. Diller died last August at the age of 95.
• Is Seann Walsh proud of his Comedy Central show Seann Walsh World? During his Fringe run, he mentioned 'internet clip shows – which I apologise for. Deeply.'
• Is this Chinese whispers at work? Comedy blogger John Fleming today reports that critic Kate Copstick told him that a comedian told her that his publicist told him that Fringe publication Broadway Baby went around Edinburgh putting their own strips of stars on posters. But a quick email to publisher Pete Shaw clears up the story. 'Absolutely not true,' he says. 'As if we'd have the time (or inclination) to put flashes on other people's posters.'
• Ian D Montfort and Ivan Brackenbury creator Tom Binns says observational comedy 'leaves me a little bit sick inside'.
• Tweets of the week
Iain Duncan Smith MP (parody account) (@IDS_MP): Feeling sad this morning. A lot of people are going to die because we couldn't kill them.
Margaret Cabourn-Smith (@ MCabourn-Smith ): BBC Breakfast would be less banal if it was a channel devoted to breakfasts.
James Martin (@ Pundamentalism ): Fool me once with your Michael Jackson impression, shamone you. Fool me twice with your Michael Jackson impression, shamone me.
Published: 30 Aug 2013
What do you think?