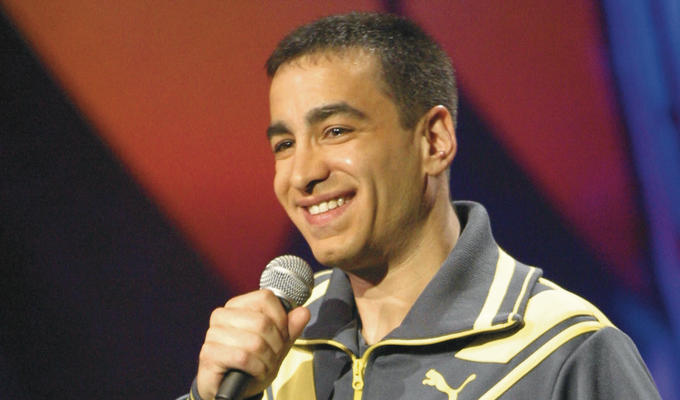 Rape jokes: Now the US Air Force steps in
US Air Force officials are set to clamp down on offensive comedians – after stand-up Mitch Fatel's rape jokes proved too crude for some troops at a British air base.
A senior office slated the comic for his 'depravity' when he played RAF Lakenheath in Suffolk earlier this month – but Fatel has hit back, saying the audience loved the routine.
Colonel Mark K. Ciero, the vice commander of the 48th Fighter Wing, took objection to some of the material, especially a section about Fatel spiking a woman's drink so he could have sex with her while she was unconscious.
The USAF chief said after the performance: 'No Airman, no human, deserves the depravity shrouded in comedy associated with our military.'
He wrote a message on the base's website, apologising for not intervening to stop the performance.
Col Ciero said Fatel went over the line when he 'insulted women's anatomies, added a punch line about spiking drinks to facilitate sex, described repeatedly removing undergarments while whispering "she was asleep".
'Then in his coup de grace, demonstrated how to physically push a lady into oral sex and remove the evidence. The headliner hit the line obliquely, kept assaulting, and crossed headstrong.'
He added: 'I left the show. I could have taken charge, upheld the line of our new military culture of professionalism and respect, and interrupted the comedian. As Airmen and leaders, we are taught to intervene...
'On all accounts, I failed to stand up and take the sword from the attacker, the microphone from the comedian. Instead, I departed and reported. For those I left behind in the Liberty Club still under assault by the headliner, sorry.'
It is understood that Fatel caused similar upset in his earlier performance for US service personnel stationed at RAF Croughton in Northamptonshire.
Col Ciero later told US military website Stars and Stripes: 'We're going to go back and re-evaluate the processes and procedures we put in place to make sure that entertainers follow the guidelines that they're given.'
Fatel was booked by Armed Forces Entertainment, who have not yet responded to our request for a comment.
comprehensive response to the complaints, Fatel told Chortle: 'I find it ironic that one of the things our soldiers are fighting for, freedom of speech, is the one thing it seems Col Ciero felt he had a responsibility to shut down.
'To apologise to the audience for letting the show go on misleads the reader to thinking that in some way the audience was horrified, when quite the opposite was true. The audience responded by one applause break after the other. What those women and men understood that Col Ciero missed was that jokes are just that: jokes.'
However a quick look at Fatel's website might have given bookers some idea of his act. The 44-year-old New York comic is pictured flashing a woman in a sexy police officer's uniform to promote his new album Public Displays Of Perversion. His previous two CDs were called Miniskirts and Muffins and Super Retardo.
The controversy comes as the US military reels from a number of sex assault scandals. According to the Pentagon, there were more than 3,000 cases of sexual assault reported in the military last year.
• Click here for Fatel's full response.
Published: 19 Aug 2013
What do you think?