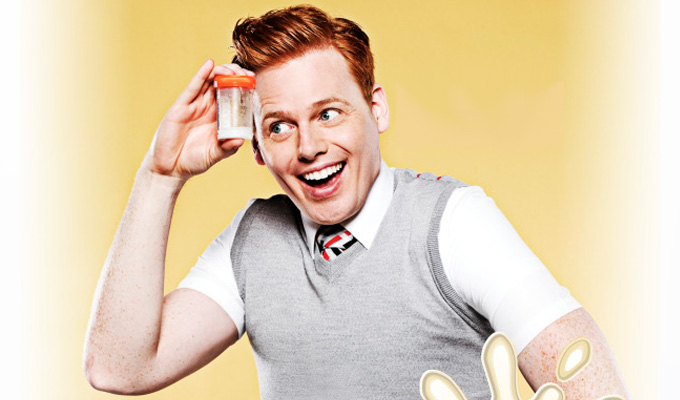 Comic stages 'ginger pride' march
CANADIAN comic Shawn Hitchins, who's performing an Edinburgh Fringe show called Ginger Nation, is to stage a 'ginger pride' march in the Scottish capital to draw attention to the discrimination redheads face. The city council has given the official go-ahead for the event on August 10.
CHANNEL 4 has unveiled some new cast members for its disability-themed hidden camera show I'm Spazticus. Joining the team are Martin Dougan, is a wheelchair-using Glaswegian TV presenter who was part of Channel 4's Paralympic coverage; model Kelly Knox, who was born without a left forearm; and deaf actress Deepa Shastri. The series returns to Channel 4 later this year.
TIM VINE and Ardal O'Hanlon have been announced as the coaches for the one-off return of the Wrestling to the Edinburgh Fringe. They've both made videos for the event:


SEVERAL comedians have been grounded in Montreal after an aircraft developed a fault seconds before take-off. Rich Hall, Chris Ramsey, Andrew Lawrence, Adam Bloom, Steve Hughes, Joe Lycett, The Midnight Beast, Celia Pacquola, Aisiling Bea and Eric Lampaert were all travelling back to London after the Just For Laughs comedy festival when the Air Canada flight was aborted, just as fired its engines at the start of the runway. Faulty hydraulics were to blame, and ground engineers were unable to fix the problem, leading to an overnight stay. The comics are expected back in the UK tonight, in the nick of time for the start of the Edinburgh Fringe.
TIM ALLEN has complained that he can't use the word 'nigger' on stage, while black people can. 'I've had this argument on stage a million times,' the Home Improvement star told the Tampa Bay Times. 'I do a movie with Martin Lawrence and pretty soon they're referring to me, "hey my nigger's up." So I'm the nigger if I'm around you guys but seven feet away, if I said nigger, it's not right. It's very confusing to the European mind how that works.'
Published: 29 Jul 2013
Recent News
What do you think?