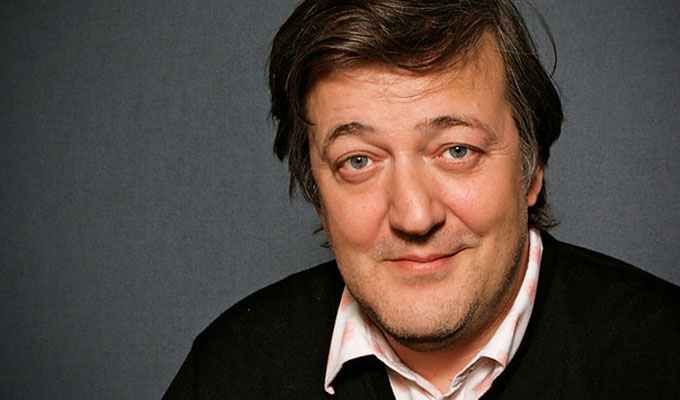 Stephen Fry: I tried to kill myself last year
Stephen Fry tried to commit suicide last year, he has revealed.
He took a cocktail of drugs and vodka so potent that it caused his unconscious body to convulse violently, breaking four of his ribs.
The incident happened while he was filming on location, and he was discovered in his hotel room by the producer, who got him medical help.
The QI host spoke publicly about the attempt for the first time when he was a guest on Richard Herring's Leicester Square Podcast this week.
He said: 'It was a close-run thing. I took a huge number of pills and a huge amount of vodka. The mixture of them made my body convulse so much that I broke four ribs – but I was still unconscious.
'Fortunately the producer – I was filming at the time – came into the hotel room and I was found in an unconscious state and taken back and looked after.
'You may say, "How can anybody who's got it all be so stupid as to want to end it all?" That's the point, there is no "why?" That's not the right question. There is no reason. If there was reason for it, you could reason someone out of it.'
Fry has frequently spoken about his battle with depression, and how he often feels suicidal, and told Herring: 'Sometimes it's the expression I imagine on my mother and father's face – both of whom are alive and happy - that stops me. But there are other occasions when I can't stop myself, or at least I feel I can't.'
He said he felt unable to talk to friends about his condition, likening it to having an unsightly genital wart that you would only want professional medical consultants to see.
'All my friends and family, when they eventually heard about it [the suicide attempt], came to visit me in hospital all said, "Well, why didn't you call?"
'I like to think that if I had children I would think harder about doing it, but I know people who have had children who have done it.
His honest confession came in response to the innocuous question from the 12-year-old son of one of producers: 'What's it like being Stephen Fry?'
But after speaking about his gratitude for extraordinary blessed life, he turned to his illness, and said that being him was 'a very mixed and peculiar thing'.
He explained: 'If unmedicated there are times when I am so exuberant, so hyper, that I can go three or four nights without sleep and I'm writing and I'm doing stuff and I'm so grandiose and I'm so full of self-belief it's almost impossible to deal with me. I can't stop speaking. I go on shopping sprees. One of the common signs of mania, or hypermania, is sexual exhibitionism – fortunately I don't have that.
'When I'm conscious, when I'm rational, I realise that being Stephen Fry is a very happy thing to be; people are extraordinarily nice to me. Mostly it's great, but there are times when you're on stage or when I'm doing QI and laughing [on the outside], but inside I'm going "I want to fucking die."'
Of his decision to speak out, he said: 'This is the first time I've said this in public, but I thought I might as well. I'm president of Mind and the whole point of my role, as I see it, is not to be shy about the morbidity and the genuine likelihood of death among people with certain mood disorders if they don't look after it. If they think they can do without the medication, the regular visits to the doctor, or if they without taking care of themselves.
'I've made this boringly clear in television programmes and other things, so I won't wank on about it. But I am the victim of my own moods, more than most people are perhaps; in as much as I have a condition that requires me to take medication so that I don't get either too hyper or too depressed to the point of suicide. I'll go as far as to tell you I attempted it last year, so I'm not always happy.'
Fry made an Emmy-award winning documentary, The Secret Life Of The Manic Depressive, in 2008, and he has frequently called for more openness and less stigmatisation about the illness.
After his interview with Herring was released on video today, Fry said it was an 'intimate' experience, adding: 'He somehow made me open up.'
And in his Warming Up blog, Herring wrote of the 'beautiful, profound' interview: 'Fry is everything you could hope for and more, with a vulnerability and honesty that makes him even more loveable and intriguing. Tonight was one of my most extraordinary experiences on stage.
'I was honoured enough that he turned up at all. But he stayed and talked for 90 minutes and shared things that he hasn't shared anywhere else.'
Tweet
Follow @chortle
Published: 5 Jun 2013
What do you think?