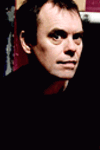 Kevin Eldon writes his first book
Kevin Eldon has written his first book, a spoof biography of his poet character Paul Hamilton.
My Prefect Cousin [sic] will be released next year and is described as 'the elusive story of this hapless poet whose work has been snubbed by the poetry community and publishers for years'.
It is the latest incursion into comedy from publishers Faber, following Stewart Lee's annotated transcripts of his stand-up shows, books by Harry Hill and Charlie Brooker, and many QI-related annuals and fact compendiums.
Eldon began performing stand-up in the early 90s as Hamilton and has periodically appeared as the earnest poet during his sporadic live appearances, including his 2010 Edinburgh Fringe show Titting About. Hamilton also presented a guide to poetry in the 2008 Radio 4 series, Poet's Tree, co-written with Lee.
Eldon said: 'I'm over the moon to be doing the book with Faber. Finally, Paul Hamilton will be bound in a volume bearing the FF that he has longed for all his life.'
Faber editor Hannah Griffiths said: 'It's an absolute pleasure to bring the brilliant, singular talent of Kevin to the Faber list.
'I am equally fascinated by the enigma that is Paul Hamilton and am sure that fans of Kevin's stand-up and new fans of It's Kevin will be longing to know more about his life and work.'
Here's a clip of Hamilton from It's Kevin:
Tweet
Follow @chortle
Published: 8 Apr 2013