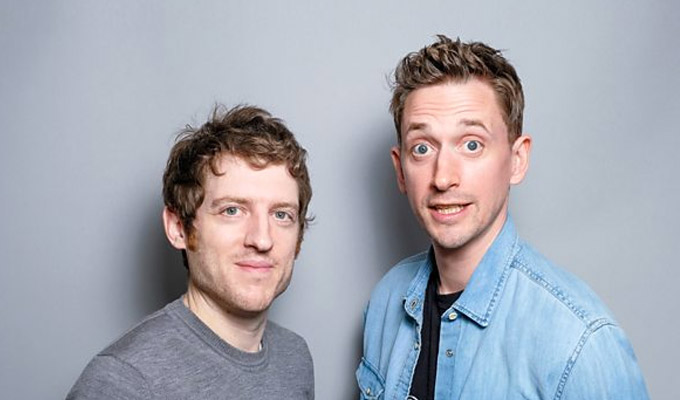 'Funny, thoughtful, silly and honest' companions through lockdown
Here's our second-round up of the luminaries of lockdown, some of the streaming gigs, social media feeds, podcasts and more who have done so much to provide laughs over the past 12 months. Read yesterday's batch here.
John Robins and Elis James: The Isolation Tapes
Building on their own friendship and frankness, the comedians had already built up a community of like-minded fans through podcasts and their radio show. But this BBC Sounds podcast, a spin-off from their Radio 5 Live show, has provided special succour and laughs throughout the pandemic.
Listener Neil Marklew said the pair were 'funny, thoughtful, silly, honest and sometimes moving,' adding: 'It takes your mind away from the frustration of lockdown without pretending it isn't happening. A weekly treat for the soul.'
Another fan, Jen Sharp said: 'Their podcast has always been warm, inclusive and hilarious - it genuinely helped me through lockdown - and the fact that they stepped up at every lockdown to produce more content for everyone was heartwarming and cheering. Like their radio show, it was funny and honest and resonated with people while also making them howl laughing.'
Barbara Speirs added: 'Their Isolation Tapes Podcast has genuinely kept me laughing. First lockdown as a keyworker they kept me going and secondly, now I'm furloughed they have lifted my spirits, making the mundane hugely entertaining.'
Socially Distanced Sports Bar
James is also one of the presenters of this podcast alongside Mike Bubbins and Steff Garrero: three men trying to talk sports, but who get distracted by everything is the angle.
It's a fan favourite, with almost 200 listeners putting it forward for consideration for a Chortle Award. One David Thomas, said: 'Since the start of lockdown they have produced two plus hours a week of some of the funniest, and at times thought provoking, content I've ever found in a podcast. It's been a genuine boost every week during a tough year.'
Clem Edwards added: 'Absolute lifeline in lockdown. Listening to Steff, Elis and Mike is so warm and amusing, it can make any day feel a bit better when everything else is rubbish. The anecdotes are hilarious and the "what if" hypotheticals around sports clips are so clever and accessible to all, sports fans or not! My favourite thing to listen to, guaranteed laughs and a good story or two as well.'
Stuart Goldsmith's Infinite Sofa
Billed as a 'massively-multiplayer online chat show that prizes community and creativity above all', this venture from the stand-up and Comedians' Comedian podcaster puts a dozen of its audience members on the sofa next to its guests, who have included the likes of Dara O Briain, Sarah Millican and Russell Howard.
Regular audience member Steve Gligorovic said: 'It spawned a community (not a cult), the SoFam, that lives on beyond the show, supports other comedy, watching together with regular Zoom catchup post gig. It also single handedly influenced about 25 people to try comedy for the first time, with their own 10 minute sets, performed initially to a closed group of SoFam members, but many have now branched out to a public forum.'
Sheila Carty added: 'I wouldn't have survived 2020 without online comedy, and the Infinite Sofa on Twitch was one of the best. Excellent comedians yakking and playing games with the onscreen viewers and chat stream. Such a devoted group of weirdos, they've been dubbed SoFam (sofa family). Kudos to Stu and his impossibly high hair.'
The Infinite Sofa comes to an end on Tuesday next week, exactly a year since its first episode, with guests Shappi Khorsandi, Helen Bauer and Sean Morley.
Lucia Keskin
Known as Chi With A C on social media, this talented young impressionist cemented her reputation over lockdown with some hit videos such as If British Sitcoms Were Set During The Pandemic and low-tech parodies of the likes of Modern Family, Miranda, daytime TV, Friends and This Country on YouTube and Instagram.
The Last Post with Alice Fraser
A spin-off from Andy Zaltzman's hugely popular Bugle podcast and fronted by his frequent co-host Alice Fraser, The Last Post offered a 'satirical news fantasy' on a daily basis in 2020 – and thus ran for 366 episodes (plus a couple of bonus ones, as if that wasn't enough). One listener said Fraser deserved recognition for 'creating a new universe to enjoy a day at a time when ours was so iffy'.
Likewise, Eylan Ezekiel praised the 'daily comedy podcast that took me out of the pandemic madness via a refracted view of the reality we have been living through, into an alternate dimension of snorting silliness, fantasy fiction satire, and fake adverts that have actually worked.
Tom McCloy added: 'She produced a daily comedy show set in a parallel universe for the entirety of 2020 and is an absolute legend for doing so in the midst of everything that has gone on last year, and also found time to contribute to The Bugle on a regular basis.'
Fraser now hosts The Gargle, a weekly podcast looking at parts of the news away from the political agenda, while her stand-up show Chronos opens at the Melbourne International Comedy Festival on Friday.
John Finnemore
As an established and acclaimed radio comedy writer, John Finnemore might have been forgiven for resting on his laurels during lockdown.
But instead he revived Arthur Shappey, the cheerfully hapless air steward from his Radio 4 series Cabin Pressure for a series of YouTube broadcasts from his home during the scarily uncertain days of the first lockdown to offer some heartwarming optimism.
One fan said: 'At this time I was working very long hours in Covid019 clinical research and I clung on to the videos from Arthur as a way to break up my work day and enjoy some moments of laughter in my lunch break. '
Bilal Zafar
Zafar was one of those comedians who found a whole new career online during lockdown - as a Twitch streamer.
He spend his time playing Pro Evolution Soccer… but took it a lot further than other gamers, taking his role as a fantasy manager very seriously indeed, recording post-match interviews with the press or team talks with his squad.
It grew into its own universe, with back stories for everyone involved, and Zafar, who has since branched out into Cricket 19, The Witcher and The Sims, now has 11,000 followers on Twitch.
The Cavendish Arms
The London club, famed for their Comedy Virgins new act night, have continued to offer a platform for newbies throughout lockdown, and even managed to run their annual Max Turner competition, with a cash prize.
Between lockdowns they ran gigs back in their Southwell venue, with a socially distanced audience that is unlikely to have been financially viable.
'They're going above and beyond to make online comedy feel as close to normal comedy as possible,' said Jake Sisterton.
The streamed gigs are available via Facebook.
Clair Haus
A new comedian who made the final of the 2019 So You Think You're Funny competition, Haus has a relatively modest 1,000 followers on Instagram. But she has delving into the dressing-up box to serve up a regular stream of character comedy vignettes over the pandemic that are amusing, surprising and expertly performed.
Kunt And The Gang
The stupidly foul-mouthed has been raiding his back catalogue for daily YouTube videos during lockdown, alongside interactive shows and quizzes
Plus getting his gleefully abusive 56-second Boris Johnson song into the Christmas top five, with its simple but unbroadcastable lyrics, using fan power alone, is a remarkable achievement in the sphere of protest.
David O'Doherty Isolating
It's the world's greatest pandemic lockdown podcast. Not our words, but those of the blurb for DOD's podcast, which racked up an impressive 97 episodes last year, made while the comedian was living at home with his parents.
Fan Sue Lehtonen said: 'It is a thing of brilliant whimsy. It made me an Achill island local, a friend of his Mum and Jazzdad, and made me part of a community who know about Tops Off Thursday, Mayhem Friday and Real Talk Tuesday, parsnip exchange, basking sharks and so much more. He brought true joy to my Iso and I shed a few real tears at the end.'
He's also released a handful of videos for kids from his Danger Desk on YouTube.
Michael Spicer
Spicer won the internet category of the Chortle Awards last year, and the pandemic has only increased the relevance of his Room Next Door videos, saying what we are all thinking about every vacuous, self-serving and downright idiotic thing politicians have uttered over the last year. He's been branching out into other sketches and parodies on his YouTube channel - but his role of the unseen adviser will be hard to top.
Friz Frizzle
A cheerfully silly musical comedian, Frizzle has been serving up songs, sketches and a panel show called What's In The Box? as part of his prodigious lockdown output across social media including Twitch and YouTube. Oh, and he occasionally palys Drunk Countdown and went all the way through the VHS Game version of Catchphrase… because what else are you going to do?
Fan Elanor Blackburn said: 'Friz has been a shining light in the darkness of lockdown. He's live-streamed his free comedy show Songs From the Spare Room every week since lockdown began. His unique sense of humour and belly-achingly funny song parodies have provided me with some much needed entertainment.
'He has also featured other comedians in his show 'What's in the Box?', giving a hilarious mix of personalities and comedy… He has worked on providing content to cheer people up all throughout lockdown, with little to no recognition.'
Anna Mann
Colin Hoult's unquenchably positive theatrical alter-ego is a fine antidote to the misery of lockdown, and has transferred effortlessly from the stage to the more restrictive, but also more intimate, medium of Zoom, with a series of regular gigs over lockdown.
As one fan said: ' She seems to genuinely care about her audience… Anna is kind, dizzy and full of amazing anecdotes and stories. She has magically found a format that brings so much joy and laughter you never want it to end. There really is nothing quite like it! '
She is back with a Shakespeare Shenanigans show this Friday, offering her distinctive take on a 'Bill Shakes' classic.
Don't Call Us, We'll Call You
Sticking with matters theatrical, this comedy podcast hosted by Christopher Bartlett-Walford, invites acots and comedians to describe their worst casing disasters and audition fails.
• We'll have a final batch of luminaries tomorrow!
Published: 30 Mar 2021
What do you think?