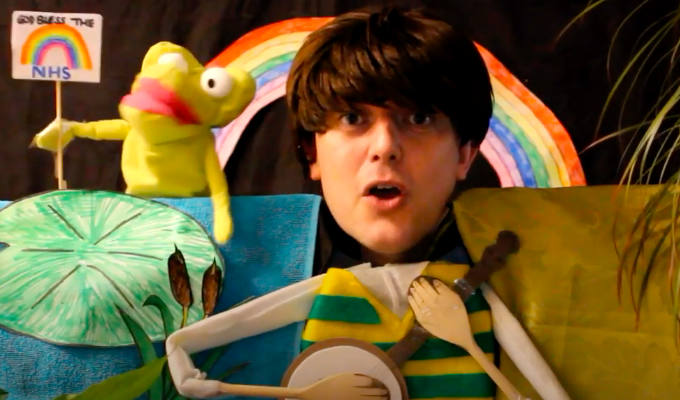 'Strangers have become friends...'
We have now handed out the last of our Chortle Awards for 2021 for the Legends Of Lockdown.
But what was clear from the almost 8,000 suggestions we received was the vast range of comedians and producers working to create comedy during the pandemic. More than we could possibly honour with the accolades.
So today and tomorrow we highlight some of the other streaming gigs, social media feeds, podcasts and more who have done so much to provide laughs over the past 12 months.
Crucially, many of these ventures, like our award-winners, have also built communities among their fans and regulars that has proved a vital lifeline to many, as normal social life has been put on hold by coronavirus.
Hopefully these suggestions might offer some more ideas of where to find entertainment and friendship until full normality is resumed - and even beyond.
After our Legends Of Lockdown, here, then are some Luminaries of Lockdown!
Scott Doonican's Big Neet In
Scott, pictured above, is the frontman for Barnsley based comedy folk band The Bar-Steward Sons of Val Doonican. Every Saturday night during lockdown he has fronted a two-and-a-half-hour Big Neet In show with his partner Amanda and a growing cast of puppets to delve into his back catalogue of lyric-swapped silly songs.
Fan Annemarie Endicott said: 'Lockdown has been hard on everyone including the artists and musicians who cannot perform. This group and show has helped us all we sing, dance, laugh and cry together but most importantly are there for each other even though we've never met.'
Laura Poutney added: 'The "Doonifans" have become a community in their own right supporting each other with kindness and friendship all week via the Facebook group and YouTube comments during the show. People have opened up about their mental health and are supported by strangers who have become friends. Scott acknowledges pretty much every comment made and always has a kind word for anyone having a hard time. It has given us all a high point of each week... In summary, I don't know how a lot of us would have got through the last year without the huge effort each week by these two people.'
It is available on YouTube.
Playground
Sarah Millican has been running this new material gig almost under the radar. There are no listing and ticket links, you have to email teamsarahmillican@gmail.com to ask about it - almost like a clandestine society!
But it has built a community, and, importantly, helped pay comedians. Sally-Anne Hayward, one of the regular MCs, says: 'The gig has been incredible and kept so many comics fed and watered, not to mention the lift it has given to the audience members.' And Lou Conran, who alternates hosting duties, said: 'We see the joy and community she has made to the lives of so many'.
Scott Bennett
The stand-up, was one of the first to embrace shows from home, with his weekly livestreamed videos Stand Up From The Shed, hosted with his wife Jemma. It's a 'cross between Babestation and B&Q', he has joked.
Among those who put his name forward was Carla Speight, who said Bennett deserved recognition for his 'absolutely phenomenal resilience to live comedy closing', adding: 'Instead of giving up he chose to crack on in his shed every single week. Also, his wife is an absolute star in the show too, her laugh and support for her husband's bonkers idea is just fantastic.' Another fan, Tom Glover, praised his 'relentless positivity and productivity in the face of adversity'.
The shows are streamed free on Facebook.
Laura Lexx
Lexx is another comedian who's had a good pandemic, landing a book deal on the back of her tweets imaging being married to ever-sensible football manager Jurgen Klopp.
But she's also been running a regular book club on YouTube, in which he followers have helped her complete a novel she started years ago, with the audience choosing the future plot turns.
One regular, called Sarah, said: ' At a time when everything was scary and surreal, Laura built a lovely community where we felt connected (both through Laura's openness about how the pandemic was affecting her, and through the YouTube chat) and which provided a bit of escapism… She is a brilliant author with a great talent for giving voices to her characters, resulting in many hilarious moments. I can honestly say that this wonderful creation was one of the things that got me through 2020.'
She also co-hosts the National Treasures podcast with Will Duggan, looking at Britain's stately homes, and a new spin-off YouTube channel.
Will Briggs and Cass Randolph
The brother and sister duo deserve immense credit for pulling off the Greenwich Comedy Festival in South London last year.
In place of the usual marquees, they arranged for a vast open-air gig, with pairs of seats all the mandated two metres apart – and with at-seat ordering, good queue management and staggered leaving times, they showed how a large-scale comedy gig could be achieved in a Covid-safe way. Lessons they will be using when they produce the Bristol Comedy Garden in June.
Chris Forbes
The comedian and Scot Squad actor has had an unusual parallel career this year - pretending to be another scion of the Murray tennis dynasty: Andy Jamie's and younger brother Duncan.
His character first appeared in a BBC Scotland sketch alongside Judy Murray that went viral in 2019, but has since taken on a life of his own on Twitter.
Fan Liz Burton-King called it 'Genius! They keep the one running gag going effortlessly. It's funny engaging and good-hearted comedy', while Ken Alexander called it 'joyous, funny and brilliantly inventive comedy'.
Daniel McKeon
One of the lesser-known names on this list, his TikTok account has fewer than 700 followers, but his short videos are dependably funny. Fan Kate Lee, said: 'An absolute champ, Dan has kept us all happy with his brilliant impressions, skits and general goofs.'
The Have A Word podcast
Adam Rowe and Dan Nightingale have found a vast new audience with this podcast, which has attracted more than 3,000 Patreon supporters paying at least £3 a month.
Among hundreds of fans who put their name forward, Neil Tweddle said: 'They've been smashing out the content, having guest comedians on each week (twice a week with Patreon), championing other comedians, podcasters and content producers that they aren't connected too. They're a brilliant dynamic and with Dan's worldly-wise view, sharp wit and Adam's positivity and comedic timing it's got me through some dark times in lockdown!'
Other comments about the shows - which regularly run to over two and a half hours, included 'funniest podcast in the business'; 'listening to Adam and Dan takes you away from all the negativity' and 'They've been pushing the pros of live comedy all through lockdown and helping a lot of people with the mental health chats'.
It's available from all the usual podcast outlets.
Jeremy Lion
Homeschooling has been a challenge for many a parent, but luckily children's entertainer Jeremy Lion has been on hand to put some fun into education with his series of Lion Bites lessons on YouTube and Twitter.
Mick Ferry's Two Minute Chat Show
You'll have noticed that some of these home broadcasts run for up to three hours. Too long? Well you won't get that with this comic catching up with some of his circuit chums in the quickest of exchanges. The brevity meant he could make a lot of episodes for YouTube, with some of the starrier names including Greg Davies, Johnny Vegas and Jason Manford.
'Two Minute Chat Show has been one of the most fun, simplest and best realised formats to appear online this past year,' said one fan.
Rosie Holt
The comic has been prolific in releasing satirical videos on her Twitter feed over lockdown, and raised her follower numbers accordingly! One of whom was especially pleased with the way she has been 'providing the best satire of the loony right with her character: The Woman.'
The Frog and Bucket, Manchester
The much-loved venue hit the headlines when it was overlooked for government help from the Culture Recovery Fund, with the suggestion it was not culturally significant enough. It seemed to be quite the kick in the teeth not only for the place where the likes of John Bishop, Peter Kay, Jason Manford and Sarah Millican cut their teeth - but also because it was the first comedy club to run an indoor gig during the first lockdown – a pilot so officials could see how a show might run with social distancing.
However, the snub served to rally supporters - including a generous £6,000 donation for Jack Whitehall - which underlined how respected the venue is among comics and customers. And how hit has received some money from the public purse to stay afloat.
It recently started streaming its weekend gigs and Monday-night Beat The Frog new act challenges online; and is all systems go for a proper reopening mid-May, as soon as they are allowed.
We Like Old Adverts
This is a rather jolly little YouTube podcast, fronted by comedian Jim Campbell from The Football Ramble) podcast and Joe and Conal Deeney. In each episode, released on YouTube, they take a look back at old adverts, as you probably guessed from the title, and have a chummy revel in its nostalgia, as well as wandering down some conversational detours
One fan, called Eli, said: 'It's a fun YouTube channel that's definitely kept me amused throughout all the lockdowns, a specialised theme of reviewing old ads which truly is a gold mine of comedy with three lovely guys sharing their niche hobby with the world to brighten our days.'
Another, Dave Fisher, said: 'I've always loved watching old adverts, but having funny people curating classic and awful examples with diverse guests has been a treat. Of all the things I've picked up over lockdown, it's been the most consistently entertaining.'
Larry & Paul
Larry Budd and Paul Dunphy were presenters on BBC Radio Leeds, but lost their slot at the start of lockdown. After which they turned their attention to the government's coronavirus briefings, offering their own versions on YouTube that cut through the bluster to offer a satirical take on what's really meant.
Fan Deborah Catherine Smith said it was 'perfect, incisive parody'; Judy Brownsword said they were 'perfectly observed, brilliantly performed and laugh-out-loud funny' and Lisa Ustok said they were 'funny, on point and superbly clever'.
Escape The North
Fully embracing technology, Jain Edwards, Sean Morley, Jack Evans and Jim John Harkness created this 'interactive North of England simulator' which has built up a cult audience on Twitch for their regular Friday-night game-playing. The surreal virtual world created for the game is certainly unique.
One fan who recommended them waxed especially lyrical about 'the part role-playing adventure, part gameshow, part absurdist daydream - all pure comedy delight', saying: 'Far too often online comedy feels as if it's been transplanted from a live context, but here the format has been created with online interactivity in mind and the result is joyous. 'The creator/performers let their imaginations run wild, having crafted a living, breathing, surrealist dystopian Manchester inhabited by characters ranging from the absurd to the macabre. The whole thing sparkles with originality and provides a vast playground both for the comedians' originality to shine, and for viewers to play along.
'Like the best online content, a dedicated fan community has sprung up around Escape The North. Friendships have been forged as teams of players face the game together. For many fans, the Friday evening streams are as much a social occasion as they are a comedy show, and in these isolating times that is surely a valuable thing.
'The technical prowess and dedication taken in designing the game is matched only in the wit and verve of the performances. The whole thing is as impressive a feat of programming as it is an achievement in comic originality.'
Chicken Box Comedy Club
The best virtual comedy clubs run during lockdown have proved - if proof were ever needed - that there's more to creating a top-notch night than putting some comedians on a stage.
Praise for this Derry venture, showcasing comedians from Northern Ireland and beyond on Facebook Live most Thursday nights, has focussed on the welcoming nature of the venture for performers and audiences alike.
Stephanie Parker said: 'They've been a godsend through the pandemic. They put on a professional quality show and are very kind and welcoming people to boot. When the local comedy scene was upended, I struggled to adapt and to find a new sense of community. I'll be forever grateful for the Chicken Box crew for being part of my new comedy family on show days and beyond.
Eamon McElwee said: 'It's just the loveliest show to play, one of the first to move online and fantastically hosted by the wonderful Rory McSwiggan and stage managed by the amazing Wendy Blemmings. Pair a' wee stars for all they put into it!'
Margo Carr said: 'They have really been a lifeline to all of us and managed to keep up laughing for the last year and are the most supportive club and audience that I've ever done. Keeping us sane in lockdown.'
And Gary Manhine said: 'This is the Rolls Royce of comedy zooms. Brilliantly put together and compared. Have not seen a bad comic. A Thursday night belly shake for sure.'
• More luminaries of lockdown >>
Published: 29 Mar 2021
What do you think?