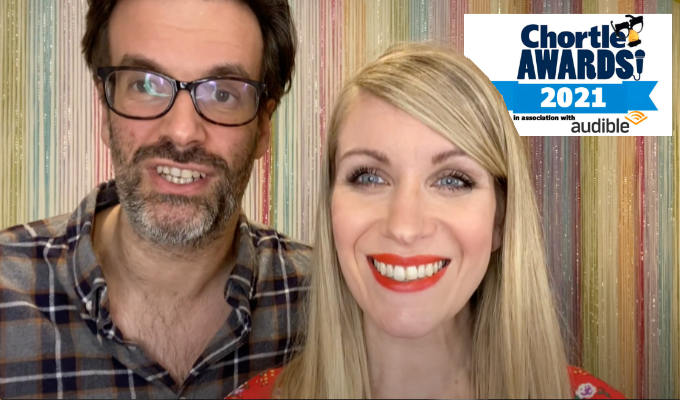 All hail the Legends Of Lockdown!
All the winners of this year's Chortle Awards have now been announced.
A total of 21 accolades have been handed out to Legends of Lockdown, who have found inventive - and hilarious - ways of keeping comedy going through the pandemic.
They went to:
Alex Horne
Alistair Green
Archie Henderson, aka Jazz Emu
Catherine Bohart for Gigless
The Covid Arms
Fergus Craig
The Isolation Song Contest
Janey Godley
John Robertson
Marcus Brigstocke and Rachel Parris
Mark Olver
Mark Watson
Munya Chawawa
Petrichor
Richard Herring
Rob Sedgebeer
Robin Ince and Cosmic Shambles Network
Stevie Martin
Tim Key
Toussaint Douglass
The Warren, Brighton
Further details and acceptance videos are below
The 2021 Chortle Awards have been supported by Audible, a leading provider of spoken-word entertainment, including exclusive comedy podcasts from the likes of Alan Partridge, Kurupt FM and French & Saunders. Currently, new members can sign up for three months for a total of just 99p - details are here.
Sam Bryant, Audible's head of comedy, said: 'Defying all the problems of lockdown, creative people have been doing brilliant work to keep the country entertained at a time when it's most needed, and they deserve recognition and support.'
---
Live At The Covid Arms
Citation: Live At The Covid Arms is always going to be top of any list for a Legends Of Lockdown. Started by stand-up Kiri Pritchard McLean, it has welcomed acts including Frankie Boyle, Nish Kumar, Harry Hill and Lolly Adefope alongside up-and-coming acts and broken a Guinness World Record for the most visitors to a virtual pub at 6,321. Crucially, the gigs have raised £137,000 for food bank charity The Trussell Trust – and also paid comedians in a year when earnings are thin on the ground.
Your comments
Her comedy club was lovely, hilarious, positive, always so friendly, joyful and a complete life-saver. She features unknown comics and musicians and gave thousands to charity. Amazing! Eva-Luise Schwarz

The gigs have brought light and laughter to the dark days of lockdown and raised a phenomenal amount of money for worthy causes....and were just like a gig in the living room. Jen Simpson

Unbelievable effort especially in the early days where show were weekly they were at the forefront of developing the zoom gig. This was the highlight of our week, introduced us to lots of new people, Kiri fantastic host. Supporting an important cause as well as comics. Kathy Hanson

It created a community out of something bleak (isolation) and it was practical, immediate help - get comedians/musicians online and let us pay what we could afford. I'm on my own, no family, and a key worker in the prison service/NHS, the gigs were a reminder there's good, kind people in the world and took my mind off things enough to laugh for a bit. Anonymous
Acceptance speech:
---
Mark Watson
Citation: Watson has produced a prodigious number of projects during lockdown, most notably two 24-hour Watsonathons, with a third to come on Easter Sunday on behalf of the Melbourne International Comedy Festival. They have raised more than £75,000 for charities. With friends Alex Horne and Tim Key - see below - he devised the No More Jockeys game, which has become a cult hit during lockdown. He also also spearheaded a series of drive-in gigs with celebrity chef Tom Kerridge, which are returning this summer, providing some much-needed work for comedians an a new way of experiencing stand-up amid the restrictions He also found time to publish a book, Contacts, and co-host a mental health podcast, Menkind, with Michael Chakraverty as well as co-running a production company, Impatient.
Your comments:
Watsonathon 24 hour Twitch shows felt like a bit of the world that used to be, but now I could join in from afar. Rae

In the bleak midwinter, and earlier in the some how bleaker summer, there was one glowing oasis of nonsense and fun in

Mark Watson

's Watsonathon. With many alongside to help, his 24 hour livestream broke the monotony like nothing else could, whilst raising money to charity. Over the course of the 2 marathon shows we had: The bakers,

Flo and Joan

, a Wedding, retro arcade games with Dara, incredibly powerful chats with Neville Southall, mustard on a swan, data by Ted Hill, Judge Rinder, Home Taskmaster and so so so much more. Backed up as ever by multiple comedians including the brilliant

Tim Key

- not only was the money raised such a brilliant thing, but the impact of the show brightening an otherwise horrid lock down is invaluable (in a good way)

Nathan Rowley

Not only one but two 24-hour-long fundraising shows, trailblazing drive-in comedy, plugging away trying to help keep smaller venues afloat, a truly heartwarming and spirit-boosting show "How You Can Almost Win" mixing stand-up with motivational speaking, championing the whole cause of comedy as a life-affirming source of reassurance in hard times...what more d'you want? Rick Procter-Lane

Mark has brought us many moments of pure joy, and has created a real sense of community throughout the difficult times we've all been facing. My fiance and I are still quoting moments from both Watsonathons. 'Mustard on a swan!' (The fully signed live show also inspired me to learn BSL and I've recently signed up to a course)… It is thanks to Mark (and his friends) that I have so many happy memories from 2020, without his efforts to bring people together online and make people laugh it would have been a rather bleak year indeed. Olana

Because he really embodies the spirit of doing your best in difficult circumstances and he's put so much out there over lockdown and it's brilliant. Olivia Phipps
Acceptance video:
Praise for No More Jockeys…
The quality and consistency of this simple idea has been maintained for months at a time while gathering a huge audience for an 'online only' enterprise. It has held my attention for much longer than many expensively produced TV shows with poorer formats and participants. The effort that goes into it is clear and the original idea is just simple genius. Matthew Evans

It's like going down the pub without anyone actually going down the pub; overhearing silly comfy rambly friendship. Which, when you think about it, is really quite nice. Kate Cooper

Sport as it's meant to be played. Hilarious competition, with a firm fanbase Below The Line in the comments. Something to look forward to every Friday morning. Rod Begbie

I struggle with the few online comedy bits and pieces I've tried to watch, but this show not only makes it work but is one of the best things we've watched through lockdown in any format. Cathy
---
Alex Horne
For: No More Jockeys; setting and juding 'home tasking' challenges based on Taskmaster, inspiring hundreds of households to get creative while stuck at home, and the Horne Section Podcast with his band and guests including Daisy Mae Cooper, Tom Baden and Rose Matafeo.
Your comments:
Alex Horne has managed to keep new series of Taskmaster coming, even though filming the live and studio tasks under social distancing conditions must have been a huge challenge. Its endearing 'try, fail, try again' creative ethos is a direct inspiration during difficult times and its playful humour is very uplifting. He has taken the challenges onto twitter for the general population unpaid as a way to support families to play together. He has also produced ongoing series of No More Jockeys using Zoom which shows how friends can still have intelligent fun when separated. But the best part has been The

Horne Section

Podcast which put out three series last year - when it got to the end of their scheduled series in the spring they just went straight on making episodes 'in isolation' for us and found ways to put the music and comedy together from their six different households, with great songs and innovative features. The slightly hysterical spirit of improvisation reflected what we were all going through in sobering times and made it feel ok to be alive here and now. They have kept in touch on social media and even organised a distanced concert in Clapham in September, a lot of work for them, but it gave us something to look forward to. Kind, creative, funny people and real national treasures.

Bethany Lowe

For the delight that is the No More Jockeys series on YouTube. Watching what is so clearly a deep friendship going back years has lifted my spirits from the depths of loneliness and made me laugh with its wit and invention. For Taskmaster series 10, which could have fallen flat with no studio audience, but instead was a brilliant, mad distraction from life ("Am I the spider?") For Home Tasking, and Alex's enthusiasm and positivity. For the

Horne Section

Podcast, still valiantly continuing even though coordinating musicians to play over Zoom should be an impossible nightmare, but he makes it work. For Alex's unashamedly joyful dancing in the

Horne Section

Christmas song video, featuring photos of the band over the years and reminding us of happier times with friends that will come again.

Kirsten

Alex Horne and the band have given us incredibly funny performances on all sorts of platforms. Their

Horne Section

Podcast has attracted the likes of Robbie Williams as a guest (and the wonderful

Tim Key

) as well as giving the listener some ridiculously catchy tunes that will never be forgotten (e.g.

Pam Ayres

Pombears song). Their appearances as the house band on The Last Leg and Peter Crouch's Save Our Summer have brightened up some really tough times and I just generally think they're great.

Anonymous
Acceptance video:
---
Tim Key
For: No More Jockeys anf for writing a brilliant book chronicling his battles with lockdown, He Used Thought As A Wife, which combines the distinctive poetry he has been posting on Instagram with conversations, real or imagined, with people in his life. He has also performed live online shows based around the book which have been equally well-received. (The Times called it 'one of the best hours of comedy since lockdowns began')
Your comments:
Willingly hopping into the bath fully clothed weekly. His poems (much like his Yorkshire puddings) are on point as well. Willingly hopping into the bath fully clothed weekly. His poems (much like his Yorkshire puddings) are on point as well. Michelle Watkins

[I nominate Kay for] writing a brilliant and beautiful book about the heady days of first lockdown, the shining light that is No More Jockeys, and his online gigs (and their excellent cinematography) Eleanor Burgess

Endlessly creative, the only person using the online medium well as part of the shows - not as a gimmick but actually justifying the format. And just phenomenally funny, both in his solo work and No More Jockeys. Also wrote a brilliant book. It's been a good year to be a Key fan and my god how we've needed him this year Tom Curran.

His poetry has helped me process and laugh about all the horrible shit that's happened this past year. No More Jockeys is a weekly fixture. He's an absolute hero. Luke Coombes

His weekly recitals from 'He used thought as a wife' have been a joyous blip in the greige of a decade long January. Plus we got to see him flood his neighbour, ruin a roast, and wax lyrical with co-hosts who add perfectly to the odd vibe. Very funny. Very much needed. Emphex Twin
Acceptance video:
---
John Robertson
For: His Robbotron Twitch stream.
Citation: Best known, pre-lockdown, as the creator of the interactive live show The Dark Room, John Robertson has quickly become a remarkably prolific presence on the streaming channel, producing multiple themed shows a week, including Crap Video Games Night and Sunday Lunch With Your Dad. He's an inventive, high-energy quick-thinking host, fully interacting with his audience's contributions in the chat, creating a supportive community of like-minded fans, who have found escape and companionship in the show. He's also raised almost £50,000 for charity over the year, half of it from a 48-hour marathon playing of his impossible adventure game.
Your comments:
'[I nominate him] For the wonderful and funny community he has created on Twitch. He manages to stream for at least 2hrs six times a week, doing improv whilst also somehow making a safe space for people who are maybe having not such a great time during lockdown. His humour and the community he has created have helped to make me feel not so alone whilst being lone at home!' Princessfinch

'Genuinely, this man has kept our family sane and given us immense accounts of joy since March last year. He has consistently streamed almost every day (doing multiple daily shows!), not only doing his Dark Room show, but also creating a wide range of characters based on throwaway comments and random items sent in to him. I cannot thank him enough and he is completely deserving of all accolades. He is a true legend of lockdown.' Anonymous'John's been not only raising thousands for charity. He's been streaming a variety of content every week, with whatever gets you through, whether that's a 35-year-old-anime fan who thinks he's a cat, a gossipy Pope, an MUD Guardian who wants to kill you, or just a wholesome Sunday Lunch with your Dad. But most importantly, this wonderful, welcoming, utterly supportive community has built up around him, and it's an utter joy to be a part of, week after week. Diverse, perverse, wholesome, yet awful: John Robbertson's Twitch is a lifesaver for lockdown.' Ruth B

'John has reinvented comedy in the lockdown era using innovative, creative Twitch streams and working so hard he barely has a minute to breathe and relax. His dedication to entertainment is unstoppable.' Tom Cologue

'John Robertson has expertly tailored his live show to be fully digital but remain interactive with us, the fans. I can not count the number of times John has bounced off numerous material provided by myself and other members of his community. When you're in lockdown and feeling isolated,

John Robertson

really goes a long way in making sure you aren't a viewer in his stream, but included in every action he undertakes and continues to strive to make every viewer equal and special. He makes you believe that he could be in your living room performing just for you and enjoying your company and jokes for himself. Versatile and well rounded with many character sketches, funny use of objects like his shovel of ducks but most importantly, his genuine love for comedy and us, his fans that he time and time again makes sure are the most important part of his stream. '

Curt Webb

'His Twitch channel, Robbotron, has been an absolute lifeline and bright spark throughout 2020 and continues to go from strength to hilarious strength. His quick reactions to anything that happens in the chat and his vast array of characters are works of genius and the community built around the streams is a great comfort for many. For someone that has only just passed their one-year stream anniversary, he's raised an immense amount of money for charity and has grown a very strong following. Adapting from stage performances to online streaming daily couldn't have been easier, but John has done amazingly and is well deserving of this award.' Anonymous
Acceptance video:
---
For:Their Tuesday Night Club hosted by Always Be Comedy
Citation: Like many of the regular comedy shows staged during the lockdown, the pair's homespun broadcasts - featuring comedy, audience chat and lip-syching – have built a great sense of community among regular audiences… but the giddy sense of daft joy is unique.
Your comments:
Just amazing comedy. Marcus and Rachel have created something truly special in Tuesday Night Club - the comedy is fantastic and the community they have created is amazing. Tuesday night is a highlight of the week! Charlie Mitchell

I have been shielding since March and Tuesday Night Club has kept me sane. They are the highlight of my week. Karen Dunlop

They've given us deep joy at Tuesday night club since last summer and it's been brilliant! It's a lovely community to be a part of and they've enveloped us all into one big family! Liz Knowles

Tuesday night club has been a ray of sunshine, giggles, Tunnocks tea cakes and hope. Thank you Cathy Collins

For giving out the most amazing, fun entertainment from their living room every week in Tuesday Night Club, shining a light for their audience through some dark, tough times whilst going through tough times themselves. Legends. Betty B

Their lip-syncs were hilarious and authentic and creative and uplifting and unexpected and brilliant Amy B

Awesomeness every Tuesday with this amazing pair. The best songs and games and stand up delivered with love and joy Samantha
Acceptance speech:
---
Richard Herring
For: Putting so much free content online
Citation: The already prolific Herring has stepped up his output even further during the pandemic, by launching the sketch series Twitch Of Fun, with the aid of his 128 year-old ventriloquist's doll Ally He has also continued to produce his hit interview series Richard Herring's Leicester Square Theatre Podcast on video and audio, written his daily Warming Up blog, as well as charting his more solitary activities: playing snooker against himself and setting himself the impossible task of clearing all the stones from a field near his home. And that's as well as taking part in other gigs, publishing his book The Problem With Men and, of course, won Taskmaster…
Your comments:
Stepping up to the plate long before almost anyone else. Investing his own money in gear to provide quality broadcasts from home. Donating a lot of his earnings to support struggling artists and/or venues. Consistently producing content week-in week-out for FREE and none of this £8 for a half-assed show shonkily broadcast from a laptop cam and stalling internet connection in a broom cupboard. I could go on… John Bone

He has delivered solid gold comedy night and day throughout Covid. Honestly, he's made an unbearable year seem almost worth the pain, just to see him getting in-offs on his regulation snooker board, and marvel at his woke-eschewing puppets. He's like marmite; you either love him, hate him, or you can take him or leave him. Hero of lockdown. Steven Burnett

Richard's prodigious output during the Covid pandemic has made such a positive difference… My father died suddenly in October and I have been regularly travelling between home in Nottinghamshire and my parents' home in Wales. Very, very grim times but having so much wonderful content from Richard to distract me on the long journeys and lonely days isolating at home has been nothing short of a blessing. As well as that, Richard's fundraising support for other comedians and comedy venues during incredibly tough economic times must also be recognised and rewarded. Richard is an absolute star. Huw Lynd-Evans

Easily the most inventive and hilarious comedian on the internet. He has provided quality entertainment throughout the lockdown, for free despite many concerned but unenlightened fans thinking he was having some kind of breakdown. Richard's output is currently bordering on genius David Robinson

He's documented a mans slide into insanity better than anyone in these crazy times Phil Evans
Acceptance speech:
---
Robin Ince and the Cosmic Shambles Network
For: An incredibly prolific and varied range of content over the year
Citation: As the first lockdown loomed a year ago, the Cosmic Shambles Network - fronted by Robin Ince - launched the Stay At Home Festival, comprising at last one show a day until mid-May, including the Shambles shows mixing entertainment and science and the Quarantine Comedy Club fronted by Josie Long, John-Luke Roberts, and Jonny And The Baptists. The run of shows raised more than £30 000, istributed to acts and venues hit hard by the pandemic. Ince also continued to produce his Book Shambles podcast with Long, the Science Shambles podcast with Dr Helen Czerski, and the cult counterculture podcast An Uncanny Hour And with the traditional live shows – Nine Lessons and Carols for Curious People and Brian Cox and Robin Ince's Christmas Compendium of Reason – cancelled due to Covid, they were combined into a 25-hour show… and a four-hour encore. That raised thens of thousands of pounds more for charity.
Your comments:
Brilliant comedy and educational content provided for free through lockdown, whilst relentless fundraising to support artists hurt by Covid. The 24 hours 9 lessons and carols show was a highlight for me, where we watched

Robin Ince

's sanity slip away while guests such as

Stewart Lee

,

Tim Minchin

and Brian Cox appeared behind and around him.

Josie Long

did her awesome show Tender for two hour long free livestreams. The Off Menu podcast did a charity special. Every day during the first lockdown they did a morning show, seemingly calling in every favour to talk to every friend they had, while also producing a weekly "lockdown comedy club" compered by

Josie Long

.

Anonymous

The vast amount of content he [Ince] has put out with Cosmic Shambles has been amazing, and very hard to keep up with. There's constant new shows covering all manner of subjects, with many other comedians and enjoyable speakers joining in. Ian Robinson

Consistently funny and never ending supply of funny, thoughtful podcasts and Patreon shows that have kept me entertained all 2020 Julia Harmer
Acceptance speech:
---
Stevie Martin
Citation: Already a live favourite, the comic has upped her game during the shut-in, with video sketches made with Lola-Rose Maxwell, her improvised Book Club, podcasts and social media feeds all providing priceless entertainment It's obvious from her out that she doesn't see working online as a poor second to other media, putting effort into sharp and inventive writing. Even the editing is funny.
Your comments:
She has created some epic viral sketches about forgetting passwords and tracking parcels and they just put me and my family in stitches!!! Nina Wilson

She is a genius and her sketches made me howl. Jenny Crothers

Everything she does cracks me up. Especially when she parodies influencer culture. I think she manages to parody stuff without it being mean and that's such a skill Catriona Innes

An extraordinary talent who in the last year has taken her creativity to new levels. Astute, fresh and original,

Stevie Martin

has it all. She's made many (including

James Corden

) smile through their darkest times; Stevie would be the most worthy of award winners!

Ryan Whelan

Her online sketches over lockdown have been so so original and funny plus she's got two brilliant podcasts. Honestly her Twitter thread about bread alone should get her this award. Anonymous
Acceptance video:
---
Alistair Green
For: His online videos
Citation: Shot in a stark white room, his short videos on Instagram and Twitter, have reflected the ups and downs of the pandemic with a slyly satirical bent and a series of perfectly realised caricatures. He had already established himself as something of a Twitter star even before lockdown, with compilations of his videos even being screened at the Prince Charles Cinema in the heart of the West End, but the last year has only increased his reach.Just how astutely he's captured the mood of the nation is reflected in the fact that more than 250 people put his name forward for this award.
You said:
His Instagram and comedy have pulled me out of some of the lowest parts of lockdown. He is just uplifting and bloody hilarious, tapping into reality comedy Bethany

He portrays some of the best and invented, perfectly nuanced characters. Even if I'm cringing so hard it hurts, I'm laughing. Stuart Yarham

His little relatable Instagram videos have been an absolute godsend during the pandemic. He captures so many of life's characters effortlessly with both satire and also charm. Carla Morris

Brilliant regular content all through lockdown. From off the cuff Instagram lives, to the many characters and faces he creates. Alternative daily briefings, curry nights and even a Xmas day dinner live. This man is hilarious and has made the past year much better. Daniel Hendry

A gradual mental breakdown channeled through his brilliantly observed characters and filmed against a stark white wall in his flat in Deptford. Could anything be more 2020/1? His general content is one of the best takes on British culture that I've ever seen and what he would say is his more throwaway stuff (e.g. the takedowns of the government press briefings, Cummings et al) has diffused my rage with laughter and made me feel like I'm not just locked in the house alone, shouting at my TV. He has also been doing lengthy Instagram lives which are loyally attended by his true fans (the "wheat") and have been genuinely comforting as well as hilarious. Nobody has done more to help me during this pandemic, including the government. Ciara Simmons

His observational skits on Twitter are superb. Sometimes creepy, but always superb! Warren Dunhill Lloyd

He does the right video at the right time and always hits the spot and gets the general feeling. He's hilarious. Emer McCormack

I'm pretty sure Alistair has made a Faustian pact that the more he suffers for his art the more successful he will be. And we both love and hate watching him suffer. If he doesn't win it will be a hell of a waste of a Faustian pact. Carmen Smith

Versatile, observational, comedy which makes you cringe, laugh and knowingly nod at the same time. I am in awe how he can capture so many people . Every word is perfection and the videos are a highlight of lockdown Suzanne Sells
Acceptance video:
---
The Isolation Song Contest
For: An alternative to the cancelled Eurovision
Citation: This major online event was the brainchild of comedian Tom Taylor. He called upon 14 entertainment stars – including Mel Giedroyc, Nick Helm, Tim Vine, Josie Long and Neil Hannon from the Divine Comedy – to each represent a different country and come up with a possible entry. It made for a variety of inventive and silly songs and accompanying videos, and raised £38,000 for charity. (Entries are still available to watch here)
Acceptance video:
---
Fergus Craig
Citation: The character comedian has provided a rich source of videos on Twitter, primarily as dad Martin Fishback, sending video messages to his son Marcus, including extracts from his clunkily-written crime novel featuring detective Roger Le Carre.In fact, those segments have proved so popular that Craig has secured a book deal for a genuine Le Carre novel to be published in October. Craig has also revoiced several news videos, offering a stupidly satirical take on politics.
Your comments:
Absolutely amazing short-form content, posted regularly and bang on the money every time! Brilliant brilliant characters. Gayla Holden

Hilarious. Making free videos through lockdown based on a middle class dad who writes crime novels. Videos based on him contacting his son at university and his reading excerpts of his book. So funny. Really lifted our lockdown spirits! Stu Thomas

Martin Fishback is the anally retentive pedant wanker we all discovered buried deep in ourselves during lockdown. Tim Johnson

Superb humour that has been the highlight of lockdown. His LaCarre character is excellent I always look forward to seeing new episodes from him. Heather Gallagher

Very funny content. Hilarious and beautifully observed characterisation. Satire of the highest order. Matt Wilde
Acceptance speech:
---
Janey Godley
For: Her social media activity, especially the voicovers
Citation: They say laughter is the best medicine… but few comedians have been credited with having a major public health impact. Janey Godley's affectionate re-voicing of Nicola Sturgeon's Covid briefings into more direct language have been cited as a reason for Scotland's high compliance rates - by none other than the Wall Street Journal. But for most people, they are just a laugh, part of her lively Twitter feed that often includes some very public shaming of trolls. Some of her voiceovers on the platform, which also range from Meghan Markle to wildlife clips, attract hundreds of millions of views, while she also hosted a virtual Burns Night supper during lockdown that attracted more than 320,000 viewers.
Your comments:
Most spontaneously entertaining comedian. Her takes on the First Minister of Scotland have been spot-on and supported awareness of the Covid effort messages. A1- entertainment and public health information service all rolled into one. Karen Macdonald

She has taken the darkest moments of this year with her voice over videos, and not only helped us laugh - but has actually delivered the message to a wider audience than most politicians. Online content every day, it's been a godsend for many. Tom Urie

'Her voiceover videos have been so uplifting, but have made such really good point and pushed to get key messages over' Claire W

'She's actually pulled me back from the edge.' Kenny Martin
Acceptance video:
---
Mark Olver
For: Belly Laughs charity gig and Who Said That? panel show
Citation: Olver has raised more than £33,000 for a gig that celebrated the very best of Bristol, a city of which he's rightly proud, as well as devising and hosting 27 episodes of a panel show that gives opportunities to up-and-coming comedians alongside some of the biggest names in the business, while providing a relaxed, funny show for the audience on YouTube.
Your comments:
[Who Said That?] is funny, first of all. It's random, no real rules and yet the delightful illusion of it being an actual quiz! I think they handle the zoom format very well, and when it goes wrong they incorporate that into the comedy. I think Mark is such a great host, no pressure he is the king. Helen Swan

He's raised a fortune for charity while championing comedy acts up and coming and established. Bristol legend. Rachel Dibben

[Who Said That?] is an innovative and funny show that started as a 'project' to keep the producer and creator Simon busy whilst the TV industry was shutting down. Not only that but it features a lot of up and coming talent. It's a great watch and provides an easy and entertaining watch. Anonymous

So easy to watch when my lockdown brain is in a frenzy, introduced me to lots of comics I've not seen before as well as familiar faces. Easily accessible as simply posted on YouTube. Relaxed style feels a bit like mucking about with your mates at the pub, and you can play along too. Really funny with minimal political content therefore giving me a lovely break from reality. Anonymous

[Belly Laughs was] an incredible online event that pulled Bristolians together for a night of lockdown comedy and raised over £40k while at. Appearances for Stephen Merchant, Russell Howard, Jon Richardson was a treat too! Josh
Acceptance speech:
---
Archie Henderson, aka Jazz Emu
For: A prodigious output of inventive, witty and trippily surreal music videos on YouTube and Twitter over the past year.
Your comments:
Utterly joyful, funkadelic pop songs. Hilarious, imaginative videos with an incredible attention to detail and high-end production values. Regular Twitter/Instagram/Tik Tok comedy shorts: either lip-sync parallel universes or Jazz-Emu-is-struggling-with-a-situation, spectacular, one-minute-wonder songs. Each offering has been eagerly awaited throughout lockdown and brings delight to the ongoing sludge of our days. Gemma Ball

His content is absolutely hilarious and has kept me going during lockdown. Really relatable, incredibly detailed topics set to music - bloody fantastic and can't believe he's made so many funny videos at this crap time! Rhiannon Hopkins
Acceptance video:
---
Catherine Bohart
For: Her regular lockdown comedy show Gigless, which has fostered a strong sense of a community among its regular aduience
Your comments:
Each week there is a hilarious new experience. Gigless feels like a community and it is the highlight of my week. This is an affordable gig which splits all of its profits with the acts. Great acts; wonderful hosts! Cheryl Miller

Early adopter of on-line technology. Catherine has kept going through all the bad times and kept bringing in new as well as existing comics to join the chat. Thursday nights bringing regular live entertainment has been such a welcome routine in all the chaos. Oh and she's very funny too! Kate Lindsay

Fantastic community feel, almost feels like a comedy club and never fails to make me smile every week. Also had some amazing line ups with established comics and put me on to some I'd never heard of before. Anonymous

She and

Helen Bauer

are fantastic hosts. Each week is as funny as the last, and there have been some quite big names on there. The audience are fantastic and it is the closest I have felt to actually being in a love venue since last March, even though it is all online. Even the performers frequently comment on what a fantastic gig it is, and how they look forward to doing it. I know that Gigless is the highlight of many of our weeks now

. Anthony Conway

Gigless is an excellent weekly gig that Catherine has built into a lovely community with amazing acts. It's been great to discover new acts through the gig as well as seeing new material from top names. The added bonus of making unexpected friends with other regulars has made it an unmissable point in my week. As an LGBT+ friendly gig it has also been great to be able to relax and enjoy such amazing comedy without the underlying tension that made me give up on live gigs a few years back. I've now got a much longer list of acts I want to see live when things open up again so it has tempted me back to the scene. Ruth
Acceptance speech:
---
Toussaint Douglass
For: The daft sketches he has been uploading on Instagram, YouTube and Twitter during the pandemic, using green-screen technology.
You said: 'To keep himself sane throughout the pandemic Toussaint bought himself a green screen and has taught himself how to shoot, make and edit hilarious sketches that have a serious undertone relating to racism on our screens' and that he was 'knocking it out of the park with sketches'.
Acceptance speech:
---
Petrichor
For: A mockumentary series offering a behind-the-scenes look at the making of a crowdfunded film is the latest winner in this year's Chortle Awards honouring the Legends Of Lockdown.
Citation: Created, written and directed Will Farrell and Ben Rowse, the professionally shot four-part show was released on YouTube in December, where is still available to watch. A perfectly pitched portrait of deluded creatives pursuing a misguided passion project, it nailed the comedy of cringe without being self-indulgent. Genuine laugh-out-loud moments came as The Pin's Alex Owen and Goose's Adam Drake found themselves out of their depth on their struggling project but too proud or misguided to admit it. Petrichor also featured a supporting cast of top comedy talent such as Lolly Adefope, Katy Wix and Kath Hughes, and was easily one of the best indie projects released over lockdown.
Acceptance speech:
---
Rob Sedgebeer
For: Being the tech king of comedy
Citation: Rob Sedgebeer will be known to some as the co-host of the interactive entertainment show WiFi Wars alongside comic Steve McNeil, which was created with his coding and game design skills. But he has also been instrumental in helping comedians adapt to the new online world, masterminding the tech behind Mark Watson's 24-hour shows and the fantasy shows Questing Time and Comic Relief Plays Dungeons & Dragons, raising tens of thousands of pounds for charity en route.
Comments from some of the comedians he's worked with
'Without Rob's technical genius, programs like the two Watsonathons and the Weekly

Questing Time

&

WiFi Wars

shows would be impossible, plus the tech support he's offered to other comedians during the pandemic which has kept online comedy a viable way of paying mortgages etc.' R

ufus Hound

'Rob has been the technical support behind loads of live comedy shows that otherwise wouldn't have happened, or would have been shit. He built, coded and ran the systems that broadcast The Whatsonathon, Questing Time, Comic Relief Plays D&D 1, Wifi Wars's charity shows and many others. Also, he's unfailingly helpful and has assisted many more shows than he's been able to operate. And he's nice, humble and modest - he'd never usually get the credit he richly deserves.' Paul Foxcroft

'He is the technical wizard behind so many comedy shows and charity fundraisers streamed live… Without him, those shows would not have happened. He gives up so much of his time to make others happy.' Briony Redman
Acceptance video:
---
The Warren, Brighton
Citation: The pop-up venue is normally the lively hub of the city's Fringe festival, but after last year's event was cancelled, bosses managed to erect an outdoor, socially-distanced venue on the beach, next to Brighton Pier, instead. A full programme of comedy over the summer included the Krater Comedy Club, unable to use its normal venue at Komedia, a regular late-night stand-up showcase, and full shows including Shit-Faced Shakespeare, a recording of Mark Steel's Radio 4 show and a biographical play about local comedy icon Max Miller. Music, variety and family shows also featured in the two-month run. Local comedy journalist Vicky Nangle said the venue deserved recognition for 'hosting large and small live comedy, BBC radio, Edinburgh previews - a snapshot of all-round scene support':
Acceptance video:
From venue directors Nicky Haydn, Tom Arr-Jones and Josh Carr
---
Munya Chawawa
Citation: The British-Zimbabwean comedian has been one of the breakout stars of the last year, thanks to characters such as posh drill rapper Unknown P and racist newsreader Barty Crease. Chawawa is quick to react to the news, and his hotly topical sketches often take sly digs at corrosive attitudes surrounding race and class. He has been a massive hit on Instagram, where he has 642,000 followers, and YouTube (166,000) and is now starting to move into the mainstream, with TV appearances on the likes of The Last Leg, Don't Hate the Playaz and Dating No Filter. Unknown P recently signed a deal with Atlantic Records, and has released his the debut single Piers Morgan.
You said: Chortle readers who put him forward for the Legend Of Lockdown award praised his 'hilarious topical content' and 'brilliant sketches about Covid and lockdown.' J Clarke said he was 'brilliantly funny all year round. Comical, inventive and ridiculously quick to come up with great content. One for the future.'
Acceptance video: Unfortunately, he has been unable to record an acceptance speech, but here is a brief sample of his work:
Published: 31 Mar 2021