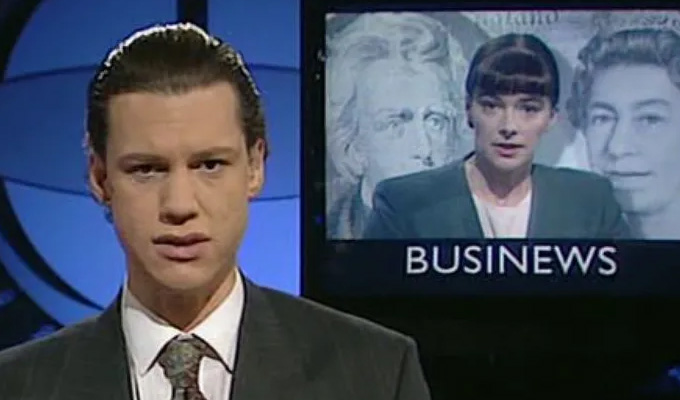 Because fact into doubt won't go
It was 25 years ago today, January 19, 1994, that the first episode of The Day Today hit screens – the TV version of Armando Iannucci and Chris Morris's radio programme On The Hour.
Featuring Morris as a Paxman-style anchor and introducing TV viewers to Alan Partridge for the first time, the show's surreal news stories, delivered a scathing parody that remained faithful to real news programming with spinning graphics and portentous tone.
The complete series is currently available on DVD from Amazon for just £6.57. Buy here.
Here are eight fantastic clips:
Peter O'Hanraha-hanrahan in Brussels
A brilliant spoof of how anchors throw to ill-informed correspondents, with Morris grilling Patrick Marber's over his interaction with the German finance minister. Imagine people being taken in by voices of authority trying to bluff their way through European politics today…
Vox pops: The letter of the law
Putting members of the public on the spot to pontificate about nonsense was a staple of the show. Here's probably the most famous:
Alan Partridge
From behind the Sports Desk – a long way from Morris – we are introduced to Alan Partridge, offering a first glimpse of his gaucheness especially around women:
Is This Cool?
Another appearance by Coogan as Connor Hammill, awkwardly to connect with kids before issuing a chilling, and not at all overplayed, warning about the perils of speeding:
Gayness with Colin Poppshed
With a completely dry deadpan, Peter Baynham delivers a 'quick roundup of today's gayness'.
Collaterlie Sisters
Doon Mackichan mocked the incomprehensible nature of business news to the layman and the ridiculous metaphors used in futile attempts to make it more accessible.
Attitudes Night
A trailer for a fictional night showing how TV tastes had changed, including Britain's last televised hanging, the first on-air fellati ('not an experience I can see catching on, says Steve Coogan's character) and Kiddystare – a thinly disguised attack on Channel 4's Minipops, and a precursor of Morris's future work on the controversial Brass Eye paedophile special.
Tomorrow's headlines
The team's most surreal moments came in the sign-offs:
Published: 19 Jan 2019
What do you think?