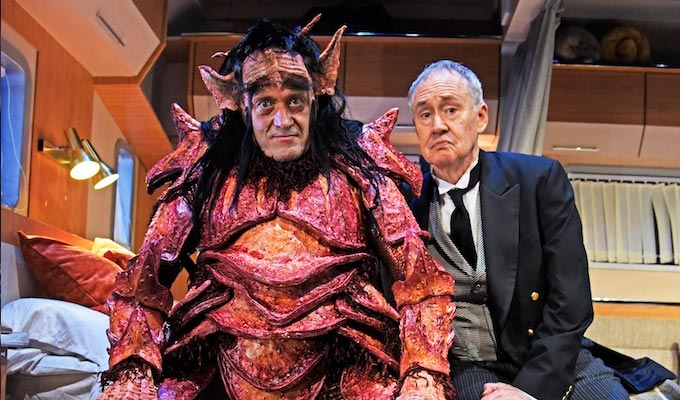 First images of Adrian Edmondson and Nigel Planer in Vulcan 7
Here are the first images of Young Ones stars Adrian Edmondson and Nigel Planer appearing togetherin a new stage comedy
In Vulcan 7, the pair play actors, who went to drama school together rand who are now reunited on the set of a fantasy film being filmed on an Icelandic wasteland.
Edmonson plays Gary Savage, a one-time Hollywood A-lister playing a guest monster who requires four hours in make-up and who has just one word in the script.
Planer plays Hugh Delavois, one a plodding actor, who has a small but regular role as a butler in the show,
Edmonson and Planer also both wrote and star in the show, with the cast completed by Lois Chimimba who stars as film runner, Leela.
The description of the show says: 'Sparks fly inside the trailer as old wounds are opened. Leela, a runner, attempts to keep the peace, but outside the trailer things are not going to plan either: the director's gone AWOL, the catering truck's on the wrong side of a ravine, and the volcanic activity is growing more lively by the minute…'
Soho Theatre's artistic director Steve Marmion directs Vulcan 7, which us currently on at Guildford's Yvonne Arnaud Theatre before touring to Cambridge, Newcastle, Bath, Richmond, Malvern and Edinburgh - see below for dates.
As well as The Young Ones, Edmondson and Planer have performed together in Filthy, Rich and Catflap and in the spoof band Bad News.
The tour dates are:
Wednesday 19 - Saturday 29 September: Yvonne Arnaud Theatre, Guildford
Monday 8 - Saturday 13 October: Newcastle Theatre Royal
Monday 15 - Saturday 20 October: Theatre Royal Bath (Tickets on sale July 23)
Monday 22 – Saturday 27 October: Richmond Theatre
Monday 29 October – Saturday 3 November: Malvern Festival Theatre
Monday 5 - Saturday 10 November: King's Theatre Edinburgh
Published: 24 Sep 2018
What do you think?