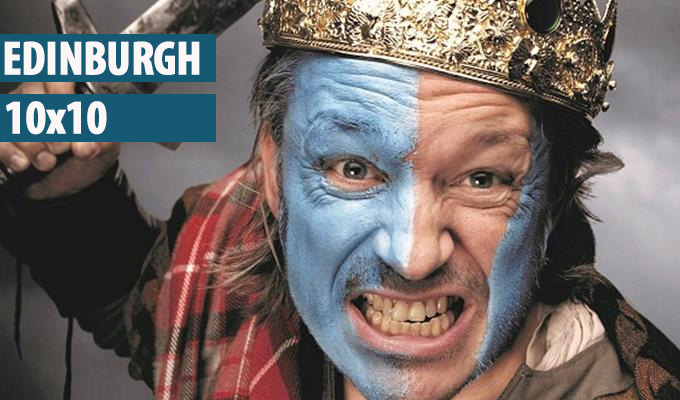 Edinburgh 10x10: 3. All pod's children
Here are ten shows from comedians who've built up their fan base with podcasts – some are taping new episodes in Edinburgh, others doing their stand-up shows, and some are doing both:
A pioneer of the web, Richard Herring secures top names for his irreverent Leicester Square Theatre podcast (RHLSTP, as the young people call it) and harnesses the internet to broadcast his sketches and stand-up via As It Occurs To Me (AIOTM).
After a year's hiatus from Edinburgh, he's back with the second ('and let's face it, almost certainly penultimate') of his once-a-decade examination of ageing, Oh Frig I'm 50 (OFI50) as well as three episodes of his Edinburgh Fringe Podcast (RHEFP) which will be at the New Town Theatre (NTT) on Fridays (F) at 13:50.
Pleasance Courtyard, 19:30
2.Stuart Goldsmith
His Comedian's Comedian interviews are essential listening for every comedy dweeb in the country. And we've said before that getting all the inside info is clearly rubbing off on his own increasingly assured stand-up. He says of this year's show, Like I Mean It: 'I'm so goddamn proud of this, it's stupider and less clever-clogs and just the funniest stuff I've ever created. OK?'
Liquid Room Annexe, 15:45
The Bugle, Andy Zaltzman's satirical podcast that gives a 20-pun salute to all the issues, is celebrating its tenth birthday … but surprisingly has never had a live Edinburgh show. Until now. Zaltzman will be fronting two specials with guest co-hosts (given that John Oliver found something more lucrative to do a couple of years back) at the New Town Theatre on August 16 and 27.
Meanwhile, he'll be reprising his  Satirist For Hire show, in which he will offer bespoke mockery of the political gripes or personal peeves of his fans.
The Stand 3, 15:00, August 15-27
4. My Dad Wrote A Porno
What would you do if your dad wrote a dirty book? Jamie Morton reads it with mates James Cooper and Alice Levine.
The simple premise has now run to three seasons and amassed more than 50 million downloads, and even lead to its own book, published last October. Ahead of a tour of Australia and New Zealand, and after an appearance at Montreal's Just For Laughs, the team now do two nights at the Fringe.
Gilded Balloon Teviot, 18:00, August 10 and 11 only
Without his Radio X and podcast mucker Elis James, John Robins here 'yells into a well for 55 minutes' in his show about love and loss following his break-up with fellow comic Sara Pascoe. And for her side of the story, come back to the Pleasance Courtyard at 19:00 on a different day for her show LadsLadsLads.
Pleasance Courtyard, 18:40
They host their popular podcast of guests and chat from Heroes@The Hive at 21:45 Sunday to Thursday. Meanwhile, Donnelly will be bringing his affable storytelling to Bob's Blundabus at 19:30 and Martin will be telling of how he went viral in India this year (but for all the wrong reasons) at his show at Laughing Horse @ The Pear Tree at 14:45
John Hastings' daily Anything Can Be a Podcast! Podcast! is an improvised hour of comedy based on suggestions from fellow Fringe comedians, his teenage blog, and his friend Paul Stanley Harrison.
  Laughing Horse @ Cabaret Voltaire, 17:30
Meanwhile, the Canadian comic's stand-up show Audacity is about falling in love and confronting his fear of confrontation.
Pleasance Courtyard 21:15
The pair claim to have the only mother and daughter comedy podcast in the world, which they started five years ago. A live episode is being recorded at New Town Theatre on the 12th.
Meanwhile Trump-annoyer Godley will be presenting her solo stand-up hour at Laughing Horse @ The Free Sisters at 20.15; and Storrie's show is at Laughing Horse @ The Counting House at 18:45.
Before he was signed up by Dave, Matt Forde hosted the Political Party Podcast, very much along the same lines. Previous guests over four years of London shows have included Tony Blair, Nigel Farage, Nick Clegg and Alastair Campbell – and how he's doing a one-off at Gilded Balloon Teviot on August 16.
And for his main stand-up show, the travails of being a topic comedian are perfectly summed up in the title: A Show Hastily Rewritten in Light of Recent Events – Again!
Pleasance Courtyard, 20:30
Hosted by Deborah Frances-White, the comedy podcast claims almost a million downloads a month on average. Previous guests include Sarah Millican, Sharon Horgan and Sara Pascoe. Two more episodes are being recorded at the Fringe.
Underbelly George Square, 17:10, August 4 and 5 only
Published: 19 Jul 2017
What do you think?