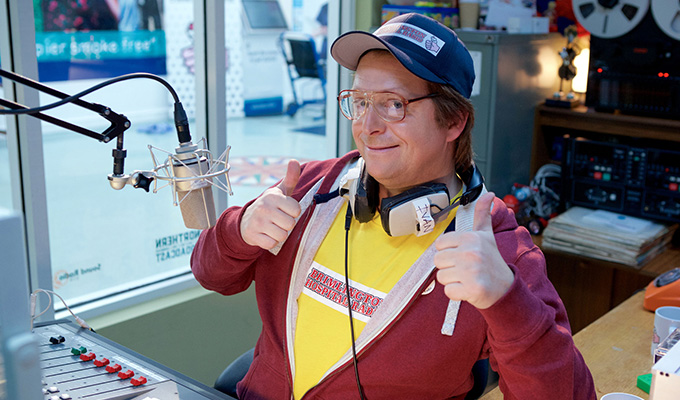 Comedy's greatest DJs
As Hospital People starts its full series on BBC One tonight, featuring the 'cheerful earful' Ivan Brackenbury, Jay Richardson pays homage to some of the funniest radio DJs to have ever graced television.
Ivan Brackenbury
Trumped only by his oft-sacked creator Tom Binns for being inappropriate on air, the inept hospital DJ with the propensity for playing just the wrong song to his bed-ridden listeners, perhaps surprisingly began life on the forces station BFBS Radio. The character then popped up on Lee and Herring's Fist of Fun on Radio 1, as well as Virgin and GLR.
After Binns's own presenting career hit the skids, he revived the DJ for an Edinburgh Comedy Award-nominated hour at the 2007 festival. Brackenbury was then in and out of television development at the BBC for seven years before Hospital People was greenlit.
No doubt this was in part due to Binns's fondness for sailing close to the wind – the hapless DJ's live jingles were 'outing' Jimmy Savile as a paedophile years before the scandal became front page news.
Alan Partridge
More than a quarter century after his debut on Radio 4's On The Hour, Steve Coogan's most enduring character is still going Jurassic Park, his career extended and enlivened by the recruitment of Rob and Neil Gibbons to his writing team.
Following a well-received film, memoirs and his becoming a grandfather, North Norfolk's most persistent broadcaster is set to return to television later this year, with Coogan hinting that a magazine show might be on the cards.
Petty, deluded and parochial, not to mention pompously self-defeating, Brexit-era Britain ought to find Partridge in his element once more.
Smashie & Nicey
Last seen on Harry Enfield and Paul Whitehouse's 2015 Legends tour, the poptastic Smashie and Nicey have probably spun their last record thanks to Operation Yewtree… even if the gurning twosome claiming 'our only crime was that we didn't ask to see people's passports before we took off their school uniforms'.
Mind you, they did survive and might even have inspired Radio 1's infamous night of the long knives in 1993, in which new controller Matthew Bannister purged the station of Dave Lee Travis, Simon Bates and Alan Freeman. That in turn prompted the 'great mates' finest hour a year later, their hilarious and tragic television swansong, End of an Era.
Dr Frasier Crane
In arguably the greatest television spin-off of all time, Frasier Crane's move to a psychiatry call-in show after the private practice of his Cheers years was chosen to capitalise on star Kelsey Grammer's naturally resonant tones.
Although his equally pompous and cerebral brother Dr Niles Crane (David Hyde Pierce) tended to look down on the radio show, he briefly presented it in a hastily rewritten season four episode while Grammer was in rehab following a drunk driving accident.
Amusingly, the celebrities who voiced Frasier's patients, including Cindy Crawford, Ben Stiller, Helen Mirren, John Lithgow and Kevin Bacon, would literally 'phone' their performances in.
MC Grindah and DJ Beats
Appearing at scores of festivals this summer, Kurupt FM might have started out as upstart YouTube outsiders. But People Just Do Nothing just keeps going from strength to strength, graduating from the BBC's iPlayer to BBC Two and scooping up award nominations, with the fourth series dropping soon.
A mockumentary set in a pirate drum and bass station in Brentford tower blocks, stars Allan Mustafa (Grindah) and Hugo Chegwin (Beats) assembled a motley crew of wannabe DJs and hangers on for their original self-shot videos, and through their characters' endearing optimism in the face of failure, have ultimately become the broadcast and live phenomenon they always pretended to be. They have acknowledged the influence of The Office on their shooting style, talks have naturally begun on a US adaptation.
Gary Bellamy
Despite making this list by dint of the television spin-off Bellamy's People, Gary Bellamy – played by Rhys Thomas – first came to prominence on Radio 4's semi-improvised talk show spoof Down The Line.
The regular supporting cast of Paul Whitehouse, Charlie Higson, Simon Day, Amelia Bullmore, Lucy Montgomery, Felix Dexter, Arabella Weir and Adil Ray, plus a host of other comic guests, were so convincing as the weird and wonderful callers to the verbally incontinent host, that some listeners initially took the show to be genuine and complained to the BBC. Like Frasier, the cast phoned in their calls to Thomas. And like Dave Lee Travis with Smashie and Nicey, proof of the parody's power was TalkSport blowhard Jon Gaunt's irritation at being name-checked on the show.
Delbert Wilkins
Crucial. Years before People Just Do Nothing, pirate radio was the province of the brash Delbert Wilkins, whom Lenny Henry first developed live during Summer Season in Blackpool with Cannon & Ball, then took with him during a stint DJing on Radio 1.
Broadcasting as the BBC (Brixton Broadcasting Corporation) out of the back of a kebab restaurant, the loud, self-centred Wilkins acquired his own sitcom effectively in 1987 during the second series of The Lenny Henry Show, abusing his sidekick Winston (Vas Blackwood) while pursuing every underhand means he could to try to break into the big time.
Mike Channel and Mike Flex
Beginning and ending at the Edinburgh Fringe, Radio Active started as a 1979 festival play by The Oxford Revue, starring Angus Deayton, Helen Atkinson-Wood, Philip Pope, Michael Fenton Stevens and Geoffrey Perkins, and effectively finished with a critical mauling for its revival at last year's Edinburgh.
In between, it was adapted for seven series on Radio 4, introducing such characters as Mike Channel, Mike Flex, Anna Daptor and Martin Brown, who then returned for three series of the satellite television spoof KYTV on BBC Two.
Some of Pope's musical parodies were sublime. And mocking just about every genre of radio, the team weren't afraid of courting controversy. Episodes on religious programming and commemorating D-Day prompted a flurry of complaints.
Willow Hannigan
The boat that bobbed, pirate radio on a canal barge, After Hours was yet another charmingly understated sitcom from Craig Cash, featuring a cast of newcomers alongside Ardal O'Hanlon, John Thomson and Jaime Winstone, and written by the poets Molly Naylor and John Osborne.
A geeky, music lover's tale of a callow teenager, Willow (James Tarpey), who recovers from a break-up by becoming a producer on his favourite online station, the soundtrack was a tremendous introduction to under-the radar bands and indie stalwarts like The Smiths, Tom Waits and The Pixies. Broadcast for a single series in 2015, the show was also notable for featuring the last screen appearances of Caroline Aherne.
Lindsay Carol and Dom Cox
With guest performances from the likes of The Charlatans, Marianne Faithfull and The Guillemots, FM, which aired on ITV2 in 2009 is best remembered for being Chris O'Dowd's first sitcom lead, as he and Kevin Bishop played dysfunctional DJs at a London indie station, with Nina Sosanya as their marginally more together producer.
Hip wannabe Carol (O'Dowd) and former boyband member Cox (Bishop) struggled to sustain their cooler-than-thou fronts when meeting genuine rock stars. But the gag was a little too on the nose, as ITV failed in its cap-in-hand bid to persuade record companies and radio stations to help fund a second series.
Kit Curran
Yet another DJ comedy with a prescient mention of horrors still-to-be-uncovered, with Lindsay Duncan's Pamela dismissing a hospital trip with a sanguine 'it could have been worse … I didn't receive a single visit from Jimmy Savile'.
The Kit Curran Radio Show is Andy Hamilton's earliest credit as creator, airing on ITV in 1984 and moving to Channel 4 two years later, adding Hamilton's future Drop the Dead Donkey collaborator Guy Jenkin to the writing team.
Set in the concrete blandness of the fictional Newtown, the self-obsessed, scheming Curran (Denis Lawson), his producer Les (Paul Brooke) and eccentric newsreader Damien (Clive Merrison), contrived to get themselves sacked from their show, before re-emerging as a pirate radio station in Brentford for the second series – almost three decades before Kurupt FM surfaced in the same West London suburb.
While their ego clashes presaged the vastly superior Donkey, Curran's relative obscurity is attested to by Lawson's rendition of the theme tune, Ultra Fantastico, which failed to chart when it was released as a single.
Dr Johnny Fever
Despite network interference and erratic scheduling, WKRP in Cincinnati belatedly became a smash in the US. The show focused on the frustrated attempts of programme director Andy Travis (Gary Sandy) to turn a failing easy listening station into a rock 'n' roll contender, despite the best efforts of his idiosyncratic DJs and fellow employees.
A true ensemble comedy, with the laughs distributed evenly outside Sandy's straight man performance, the most memorable turn nevertheless came from former real-life DJ Howard Hesseman as breakfast host Dr Johnny Fever, a sixties holdout whose manic misbehaviour drove many of the plotlines.
His playing of Blondie's Heart of Glass on WKRP is credited as being pivotal to the song becoming a hit. The show also spawned a spin-off, unimaginatively titled The New WKRP in Cincinnati.
DJ Mike and Andy, the Drivetime host
The chief draw of Car Share is obviously the 'will they, won't they' relationship of Peter Kay's John and Sian Gibson's Kayleigh. But the unseen, understated contributions of John's radio station of choice, Forever FM, deserve a footnote mention too.
Real-life presenters Rob Charles, who plays Mike, and Martin Emery, who voices Andy, recorded their parts without ever meeting Kay or being on set, with little clue as to what they were signing up to.
Still, their quirky local news reports are some of the best jokes in the show and their playlist of 90s nostalgia have spurred sales of the reissued compilation album Now 48.
• Hospital People starts on BBC One at 9.30pm tonight.
Published: 21 Apr 2017
What do you think?