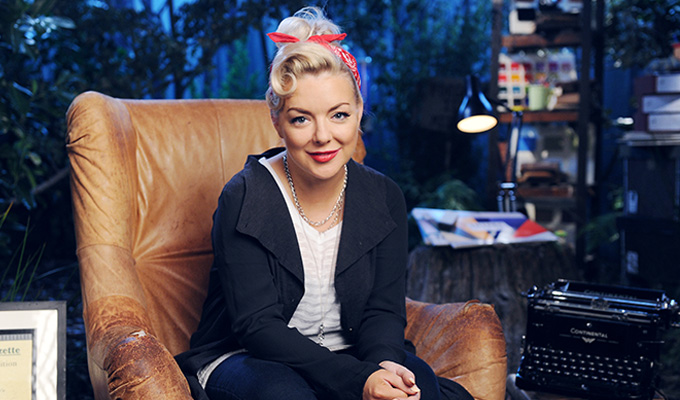 'I am the worst storyteller in the history of storytelling'
Details of the stories that will feature in the next series of Dave's comic storytelling show Crackanory have been revealed. The eight-par show stars on January 30, running Monday to Thursday for two weeks. Here are the synposes:
A Close Slave
Written by Tony Way, narrated by Dara O Briain
Set in ancient Rome, a slave who works in a playwright's household helps him finish his latest opus. Little does he know he's effectively conceived his own death. 'There are twists,' O Briain says, helpfully.
Asked about his own favourite storytellers, he said: 'Peter Ustinov could tell a hell of a story. Billy Connolly is an amazing storyteller. Morgan Freeman slowly narrating the story of my life would be a delight as well, as I drifted off. But then the thought of waking up and seeing Morgan Freeman still there in my house, with Peter Ustinov and Billy Connolly, maybe having breakfast … it's too weird.'
Airing on Dave on Monday January 30, at 10pm. Available on demand via UKTV Play seven days earlier.
Living with a Lie
Written by Nico Tatarowicz, narrated by Sheridan Smith
A frustrated writer fabricates an elderly relative to get time off work to start his novel. But when the doorbell goes and 'Aunt Janet' is standing on his doorstep, he realises his lie has come to life and he's got to deal with the old battle-axe for real.
Smith says her story is about 'why you shouldn't lie and why you should be true to yourself. Its about someone who tells themselves However, she admits: 'I am the worst storyteller in the history of storytelling, but I'm sure it'll be well edited together.'
Smith said Kathy Burke was her favourite storyteller 'because she's my idol and she portrays comedy and heartbreak. She can make people laugh and cry.'
The Despot of Tea
Written by Arnold Widdowson, narrated by Bob Mortimer
An out -of -work actor does an advert for tea in an isolated former Soviet state, only to return years later to find that his character Sir Slurpington Boots is a national treasure.
'I think the main attribute for a great storyteller is the timbre of the voice,' says Mortimer. 'Simon Callow, Stephen Fry, that kind of guy. Unfortunately, I think I probably prefer a posh voice to a regional voice. I probably shouldn't say that, but that's the way it is.'
Airing on Wednesday February 1 , 10pm
The Survivor
Written by Alex Kirk, narrated by Anna Friel
1850. A man wakes after a long illness and he finds he's being cared for by a group of strangers and a beautiful woman. If he is really their 'guest' as they keep insisting, why isn't he allowed out of the house?
Friel reveals that he has woken up 100 years later, and that he holds the power to get rid of a disease.
Airing on Thursday February 2 , 10pm
Proxy Lady
Written by Katherine Jakeways, narrated by Mel Giedroyc
Giedroyc explains: ''My Crackanory story is about a woman called Greta. She works in IT, she's a geek, and she falls in love online with a man called Brian. She doesn't want to send her own photo to Brian because she doesn't think she looks enticing enough, so she finds another person to pretend to be her, to be her and go on a date with Brian when he says come on, let's meet up in person.
And that, my friend, is all I'm going to tell you, because it takes a couple of very good twists. That's just the outline of the story. Is Greta who we think she is? Is Brian who we think he is? And I'm certainly not going to tell you the ending, which is a real surprise.'
Airing on Monday February 6, 10pm
Devil's Haircut
Written by Sarah Morgan, narrated by Doc Brown
Set in 1940s New York. A baritone in a barbershop quartet unwittingly sells his soul to the devil to ensure his group wins the national finals.
'Sharing stories with people is everything,' says Brown. 'There's not a comedian on the planet who is as funny as when a mate of mine goes 'you need to hear this".'
Asked what makes a great storyteller, Brown said: 'I think you need a richness and a bit of range to your voice, and you also need to relate to the story somehow. When it has these big peaks and troughs and emotional beats you are really there with it. If you have a combination, then you're great. Mostly though if you've got a great voice then you can read the phone book and people will still sit up and listen. '
Airing on Tuesday February 7, 10pm
The Disappearance
Written by Toby Davies, narrated by Mackenzie Crook
London 1910. An illusionist performs his routine 'the lady vanishes' act, only to find that she disappears without a trace. So he begins to wonder if he's acquired genuine magic powers.
Crook says: 'My Crackanory story is about a magician who loses that sense of magic and descends into madness. So I shaved my head for the part. I thought that would be a good thing to do, to prove how into it I am.
Airing on Wednesday February 18, 10pm
Pickled
Written by Kevin Eldon, narrated by Miriam Margolyes
A down on his luck former aristocrat who squanders away his fortune, stumbles upon an old house with a mysterious inhabitant.
'The Crackanory story that I was asked to read surprised me very much because it was, I thought, rather rude,' says Margolyes. 'I don't know why they gave it to me! It's about a wastrel from the upper classes – most of them are wastrels really, aren't they? He happens by chance to come in to a house in which there is an incredibly strange person… It is scary, and funny, and shocking; a very good story.'
Airing on Thursday February 9, 10pm
Published: 21 Dec 2016
What do you think?