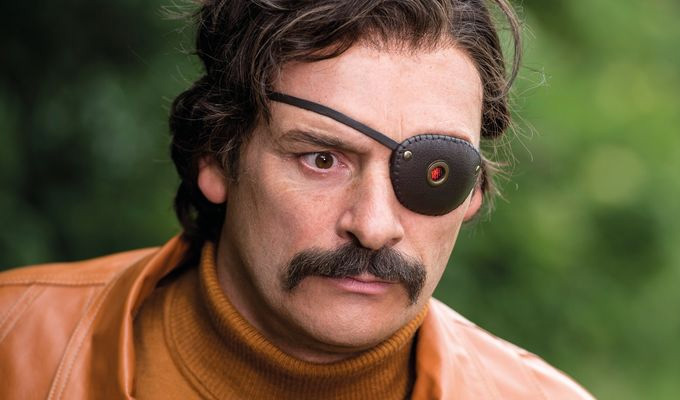 Six movies for comedy fans at London Film Festival
The London Film Festival kicks off next week… Here are five films comedy fans might want to check out…
The Last Laugh
What should and shouldn't be off limits in comedy is a long-running debate, explored in Ferne Pearlstein's new documentary, with special focus on jokes about the Holocaust.
Mel Brooks, Sarah Silverman and Borat director Larry Charles speak about their own taboo-breaking work; with plenty of outrageous examples, while Renee Firestone, a 91-year-old Auschwitz survivor, speaks of humour as a way of coping with the horrors of the concentration camps. But fellow Holocaust survivor Elly Gross can see nothing to make a joke about in the inhumanity she witnessed.
Thursday October 13, 21:15. Vue West End
Friday October 14, 15:15. Vue West End
Sunday October 16, 12:15. Curzon Mayfair Cinema
Don't Think Twice
Mike Birbiglia's movie revolves around the resentment that divides a New York comedy group called The Commune when two of their members are chosen to audition for a Saturday Night Live-style TV show.
It also examines the lives of those in the troupe, from the day jobs they have, to the optimism of youth, to the realisation that often youthful dreams will remain just that.
The movie's stars include Key & Peele's Keegan Michael-Key; Kate Miccici from Garfunkel and Oates; and stand-up and improviser Chris Gethard, whose storytelling show Career Suicide attracted critical acclaim at the Edinburgh Fringe last month.
Birbiglia also plays another member of the team, its founder who's bitter that he never made it big, while Lena Dunham and Ben Stiller make cameos as themselves.
New York magazine said it was 'a bleak ensemble drama that charts the dissolution of a warm improv-comedy ensemble. It's funny and inspiring and harsh and depressing.'
Friday October 14, 18:30. Haymarket Cinema,
Saturday October 15, 15:15 Curzon Soho.
Sunday October 16, 18:15. Prince Charles Cinema
Mindhorn
In this keenly awaited comedy Julian Barratt stars as washed-up actor Richard Thorncroft, only known for his hit 1980s show Mindhorn, in which he played an Isle of Man detective with a robotic eye/lie detector that allowed him to literally 'see the truth.'
Now he has to return to the role when a demented criminal on the island demands a showdown with the master sleuth.
The Boosh star co-wrote this with regular collaborator, and Horrible Histories star, Simon Farnaby, who is also part of a cast alongside Andrea Riseborough, Essie Davis, Russell Tovey, Simon Callow and Steve Coogan
It's directed by Sean Foley, whose credits include the stage plays he Play What I Wrote, I Can't Sing! The X Factor Musical, and the Graham Linehan version of The Ladykillers.
Sunday October 9, 14:30. Odeon Leicester Square
Wednesday October 12, 14:15. Odeon Leicester Square
Mascots
After community theatre, dog shows, and folk music, Christopher Guest turns his attention to another subculture: sports mascots.
The new semi-improvised mockumentary, set at a mascot championship, features Jane Lynch, Fred Willard, Harry Shearer, Chris O'Dowd and Kerry Godliman.
It launches on Netflix on October 13, but here's a chance for an early look:
Sunday October 9, 20:45. Haymarket Cinema
Monday October 10, 14:15. Odeon Leicester Square
Prevenge
Queen of the dark comedy Alice Lowe, best known for playing a serial killer in 2012's Sightseers returns as another woman on a killing spree, whose motivations are gradually revealed.
She directed, wrote and stars in Prevenge – which she has described as a 'post-feminist revenge movie' – shooting when she was seven months pregnant herself.
In an interview last week, Lowe added that it was a 'deliberate baby-shaped hand grenade that I wanted to throw into the industry' – said that smothers and mothers-to-be should be given a voice in film, else ' we're missing out on a whole chunk of society's perspective'.
Thursday October 13, 18:30. Haymarket Cinema

Sunday October 16, 12:15. Picturehouse Central
Tickling Giants
Cardiologist Bassem Youssef became 'the Egyptian Jon Stewart' after quitting his job in Cairo, and embarking on a YouTube comedy show shot in his laundry room
As presenter of the popular TV satire Al Bernameg, which attracted 30 million viewers per episode, he fell foul of government crackdowns during the Arab Srping and he was forced to flee the country with his family.
Tickling Giants is made by Sara Taksler, herself a senior producer on The Daily Show, and features Stewart as the two comedians appeared on each others' shows.
Wednesday October 12, 18:00. Vue West End
Saturday October 15, 18:15. BFI Southbank
The London Film Festival takes place from October 5 to 16. Published: 30 Sep 2016
What do you think?