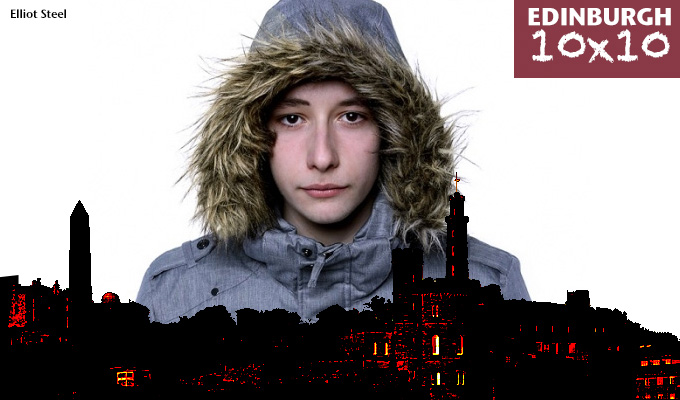 10x10: The family business
Comedy seems to be producing dynasties, with a new generation of performers coming from famous parents. All of these comedians are forging their own paths, but their heritage is notable…
1. Will Hislop
Ian Hislop's son co-founded sketch outfit Giants while at Oxford, and now the group makes its Edinburgh debut. The Guardian has already called them the 'most-hyped sketch debutants' which sounds almost like a curse… but they certainly offer a distinctive twist on the genre's dynamics.
Pleasance Courtyard 15:15
He's the son of indefatigable left-wing comedian Mark Steel, whose own fascinating family history was revealed in his last show, Who Do I Think I Am? But Steel Jr, making his Fringe debut this year with the backing of mega-agency Off The Kerb, dabbles not in politics but the lot of a young man growing up in a multicultural part of London. In an interview last year, he said: 'People think my dad might help me write material, but it's not like that. We're different, there's such a big age gap – he went onto the circuit 30 years ago. The industry's changed so much; styles are changing all the time.'
Gilded Balloon 18:145
3. Annie McGrath
The daughter of Rory McGrath has already attracted some heat as half of sketch duo Twins with Jack Barry. But this year she makes her solo debut in The Seven Ages Of An
Pleasance Courtyard 16:45
4. Beattie Edmondson
The sketch performer stars in the BBC Three sitcom Josh, where he mum was played by none other than Jennifer Saunders. Not too much of a stretch maybe, since the Ab Fab creator is her real-life mum and Adrian Edmondson her real-life dad. Beattie came to prominence via the sketch troupe Lady Garden, long since slimmed down and renamed Birthday Girls, who return to the Fringe after a year away with Sh!t Hot Party Legends. Of having famous parents, Edmondson – who has also appeared in Ben Elton's Doomed sitcom The Wright Way, Channel 4's Fresh Meat and Gold's Marley's Ghosts – has said: 'I guess the pros are that people are interested in you initially so you can get them into a room, but the cons are you are then immediately compared to your parents, which isn't always easy.'
Pleasance Courtyard, 21:45
5. Ed Night
Trying to throw us off the scent, he turned Day into Night for his surname. For the 2015 So You Think Your Funny? finalist is the scion of Match Of The Day 2 presenter and veteran stand-up Kevin Day. 'I chose Ed Night because I'm petty,' he told The List earlier this month.
Gilded Balloon At The Counting House, 17:30
The intense socio-political stand-up is the son of Dead Ringers impressionist Jan Ravens and composer Steve Brown, long-timer collaborator with Harry Hill and others. Not that there's much of his parents' showbusiness sensibilities in his own, often raw, stand-up. When he discusses 'alcohol, the Middle East and something hideous about our socialised collective sexual repression' in his new show Scissor on the Free Festival, don't expect him to do it in the voice of Boris Johnson.
Laughing Horse @ City Cafe, 15:00
immy Cricket's daughter – an award-winning playwright as well as stand-up comic – takes on 'confidence and self-sabotage' in her new show, Saboteur.
Laughing Horse @ Southside Social, 15:45
On the subject of 1970s comics, Milo McCabe – who's previously done shows with his father, New Faces stand-up Mike McCabe – is back with the character show The Unflappable Troy Hawke at Laughing Horse @ City Cafe, 20:00
After the 45-minute below-the-radar performance last year, Archie Maddocks makes his full-length debut with Shirts vs Skins about the pressure he feels under, as a mixed-race man, to 'pick a side' ethnically. And if you're thinking there are no famous Maddockses he could be the son of, you're right. He's the son of actor Mary Maddocks and Rising Damp star Don Warrington, more latterly known for playing Commissioner Selwyn Patterson in Death in Paradise
Laughing Horse @ Espionage, 21:15
For a younger generation, she might even be more famous than her dad, Shirley Valentine actor Tom. In Your Face, her mix of improvisation, comedy and ventriloquism has already played the West End, now she's bringing it to the Fringe.
Pleasance Courtyard, 20:00
10. Phoebe Eclair-Powell
enny Eclair's girl has been gathering plaudits for her playwriting, developing work with Soho Theatre and Channel 4. Torch is a straight play about womanhood, which Eclair-Powell says she's previously 'been too scared to write about'. But she says the new work, starring Jess Mabel Jones, 'has become a liberating constellation of voices, looking at the brilliant and dynamic range of feminist thought - from the big to the exceedingly everyday and the beauty in our differences.'
Underbelly Cowgate 20:50
• 10 Theatre shows for comedy fans.
Published: 20 Jul 2016
Recent Features
What do you think?