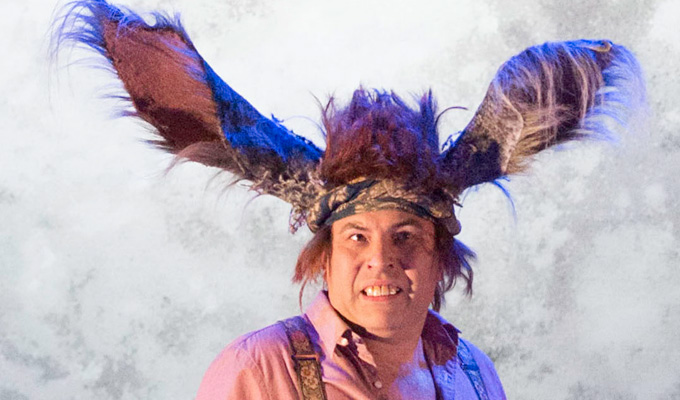 Bard to the bone...
As we mark exactly 400 years since Shakespeare's death (and 452 since his birth), here are ten comedians who have taken on roles in productions of the Bard's work from the world of legitimate theatre and TV...
In one of the most famous, and acclaimed, Shakespearean performances by a comedian, Dodd played the steward Malvolio in Twelfth Night at the Liverpool Playhouse in 1971, his experience as a stand-up coming to the fore whenever he addressed the audience directly.
Despite fears he'd play it for laughs, he stuck to the script – except for one night when he was doing a scene with the Countess. 'I got too hyped up and I tugged on the chain that I wore round my neck and the whole thing fell to pieces,' he once recalled. 'All the links went bouncing on to the stage and the audience went "Ooh!" and then there was deathly silence. So I looked at the Countess and said: "Dear lady, when I am with thee I have the strength of 20 men!" The audience went: "Hooray!" and I looked upwards and said: "Sorry, Willie."'
Dodd also played as Yorick (in flashback, not just the skull) in Kenneth Branagh's film version of Hamlet in 1996.
John Cleese played Petruchio in the BBC's adaptation of The Taming Of The Shrew in 1980. His casting attracted some controversy, amid fears he'd Fawlty in up. Instead, his Petrucio was played as a Puritan more concerned with attempting to show Kate how preposterous her behaviour is rather than bullying her into submission.
3. George Robey
Robey – billed as The Prime Minister Of Mirth – was one of the great music hall comedians in the early part of last century, especially known for his pantomime dames.By the 1930s he moved into straight acting, being cast as the rambunctious Falstaff in Henry IV Part 1 in 1935 - a role he would reprise for the classic Laurence Oliver film of Henry V in 1944, even though the character doesn't appear directly in that play.
Former Royal Shakespeare Company member Catherine Tate was reunited with her Tardis chum David Tennant for the 2011 production of Much Ado About Nothing at the Wyndham's Theatre. She played Beatrice to Tennant's Benedick, winning largely glowing reviews. The Guardian said: 'Tate gives an excellent account of Beatrice as the kind of larky, high-spirited woman who uses her wisecracking gifts as a defence against emotional engagement.'
Titania ye not. Howerd played Bottom in A ­Midsummer Night's Dream at the Old Vic back in 1958, one of many comedians to play the role including...
Have you seen Roy Hudd's Bottom? If we only get to use that joke once, it should surely be here. Hill played him in a 1964 ITV version (yes – Shakespeare on ITV!) alongside Peter Wyngarde, Anna Massey and Bernard Bresslaw, who played Snout.
He was Bottom in the BBC's Play of the Month version which aired in 1971 and filmed on location at Scotney Castle, Kent. This version also starred John Laurie – Frazer in Dad's Army – as Peter Quince. Laurie was, in fact, a respected Shakespearean heavyweight who appeared in all four of Laurence Olivier's big-screen Shakespeare adaptation, and was said to slightly resent his public image as the dour Scottish
Bottom became a woman in the 2001 West End adaptation, in which director Matthew Francis moved the action to a 1940s manor houseDawn French as Bottom. ALthough a box office draw, her performance drew mixed reviews, with Michael Billington in the Guardian declaring: 'She strikes me as no more than mildly funny. The main joke is that she is translated not merely into an ass but one with a furry male appendage.'
Walliams gave the world his Bottom in 2013. (OK, so one Bottom double entendre isn't enough), when he starred opposite the current belle of the West End, Sheridan Smith. And at least one critic wondered if his performance in Michael Grandage's production at the Noel Coward Theatre hadn't been inspired by Howerd, one of his comedy icons whom he previously played in a BBC biopic.
Not to be outdone, Walliams's Little Britain oppo is about to star in the BBC's forthcoming Russell T Davis adaptation of A Midsummer Night's Dream as – yep – Bottom. Bernard Cribbins and Richard Wilson will also appear as Snout and Starveling respectively, with Maxine Peake as Titania and Elaine Paige as Mistress Quince. It will be shown as part of the Corporation's ongoing Shakespeare season
Published: 23 Apr 2016
What do you think?