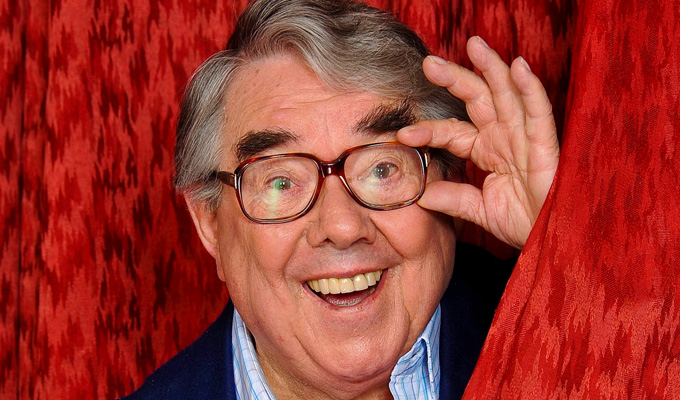 Ronnie Corbett: 10 Of The Best
The Frost Report
Ronnie Corbett was an entertainer in nightclubs when David Frost spotted him and signed him up to appear in his satirical show, which ran in 1966 and 1967 and also featured John Cleese, Sheila Steafel and Nicky Henson – and first paired him with Ronnie Barker, the two grammar-school boys amid a cast of graduates. The class-based I Know My Place has been its most enduring sketch, so here's a different one:
No – That's Me Over Here!
Frost Report writers Barry Cryer, Graham Chapman and Eric Idle created this sitcom for Corbett, which ran from 1967 to 1970 and sowed the seeds for his later success in Sorry!
Ronnie Corbett It's All Going Up Up Up
The 1970 novelty single. Of course:
The Two Ronnies: Mastermind Sketch
With Barker he was a staple of primetime viewing from 1971 to 1987, with their variety-style mix of sketches, series and musical numbers. Here's one of the best-loved skits from the series…
The Two Ronnies: Monologue
A staple of the show was Corbett's shaggy-dog stories, which he delivered sitting in a large easy chair to emphasising his small size, and usually wearing a Lyle & Scott golfing V-neck sweater. The gag would stretch over over several minutes, digressing into several smaller gags, often about what 'the producer' said to him…
Sorry!
Corbett enjoyed more sitcom success as henpecked 40-something Mummy's Boy Timothy Lumsden still living at home in the BBC One sitcom, written by Ian Davidson and Peter Vincent, and which ran from 1981 to 1988.
Fierce Creatures
He joined his old Frost Report mucker John Cleese to play zookeeper Reggie Sea Lions in this 1997 movie comedy.
Sky+ ads
In 2003, he teamed up with Alice Cooper for these Odd Couple ads to promote Sky's then brand new catch-up service:
Little Britain Abroad
Keeping up with the new generation of comedy stars, he made a guest appearance in this 2006 special, in which Matt Lucas's Bubbles DeVere tried successfully to seduce him.
Extras
Still in 2006, Corbett sent up his clean-cut image in an episode of Ricky Gervais and Stephen Merchant's comedy, when he was shown snorting cocaine in the toilets at the Baftas.

Extras Ronny Corbet .. cocaine at the baftas .. by tired cook
Published: 31 Mar 2015
What do you think?